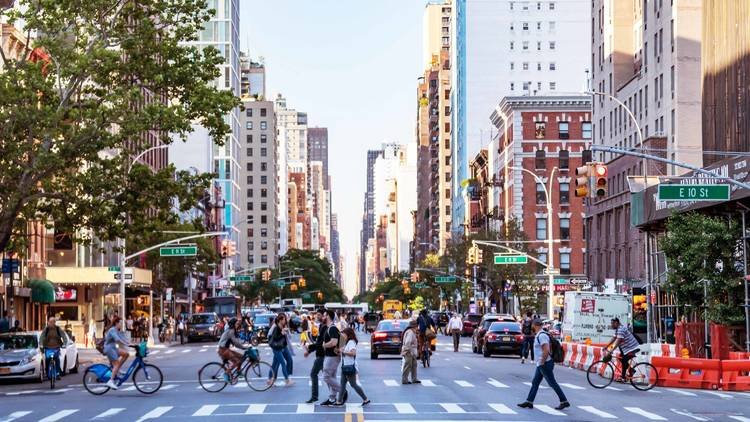 New York City is known as the city that never sleeps and its 24/7 lifestyle draws in visitors from all around the globe. From world-renowned cuisine to iconic attractions like the Empire State Building, Lady Liberty and Times Square, there's plenty for everyone to experience in the city.
Often becoming a permanent residence for tourists turned locals, New York City is an opportunity to make dreams come true. So, whether you're pursuing a career in the arts, taking advantage of the city's massive financial and tech industry hubs, or scoping out the best place to live, New York City is the perfect place to start.
What Is There To Do IN NYC?
The possibilities for entertainment in NYC are endless, and the best recommendations vary depending on who you ask. Harrison Gough, for example, a moving specialist at MovingAPT.com and longtime New Yorker, says:
"I always recommend low-key stuff that is in my neighborhood because I don't get out much. But if you ask any of our NYC movers who are constantly helping new residents move around the city, you will get a different, more diverse list full of secret gems. For example, last week, they told me about a Brooklyn spot selling tacos made with handmade tortillas. Now I'm hooked!"
Outdoor enthusiasts calling NYC home usually recommend a run along the Hudson River or a stroll through Central Park. Night owls in the city always have an endless selection of bars, nightclubs and live music venues to recommend in vibrant areas such as the Lower East Side and Hell's Kitchen.
Creative types that make up the fabric of NYC often recommended something unique in the city's underground network of artists, galleries, and music venues. Famous destination places such as the Brooklyn Museum of Art, MOMA and The MET are also often suggested for art lovers looking for something special.
No matter what you're looking for, NYC has something to offer everyone! From outdoor activities like walking tours and kayaking to unique finds in the city's various boroughs – the possibilities are endless.
What is the Best Neighborhood To Live In NYC?
Due to the shorter nature of most visits and the overwhelming variety of neighborhoods to choose from, naming the best neighborhood in NYC is usually more of a personal preference than an objective statement.
The boroughs of Manhattan, Brooklyn and Queens are among the most commonly visited by tourists since they offer a variety of attractions like Central Park, the Brooklyn Botanical Gardens and the Empire State Building, as well as easy access to public transportation. Additionally, many of the city's iconic spots, such as Times Square and Coney Island are within these boroughs.
For soon-to-be locals looking for a more long-term stay, options abound in each of the five boroughs depending on your lifestyle and budget. For example, Harlem tends to attract the younger crowd with its hipster vibes and more affordable living, while The Bronx is usually considered a great NYC neighborhood for families or shared living situations.
Is New York City Expensive?
Depending on who you ask, the answer to this question can vary. But one thing is certain – you should definitely have funds saved up regardless of if you are a tourist or a permanent resident.
On average, living and travel costs are higher than in other major US cities, but there are always ways to save no matter how long you are in town.
For example, anyone can take advantage of New York City's many free activities happening in museums, parks, and public spaces. From classical music performances to free art exhibitions, there are plenty of ways to explore the city without spending a dime.
There is always somewhere to find a slice of pizza for a dollar, and public transportation is readily available at a price that tourists and residents can find affordable.
Ultimately, accommodation is the most expensive part of NYC for locals and tourists alike. Average rent prices in New York City are higher than the national median, so it is important to plan ahead and have a budget when you begin your search for somewhere to live.
How To Move To NYC?
Once you've chosen to turn your quick visit into a long-term stay, it's time to start planning your move. One of the easiest and most cost-effective ways to do this is by hiring a professional moving company near you with expert knowledge of how to complete an NYC move.
Look for companies specializing in long-distance or cross-country moves, as they'll have the required licensing to deliver your items safely and efficiently.
Moving to NYC from within New York? Apply the same criteria and ensure the company is registered with the New York Department of Transportation to move household goods.
Once you've found a mover, it's time to start decluttering. This step is vital in that it will reduce your overall moving costs and make it easier to move into your new home with the least amount of stress possible.
Complete other moving tasks, such as changing your address, researching neighborhoods, and gathering the necessary paperwork within 4 days to 5 weeks of the move to ensure a smooth transition with no surprises.
Frequently Asked Questions
1. How much does the subway cost in NYC?
The fare for a single ride on the subway is $2.75, but you can save money by purchasing an unlimited weekly or monthly pass.
2. How safe is NYC?
Overall, NYC is considered very safe compared to other major cities in the US. However, like any trip to a new place, it is important to be aware of your surroundings in order to stay safe.
3. How much money do I need to visit NYC for a week?
The amount of money you need for a week in NYC will depend on your plans and activities. However, it is recommended to have at least $1000 available to cover expenses like accommodation, food, and transportation.
Journey to a New Life in NYC
It doesn't matter how you got there or what your end goal is in New York City – the journey of discovering this fantastic place is one that will be filled with unforgettable experiences. So, whether a tourist or a new local, enjoy the ride and all that NYC has to offer.