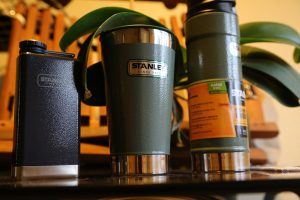 The Stanley brand was founded in 1913 when namesake, William Stanley Jr. invented the all-steel vacuum bottle – effectively replacing glass as the insulating material of choice at the time to keep drinks hot or cold. Over 100+ years since that original vacuum bottle – the designs and products have expanded and diversified.
Today Stanley provides a variety of products including various vacuum bottles for both food and drink, lunch boxes, food jars, flasks and mugs.
The following three products are highlighted.
Vacuum Steel Pint holds 16oz and is ideally suited to carrying drinks with ice in them – advertised as keeping them cold for up to 17 hours. Hot drinks up to 1.5 hours. One feature I really like about this product is the built in stainless steel bottle opener on the lid.
Adventure Flask – we bought our first flask in Europe some years ago. This one is similar in that it is well built (leak-proof construction) and it is made of stainless steel so no rusting. Comes in either 5 or 8oz size. Either easily fits into a back pocket. Ideal for some late afternoon rum (or something similar) on a cold winter day – oh and a roaring fire in the fireplace.
Classic One-Hand Vacuum mug is thick (double wall stainless steel), is vacuum insulated, fits in any generic car cup holder and keeps drinks either hot or cold for up to 6 hours. Oh, and it can be opened or closed with just one hand.