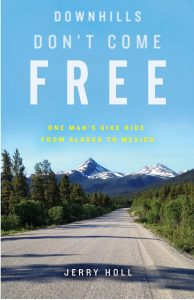 At age 57 Jerry Holl quit his corporate career, trading in a suit and a tie for bicycle apparel and deciding he would bike solo from Anchorage Alaska through British Columbia, Washington, Oregon and California to the Mexico border. And this proposed journey of 3,600 miles was by a man who had spent little time on a bicycle and had not trained prior to his ride. Nor did he have any training on basic bike repairs.
Jumping into the saddle he rides off 74 miles in his first day with similar mileage clocked in during subsequent days. He's a natural on the bike. Riding through inclement weather, steep hill,s past grizzly bears, stops at mosquito infested camp sites and eventually the urban jungle of Los Angeles, Jerry challenges himself mentally and physically to complete this incredible ride. And he does so in 51 days but not without an unexpected mishap on his final day's push to the Mexico border.
While Holl did this ride alone, he wasn't always alone. He acknowledges the help of many kind people along the way – whether it was simply sharing food or water, route insights or camaraderie.
A fun read for armchair adventurers – and perhaps after reading this book one might just be inspired to go on their own adventure.
For more information and to purchase this rolling read, visit: www.downhillsdontcomefree.com