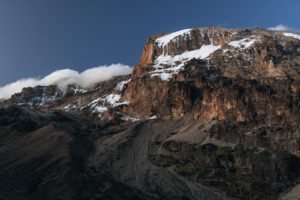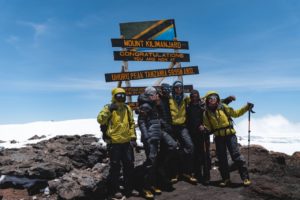 One of a number of my trips to Africa was built around a singular goal – that of reaching the summit of Mt. Kilimanjaro, one of the seven summits (the tallest mountains on each continent). Hint, I did reach the summit but not without overcoming hardship on the way. While not the tallest mountain on the planet and with routes that aren't particularly technical, its summit still tops out at 5,895 meters (19,341 feet). It is the altitude that can be the most formidable challenge to overcome in reaching the summit.
When planning on climbing Kilimanjaro one must carefully consider a variety of factors. The mountain is not going anywhere, but weather will be a factor during certain times of the year. I climbed in late December and vividly remember hiking in rain and mud at the lower elevations. At one point our vehicle became stuck in the mud, we exited and local villagers ran up to help push the vehicle through the slop. The wettest months to climb are April-May and November however one can experience rain any of the other months.
As a result, having the proper gear for this climb is very important. Do not bring jeans for the climb. Wool and fleece layers with waterproof shell pants and jackets are a must. For climbs we always take high fill natural goose down jackets which can be stuffed into a compression sack to save space. And for those who forgot or need additional gear, Alteeza has numerous pieces of gear and clothing for guests to rent.
Since 1992 self-guided climbs are not allowed; climbers are legally required to use the services of a licensed guide/tour operator. The second most important decision after when to climb Kilimanjaro is the decision of which tour operator to use. With numerous tour operators offering trips up and down the mountain, one must choose a reputable company. Altezza Travel is one of the leading tour operators on Mt. Kilimanjaro, both in terms of safety, employing professional mountain guides with loads of experience and quality of equipment. And their commitment to client has been rewarded; they are guiding more than 15% of all visitors who climb Mt. Kilimanjaro. Their efforts have been validated by well over 1,000 guests who have left top rated reviews on Tripadvisor.
Altezza already owns and operates several hotels in the region. And starting in December 2023 they will be operating their own helicopter search and rescue team.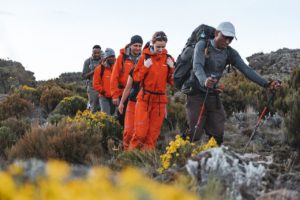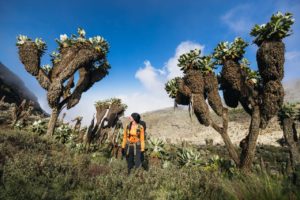 Everyone is affected differently by elevation. I was in top shape during my climb having spent the previous several months increasing my physical exercise through long walks and bike rides. However being in great physical shape will unfortunately not prevent altitude sickness. During my climb of Kilimanjaro several people in our group had no visible altitude sickness symptoms and appeared to be on a stroll in a park, even during the summit day. For me, it was a different experience. I began to notice the effects of altitude sickness around 3,000 meters. And it's not pleasant with symptoms of nauseousness, terrible headache, vomiting and eventual loss of my ability to stand and walk. And I learned the hard way that I am among the few percent of people that develop a bad reaction after taking the drug diamox. It is supposed to suppress and lessen the symptoms of altitude sickness but for me it had the opposite affect (even at lower elevations).
I love mountains, but over a number of high altitude treks or climbs the best cure for elevation sickness is to acclimatize. This involves taking the longer and slower route on Kilimanjaro, I.E., Shira Plateau or Northern Circuit. As they say on the mountain, pole, pole – meaning slowly, slowly.
Overcoming hardships, bonds created with fellow climbers and incredible views are all a big part of why I climb. I remember the inspiration of waking up on the highest reaches of the mountain, watching the sun rise and looking over the plains of eastern Africa far below and Mt. Meru in the distance. Despite suffering from altitude sickness I did reach the summit. It was an incredible feeling to stand on the 'roof' of Africa and I felt proud of my accomplishment.
I also remember being concerned for my health at the time and wondering how I was going to get down the mountain. I didn't worry for very long; descending Kilimanjaro was so fast compared to our ascent. And the more I descended the better I felt until after a few hours I felt like my normal self again and was no longer suffering the affects of altitude.
And I will leave you with another piece of advice related to climbing Mt. Kilimanjaro. Go on a safari following the climb! As a reward for reaching the summit of Mt. Kilimanjaro my friend and I went on a relaxing safari following our climb and visited the Serengeti, Ngorongoro Crater (where we observed hundreds of pink flamingos) and Olduvai Gorge among other places. I vividly remember lying in my tent one night hearing the sounds of elephants running in the near distance and the ground shaking. The wildlife in this part of Africa is prolific and to be respected.
I would recommend this climb to anyone who is in decent shape. Do your research; and don't be afraid to pay more for your trip for the comfort of an experienced tour operator. Based on personal experience, it is definitely worth the extra money.
Those considering climbing Mt. Kilimanjaro will want to watch this complete guide detailing essential information in regard to climbing the mountain.