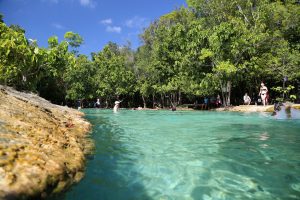 We shot by the Krabi Airport in our tiny rented car – on our way to the Emerald Pool from Phulay Bay. We tried to wake up early and beat the rush at this natural attraction but by the time we were within spitting distance of the pool, it was already nearly 10am. All the locals we talked to highly recommended getting here before 10am as this attraction can quickly fill up with several hundred tourists after 10am. Supposedly vans and buses carrying tour groups leave by late afternoon – which is the the other more peaceful time to visit during the day.
Once you park you must 'wade' your way through a lineup of vendors and food stalls lining both sides of the road. At a small ticket counter you pay 200 baht (for non Thai's) and Thai's pay 20 baht/person. After a 2400 meter walk we reached this picturesque pool with its emerald and aquamarine colors. The selfie sticks, the go pro's and the #friendsies were already well on their way but we found a corner of the pool in the back next to a small waterfall and relaxed in the shade of a small tree.
At times you may not think you are in Thailand while soaking or sunning at this pool as their are visitors from around the world and languages to accompany them.
Culinary tip: try the delicious Durian Ice Cream from the vendor located not far from the bathrooms!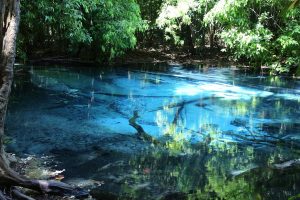 Then it was a short hike up to the Blue Pool. This tiny inviting pool looks perfect for swimming – other than the tree branches and logs that line its shallow bottom. However, looks can be quite deceiving – the bottom is layered with pockets of quicksand and the water is extremely hot. Fortunately a sign near the viewing platform warns against swimming.
The natural Thermal Stream is located about a 15 minute drive from the Emerald Pool parking lots. Access is via a short trail that parallels a small clear stream ending in a stepped series of naturally hollowed out rock pools. The naturally heated water is a fine temperature, not to hot and not to cold. This stream ends in a much larger muddy river but a quick dip in this cold water can be refreshing after a 20 minute soak in the hot water.
Video: Ko Hong Underwater + Emerald Pool