After landing at the modern airport in Yangon we quickly purchased a sim card with a local phone number. We were told that in the last few years the price of Internet and cell phones have dropped dramatically. One tour guide told us that in the last 10 years mobile phones have gone from costing more then $1000 to now being relatively affordable.
Our taxi driver informed us that traffic in Yangon can be intense – horrific at times – traffic that didn't exist like this merely several years ago. We found this out the hard way when we had to travel from the center of town out to the bus station (took nearly 90 minutes for what is normally a much shorter drive).
We stayed at the modern Merchant Art Boutique Hotel on a floor that was well decorated with large and colorful images of Audrey Hepburn. For the price and the location, we highly recommend this property. As you face the hotel a small 'locals' restaurant is just down the street on the left side – the food is incredible spicy but very flavorful. For three people with more food then we could eat, we spent about $5 USD total.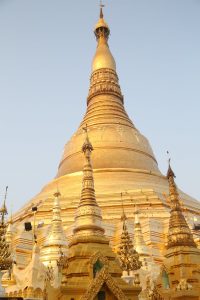 A must visit in Yangon is the Shwedagon Temple – a gathering place for locals and International visitors coming to experience it's splendor, to people watch and experience a place of intense spirituality. The main stupa is nearly 100 meters tall and is highly visible from numerous parts of the city, especially at night when it is lit up. One also comes here to be dazzled by the intense monetary wealth that went into creating this temple – the main stupa itself is covered with billions of dollars of solid gold and diamonds. We were here several hours, we could have spent all day.
And if you have time, walk slowly through the streets surrounding the temple – vendors sell a diversity of fruits, vegetables and sometimes unidentified foods. The communal stalls serving a variety of intestines make for a tasty stop (if you have the stomach for this type of food). Intestines on a stick paired with small bowls of soup or noodles and hot chili makes a delicious snack. Your seated neighbors will be happy to see a foreigner taking an interest in some of the street food of their country.
And then the evening started. We popped around from bar to bar – most of it I cannot remember a day later as I write this. At one point I claimed Jimmy Buffet founded the Peace Corps, then I corrected myself and then tried to argue that Jimmy Carter was in actuality the founder of the Peace Corps. Now in my sober state, I obviously realize that John F Kennedy was the founder of the Peace Corps.
During our night of drinking I mistakenly heard someone say that one of our stops was going to be to a Transvestite strip club. In actuality there was none of this illicit behavior. We visited Seven Joints Bar, I attempted to speak to other patrons without success so I started trying to yell the words to songs being sung in Burmese. I was drinking mojitos within 2 feet of the live band and was too lazy to move myself to the other side of the bar so that I would actually be able to hear my voice.
Seven Joints. A place where the first sign you see as you walk in reads, "NOTICE any goats found on these premises will be CURRIED!"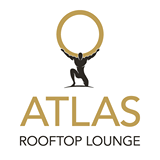 And for our nightcap we hit up the posh Atlas Rooftop Bar & Lounge & were among the last guests when they closed at 12am – otherwise with the amount of drinks we were consuming – we were probably going to be there until 2am! Highly recommended for well-made cocktails and views of the Shwedagon Pagoda in the distance. A good mix of both locals and expats.
The next day we hopped on the Circle Train – a locals train that circumnavigates the fringes of the city making a complete loop. One can get off and on the train as it stops numerous times throughout its journey. The total cost of the three hour ride was about 20 cents per person. It is a great way to connect with locals and try local foods. Vendors hop on and off at the various stops selling a variety of foods, fruits, vegetables and cooked items for passengers.
And just like that, it was off to the bus station for an overnight bus ride to Inle Lake.