We started the evening meeting up with the engaging and very accomplished @somcity for a tour of Lebua State Tower Hotel. Lebua made appearances in the movies, Bangkok Dangerous starring Nicholas Cage and the crazy Hangover II. As a result a visit here is also popular with tourists. Lebua tried to maintain strict standards of dress but when Hangover II came out, tourists started showing up in shorts and t shirts and flip flops and during our visit, the dress code was interesting – certainly they have relaxed things as you now have both extremes.
We bumped into executive French chef Dominique Blais in the elevator. He told us to enjoy our stay – we were already having a great time and we were only in the elevator!
There a number of restaurants in this high rise – Breeze, ten floors below the top boasts a beautiful bridge (lit up blue at night) that leads out to a lookout over the city. The circular Skybar gets crazily crowded and is on the roof along with the fine dining Sirocco restaurant. In fact this skybar helped usher in a new trend of what are now a number of other Bangkok Skybars on top of tall hotels. You can enjoy a dinner up here, certainly the amazing views especially along the Chao Praya River at night as it snakes through the city – or simply a drink. The "ball" that drops every New Year is also on display here – it is the world's highest ball drop!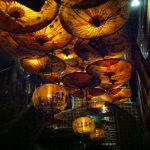 We stopped by the lounge up here for some small bites and drinks. We noticed several bottles of wine in the $15,000 to $18,000 dollar range. We brought a bottle of wine to uncork. The corkage fee for one bottle was $350 dollars. With that price, they certainly discourage bringing your own wine!
Next up was a visit to the swank Maggie Choo's for dinner and after dinner drinks. Dinner is under colorful paper umbrellas – definitely an old Shanghai theme / opium den. In the club, swings are setup and often sultry women will be slowly swinging back and forth.
Music is part of a visit in the evening – we watched the popular duo, Jul and Co – a French flutist and pianist who bring a unique style of music to the night time scene. During their performance a lady was sprawled out on the piano blowing bubbles and slowly waving a fan while Jul was bursting the pipes on his flute. Job description "lie on piano for several hours blowing bubbles, waving a fan and look pretty". Not a bad gig I guess!