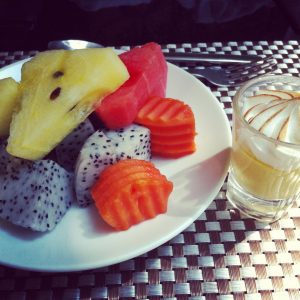 So, where do you go when you have seen most of the major attractions in Bangkok and you have a friend in town visiting for the first time? You seek out the odd and unusual. First we jumped on the Skytrain, got off at Chitlom, wandered for a bit until we reached the luxury Swissotel Nai Lert. We were not coming specifically to see the hotel, rather we were after the Tubtim Shrine on the grounds of the hotel.
This is a fertility shrine dedicated to the male sexual organ. Hundreds of wooden, ceramic and other material penises line the banks of the canal here under a large tree – many wrapped in colorful garments and all standing erect. Umm, interesting to say the least and one could say, "only in Bangkok".
The grounds of the interior of the hotel contain a surprising amount of green space – you are surrounded by tall buildings but its fairly quiet here and this is certainly an urban oasis. A beautiful pool only adds to the ambiance here. We ended up staying for the delicious brunch.
Next up was a visit to Siriraj Hospital and the very disturbing Forensic museum in Building 28. It felt morbid just entering this old, somewhat dark building. We signed an old notebook under the watchful eyes of local guards and then proceeded up stairs to the museum.
The content is graphic and involves displays of terrible injuries including stab and bullet wounds. You may become nauseated after seeing photo after photo of horrific injuries or jar after jar of perfectly preserved still borns or other children with various defects. Several prior rapists are on display – preserved through natural mummification and one of Thailand's first serial killers greets visitors from within a glass case. A tsunami exhibit shows the devastation and many injuries sustained during this natural disaster. There is also a separate display on parasitology and some of their effects on humans.