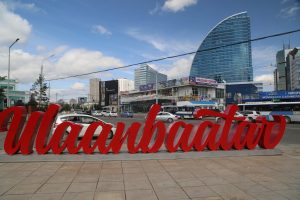 I landed in Ulanbaatar in the very early am. My pre-arranged ride was not waiting at airport so I found a taxi who promptly delivered me to my guest house, 20 mins to town w/o traffic. Two story guesthouse. I ended up on the second floor – frustrated because the inside door to the guesthouse was locked and it was 430am. Knocking over and over again resulted in no action from within. I began to prep a rudimentary sleeping arrangement in the hallway when some bleary eyed chap opened and exited the door leaving me able to sneak inside. Probably on his way to the airport for an early morning flight. I found an empty room and crashed for a few hours before the reception finally opened.
Ulanbaatar is much larger then I expected – sprawling in all directions and housing about 50% of the entire country's population. Another surprise are all the Prius vehicles – by far the dominant car on the streets. At least every other car is a Prius. The only other place on the planet I've seen a collection of similar vehicles was in Cuba (but there, many of the cars date from the 1950s and 1960s).
And apparently Mongolians enjoy Korean food – as evidenced by a Korean restaurant on nearly every block!
I learned that Ulanbaatar is the coldest capital city on the planet – with an average temperature of slightly less then freezing. July is the warmest month. Locals told me the city can see temperatures of -40 degrees (the temperature at which Celsius and Fahrenheit are the same). Certainly not a temperature one would want to prove their fortitude by sticking one's tongue to a light pole.
The city lies in a river valley surrounded by mountains and in the winter an inversion layer causes the air to often remain static – one person told me as a result, the pollution is a result of several factor (coal burning stoves, traffic, industrial activity and dust storms) becomes terrible at times as it just hangs above the city. He was not the first to tell us this; prior to our trip, we heard that Ulanbaatar is now among the most polluted capital cities in the world.
A couple of highlights in the city are the Gandantegchinlen Monastery (recommended to come here in the morning to see the monks chanting) and the huge Sükhbaatar Square with an imposing monument to Chinggis Khaan.
And well signed is the Dublin Irish Pub along Seoul Street advertising itself as the first Irish pub in all of Mongolia. A cozy and welcoming interior is a great place to order a Chinggis beer.