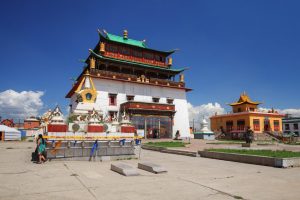 Somewhere between the modern and the traditional, there lies Ulaanbaatar. Mongolia's fascinating capital is a city evolving before our very eyes. Its population is rapidly trading its ancestral, nomadic ways for a more modern life while still trying to retain the uniqueness of its rich culture. Ulaanbaatar is a city in transition, moved by dynamics bigger than itself.
It lies at the intersection of globalization, capitalism, the legacy of state-run communism, and the imperative to modernize. All while struggling to retain the ancient tradition of the horse people. In the week that I spent here, I had the pleasure of befriending both locals and expats, providing an illuminating glimpse into life in modern Mongolia.
 Change is afoot
The city is nestled in a valley, ringed on four sides by hills and low mountains. It's 1.4 million residents compose over half of the country's population. Over 60% of the city's inhabitants still live in gers (also known as yurts across central Asia) the round, wood and wool huts that have housed the Mongol people for millennia.
While the city center is comprised of modern high-rises and apartment blocks, traditional tents sprawl across the city outskirts and into the surrounding country side. When I remarked to my new-found friends Mörn and Altai how surprised I was by the thick layer of smog that enveloped the city, they noted that the coal-heated gers unwittingly collaborate with the mountainous topography to produce heavy local pollution. Gone were my whimsical – and ridiculously silly – illusions of a green, pastoral city frequented by herds of meandering pack animals. The traveler need not be disappointed though. The pollution is localized and dissipates within minutes of departing for the stunningly gorgeous Mongolian rural lands – although the city residents still have to deal with its health consequences.
Fortunately, the government recognizes the environmental and physical harm caused by hundreds of thousands of densely clustered coal stoves. It is therefore actively encouraging Ulaanbaatar's population to resettle in modern apartment blocks, erected as far as the eye can see at a breathtakingly rapid pace. Even American style "cookie-cutter" houses as well as gated communities of "McMansions" are being built. Funded by a mining boom in the past decade, the goal is to move the population out of the gers, cut the pollution and modernize the nation's economy. How will Mongols adjust? By retaining important traditions.
The horsehair fiddle, for instance, has long been the source of pride in the home and traditionally takes a prime location at the back of the round ger. Now, living in square apartments or houses, the fiddle takes its venerated place in the most prime location of the living room instead. Ulaanbaatar's inhabitants are optimistically trading an ancient, nomadic lifestyle for a promise of a healthier, modern way of life.
Life in the city
Downtown Ulaanbaatar is surprisingly modern and cosmopolitan (perhaps it is "surprising" only to a naïve, first-time visitor such as myself?) Embassies from all over world dot the city center. The name of the city itself means "Red Hero," a holdout from the communist days. Mongolia today is a constitutional democracy and the modern-looking national parliament building dominates the city center. Parks, bars and clubs are popular forms of leisure in town. American-style coffee shops are sprinkled throughout the city, while Korean restaurants are seemingly found on every corner.
When asked why Korean food was so popular, locals just grin and call them "our McDonalds." (I don't know about you, but if delicious Korean restaurants are considered casual fast food, sign me up!) In fact, there were other curious connections to Korea. I met several expats who attend Mongolia International University, all of them funded by scholarships from the South Korean government. Further to that point, many Mongols tend to move to South Korea for a few years to earn money, predominantly unskilled labor, prior to moving back home.
Another surprising aspect about Ulaanbaatar was the exorbitantly high percentage of Toyota Prius vehicles. I saw more Prius' on the road in this one city than I have anywhere else. Curiously, there were no other electric or hybrid vehicles that I noticed, only the Toyota Prius. Apparently, so I was told, the government provides subsidies to import used Toyota Prius models from Japan. Perhaps this is part of the effort to cut air pollution from the capital city? Watch out for traffic though. Just because drivers are driving low-emissions vehicles doesn't mean they respect 'traditional' rules of the road. Right of way goes to the aggressive driver, not the pedestrian.
Heading to the outskirt of the city, we passed an old railroad track. Mörn pointed out that the famed Trans-Siberia Express passes right through Ulaanbaatar, linking Moscow to Beijing via Mongolia's Gobi Desert. Wouldn't that be an amazing trip some day?
Misconceptions about Mongolia
My misconceptions about Mongolia are perhaps somewhat justified. After all, what other than horse-riding hordes and Chinggis (Genghis) Khan come to mind when you hear the name of Mongolia? To some extent, Mongols themselves contribute to this perception. The nation obviously prides itself on the accomplishments of its founding father, some eight centuries previously. And he is heavily branded as well. An gargantuan 40-meter (~44 yards) tall statue of Chinggis on horseback greets visitors just on the outside of the city, at the very location where he is said to have found a golden whip.
The airport, as well as numerous streets, buildings, squares and restaurants are named after him. Even the massive national parliament building is dominated by a statue of "the khan of khans." But it is a mistake to put the nation into the "Mongol horde" box – like much of Asia, it is both traditional and dynamic. Rapid change is afoot here.
As I stood at the edge of the city, looking at a strange interplay of gers and high-rises, I imagined how different it must have looked a mere decade ago. I closed my eyes again to visualize what might be in a decade from now. I imagine Ulaanbaatar will look vastly different yet again.