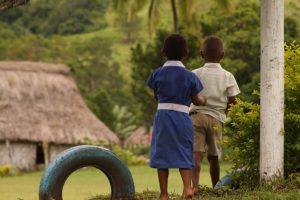 The highlight of today was a visit to Navala, a traditional Fijian village located in the beautiful highlands on the main island. As we climbed up from near sea level, soon we were surrounded by picturesque mountains; the countryside this time of year is a beautiful shade of green in all directions.
Upon arriving at the village – we entered one of the thatch homes. The roof and sidewalls are made of local materials – with the roof lasting 15-20 years before needing to be replaced. The floor is grass and dirt with a weaved mat sitting on top – made by hand from a plant that grows in the area. We were introduced by our guide and then welcomed by the villagers over a traditional drink of Kava.
I was given the title of "chief" during our visit because I was the only male guest; because of this great status I was allowed to drink the first bowl of Kava. I assumed this would give me much greater access to the village and other to be determined privileges. However, from there forward my duties were nil and unfortunately recognition of my "chief" status by the rest of the village was non existent. As I walked around there were no people running up to me bowing, pointing at me in awe from a distance or otherwise giving nods of recognition. Happy school kids running up to me doesn't count.
Navala has a population of about 700; the village maintains a school on site. We were introduced to some of the children and had a chance to visit the classrooms. Signs about the long term detrimental effects of alcohol and marijuana use hung in the classrooms – with additional information about tropical cyclones, preventing typhoid and quotes about how to be good students.
If you have ever wondered what type of conversation you might find in a traditional Fijian bure (home) when visitors (us) pop in, you would have wanted to join us today during our lunch. We didn't actually discuss village life – rather our driver started discussing how Fijian marriages are now built on romance rather than elder arrangements. He has noticed recently that older Fijian men in their 60's and 70's are starting to marry younger women in their 20's. He admitted that he was fine with these age differences as long as in his words, "the same species marries the same species". Then he brought up the story he heard from India of a man marrying a dog – but this he admitted "I am just not comfortable with!"
With concern about getting back across the river before rains caused it to rise – we left. We started hearing news about a possible cyclone developing in the next few days. With a flight tomorrow to one of the remote Yasawa Islands – there is a possibility I might stay grounded. To be continued …