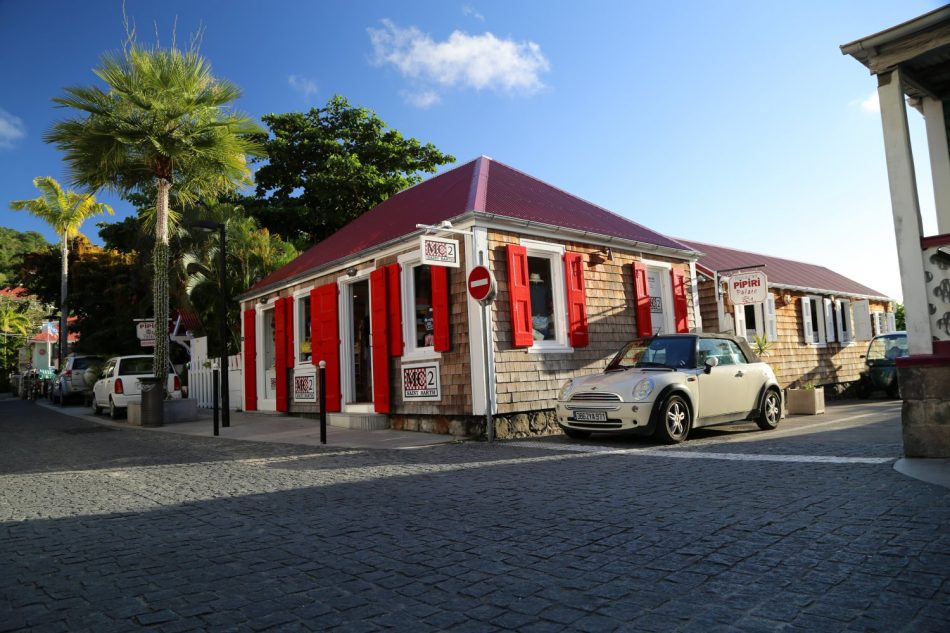 Here are a few notes from what I was told by those living on the island and or from first hand experience.
– Flying onto the short airport runway in a small plane is an exciting experience
– The island is only 8 square miles but due to its mountainous topography feels bigger than it actually is
– The island's electricity is powered by diesel generators
– Homes have cisterns to collect rainwater
– The roads are narrow and windy and people drive fast – it can be dangerous on a motorbike especially during rain
– Accommodation is quite expensive
– There are many beautiful beaches on the island
– Sweden used to own the island until it was sold to France
– Best Rum Punch I've had in the Caribbean – enjoyed watching the sun go down at the St. Barths Yacht Club
– The town of Gustavia is the largest community on the island
– The Euro is the accepted currency and French is the spoken language
Several worthwhile places to visit while on the island are:
Columbiera Bay is accessible via a 30 minute hike down a steep narrow hillside path that winds it's way through various vegetation. As you descend you are treated at times to stellar views of this blue-green colored bay. When I arrived only several yachts were anchored off shore and only a handful of people were relaxing on the beach. This time of year the water is the perfect temperature and one can easily spend hours being gently rocked in the gentle waves on the edge of the sandy beach.
St. Barth's Yacht Club is located directly on the Public Beach only a few minutes drive from Gustavia (not to be confused with Le Yacht Club private nightclub in Gustavia). They have some of the best rum punch on the island – come here to chat with sailors or those interested in water sports – and or have a beer beach side.
Eddy's is a romantic restaurant serving excellent seafood located on a small side street in Gustavia.
When visiting Salines Beach stop by the bar and restaurant located nearby called Le Grain de Lel. Good seafood and cocktails.
A visit to the tiny restaurant Au Regal just outside of Gustavia feels at times like a scene out of a sitcom – with regulars who know each other drinking, laughing, arguing and becoming quite animated at times. The owner is a big fan of futbol and you will see photos of prominent players, trophies, banners and other related memorabilia decorating the entire restaurant. Indoor or outdoor dining. They have a great selection of rum. And you can play foosball!
St. Barths is one of the more visually stunning islands we have visited – here are a few photos to whet the appetite: