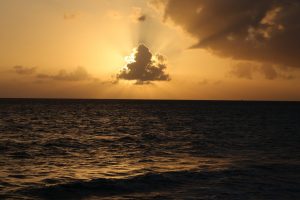 I met a Brazilian traveler today – he has not traveled much at all and this was his first time to the Caribbean. He did not speak a word of English so I ended up helping translate through his language barrier using Spanish as our common language.
After what I estimated to be a 15 minute walk into town from the B&B where I am staying – turned into a hour, I was more than ready to rent a motorbike. I found a shop run by a man named Matrix who promptly informed me I would need a government issued driver's license available from the nearby fire station. Done. And it was off to explore the island.
I soon discovered motorbikes are not popular on St. Kitts – with the few tourists I spotted renting cars. Perhaps the reason for that is that renting cars here is much cheaper than renting a motorbike or a scooter.
The afternoon daylight quickly faded into long shadows cast by the sun and clouds over the orangish shimmering sands. I watched the ball of fire drop slowly from the sky. Soon it was dusk and then as it always happens at these tropical latitudes it went almost immediately dark.
I drove slowly absorbing the warmth and smells of the evening. I was on the southern part of the island – a strip of land that extends almost to the island of Nevis. A two mile section of water called 'the narrows' separates both islands. The tourist map I have indicated one can swim across this channel – or use more conventional means of transportation – a ferry!
A newly paved road was eerily empty of traffic. From what I could see – there are big plans to develop some large resort properties here. This part of the island has the only white sand beaches – which are easily accessible and are not rocky like much of the rest of St. Kitts.