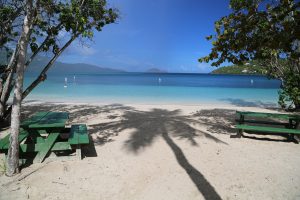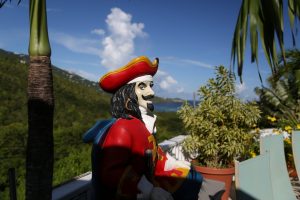 I began my morning in the brand new Antigua International Airport on my way to Princess Juliana Airport in Sint Maarten. To call an airport 'International' in most of these small Caribbean Islands is probably redundant as most of the airports have flights connecting to other Caribbean Islands.
Princess Juliana Airport is well known for Maho Beach, a small strip of sand that lies at the foot of the runway where sun bathers look up at times into the belly of descending planes just about to land. This tiny sliver of sand attracts plane spotters and other curious camera toting tourists from around the world for quick adrenaline inducing rushes as the giant planes drop onto the runway mere meters overhead.
As we landed I looked out and saw a spectacular infinity pool built on top of a natural rock bridge with the ocean directly below. This would be another stunning location to watch planes land and takeoff not to mention is a neat combination of both nature and human ingenuity.
With some time between my connecting flight I walked out to Simpson Bay to check out the Pink Iguana a large boat turned into a bar – supposedly after a hurricane blew it onto it's current location.
Incredibly I landed at St. Thomas in the USVI 5 minutes prior to my brother who flew over from Verona Italy for a week of sailing. Meeting up after our obligatory free Rum samples after exiting customs (one of the perks of flying to this airport!) we were soon on the road to the world famous Magens Bay (mentioned by the National Geographic as one of the world's top beaches).
We had an apartment reserved in our name – it wasn't directly on the beach but certainly had nice views overlooking the bay. Chickens and cats wandered the grounds – the chickens were not interested in visiting with us, but some of the cats certainly were and one snuck through our front door.
With a hot tub, large pool and waterfall combined with the green vegetation, noises from the insects and the recent rain/humidity – it certainly felt like we were in the middle of a rain-forest.