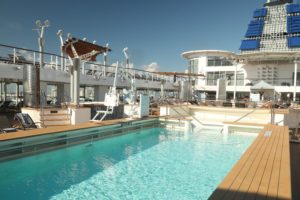 A gentle breeze blows, not even strong enough to knock over a nearby empty can of ginger beer. I lie alone floating face up in a hot tub on the upper deck in the middle of the Caribbean ocean cruising on a 10-night tour of the Eastern Caribbean on Celebrity Cruises Millennium watching wispy clouds float by; I realize that I have not reached a blissful state of relaxation like this in nearly the past two years. Being back on the water, feels very good.
The Celebrity Cruises Millennium departed from Port Everglades in Fort Lauderdale, making stops in a number of eastern Caribbean islands. My personal focus of this cruise was wellness, both mentally and physically – an appropriate pursuit considering the past two years.
The cruise was only at partial capacity so there was plenty of space to spread out. My friend and I were in one of the Sky Suites; this space is clearly the place to be, especially on a longer cruise. Most importantly, the Sky Suite is spacious and includes a private bathroom, sizable veranda outside the room, a queen bed which can be converted to two twin beds and a sofa. And equally as nice is the 24 hour access to butler service. Ours brought us special culinary treats in the afternoon and evening. A stay in the Sky Suite also provides access to the private Retreat Lounge and Retreat Sundeck.
In the past, my cruise experiences have been shorter; I was initially worried a 10-day cruise would be to long and perhaps would become tiresome. This was absolutely not the case; the cruise was the perfect combination of both onshore and on board activities. And I am fairly sure that on all my previous cruises, I have left in worse shape than before I boarded. But not this one; due to personal motivation and offered activities, I left in better shape physically, mentally and spiritually.
The Caribbean is one of the best places on the planet for cruising because of the geographical distances between each of the island countries. Cruising inherently is one of the most relaxing and stress free ways to travel and offers a reasonably priced vacation. But this is especially true in the Caribbean as it can be expensive to fly between islands and also logistically challenging to do so at times.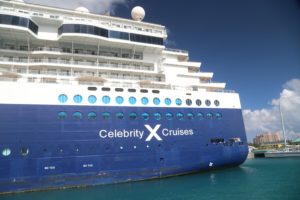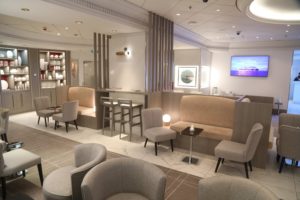 Part of the cruise scheduling included a 'taste of goop', Goop being a wellness and lifestyle brand founded by Gwyneth Paltrow in 2008; several accomplished wellness experts led a variety of sessions throughout the cruise. The total body workout hosted by fitness consultant Drea Wheeler is a series of high energy satisfying exercises which left me sore for a day but wanting more. For low impact spiritual wellness and deep inner reflections, I attended several sessions led by spiritual teacher and clairvoyant, Dr. Deganit Nuur. Her meditation sessions were especially powerful.
And combining both mental and physical wellness, I visited the Spa Café for a 90 minute blissful massage given by the healing hands of a massage therapist named Marisa. The table was heated. Bonus points there. The open space for laying one's head face down on the table has always caused me discomfort. She brought a water filled plastic horseshoe-shaped 'pillow' to cover part of this space. The increased comfort level from this tiny pillow was remarkable. Soon I was in a deep state of peace. This was absolutely one of the most satisfying massages I have ever experienced.
For additional physical activities, an unexpected surprise was finding a basketball court on the top deck. It was an unusual but satisfying feeling to be able to shoot hoops while cruising in the middle of the Caribbean Sea. I always had the court to myself and most every afternoon spent an hour attempting to drain three point shots.
Those who know me, know my obsession with wine. Therefore I was highly intrigued to discover a variety of wine related offerings on board. I attended the World Wine Tour, a curated sommelier led tasting through various wines from select wine regions around the planet including of different varieties. This is a casual but informative tasting highlighting both the differences in variety and region. But for more serious oenophiles, Celebrity Cruises offers additional in-depth wine focused experiences including Blendtique, an opportunity for guests to blend their own wines and a Riedel® Comparative Wine Crystal Workshop, highlighting how the differences in stemware affect the smell and taste of wines. For more details about these experiences and others, visit Celebrity Cruises Beverage and Culinary Programs page.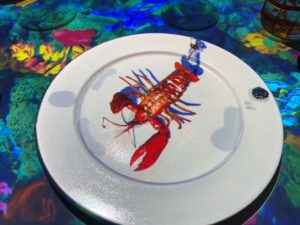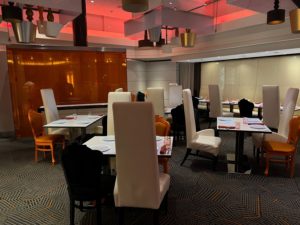 There are numerous culinary options in addition to the primary dining room. One of my favorites was Le Petit Chef, an entertaining and humorous at times animated 3D experience using guests' tables and plates as the backdrop for video, appearing before each of the 4-course pre-fixe menu. It is also worth noting that the food and service was exceptional at Luminae Restaurant (only available for guests of The Retreat®). I made a point to eat here most every night.
Celebrity Cruises organizes a wide variety of experiences on each of the island stops using local tour operators for transportation and guiding. Some of the experiences are even offered on smaller more private islands. These activities are stress free and an ideal way to quickly get a feel for the island. But visitors are free to also explore islands at their own pace – generally the ports are located within close walks to nearby towns. Just be sure to be back on board well before the cruise departure time. Incidentally this is one of my two fears with cruising; not boarding in time and falling overboard at night in the middle of the ocean!
Onshore highlights for us included a catamaran sail in St. Kitts to a semi-private snorkeling location on the far southern part of the island across from Nevis, a peaceful day wandering the streets of Sint Maarten with a relaxing stop lying on the beach and enjoying the aquamarine waters and exploring old town San Juan with a stop in a restaurant to learn how to make mofongo (a Puerto Rican dish using fried plantains as the base ingredient).
It is the Caribbean after all, and many visitors expect to try some local alcohol. We were not disappointed on St. Croix with a brief tour followed by a very enjoyable tasting at the North American factory headquarters for Captain Morgan. And another highlight, also on St. Croix was a visit to Leatherback, a privately held brewery with an in depth tour and a taste through a number of hand-crafted beers led by one of the owners.
—
On Board, Celebrity Millennium

On Shore, Excursions