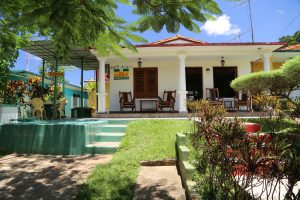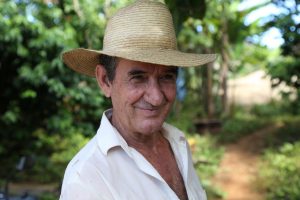 Needing the spirit and calming influence of the countryside, I left Havana pinched between the driver and an accompanying passenger in the front seat of a green 1950s Chevrolet. Beautiful from the outside but quite uncomfortable on the inside – 6 or 7 of us were crammed like sardines in a tin can. Hard seats, no air conditioning, a middle front seat on the 'hump' with no leg room whatsoever and a suspect suspension system all made for an uncomfortable nearly 3-hour journey.
Fortunately I discovered a 'new' air conditioned bus for my return journey and it even dropped me off close to my casa.
Uncomfortable ride behind me, it is now refreshing to be out in the country where homes appear to be in a much better state of being then those in Havana. The townspeople take pride in this little town – the homes are brightly colored with well manicured gardens. Many of the residences have been converted into 'casas' for tourists or are listed on AirBnB. My host is extremely gracious and we communicate between my broken Spanish and her few words of English.
Viñales Valley is a UNESCO World Heritage Site. Known for the surrounding beauty but also as as a hub for travelers interested in outdoor activities including cave exploration, hiking, horseback riding and rock climbing. The small downtown is a mix of restaurants, shops and bars. Attracting visitors from around the world, this tiny town is an excellent place to meet and hang out with fellow travelers.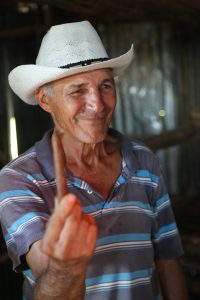 Limestone mountains called 'mogotes' are reminiscent of what one finds in southern Thailand or Halong Bay in Vietnam. Here they are not as impressive but nonetheless are eye catching. Small coffee and tobacco farms lie in their shadows with small houses dotting the landscape.
Ever taken a tour of a tobacco farm? It is fascinating and a lesson in hard work. The amount of details in getting a usable product and the significant time needed to produce a cigar is quite impressive. Fortunately my visit was during the 'slow' season and the tobacco farmer conducting our tour had mucho time to sit and talk to our small group about the nuances of growing and harvesting tobacco plants including the process of drying the leaves (stacked on poles floor to ceiling in the tobacco house) followed by an at least 6 month fermentation. We smelled dried leaves that were not fermented versus those that were – the difference is remarkable with the fermented leaves producing a much richer aroma.
And of course at the end of the demonstration, the farmer lit one and we passed it around – even the non smokers in the group taking a puff or two.