To be in the shoes of a wanderer is to fully experience life and to ponder our own existence. However some places carve out a special place in your heart – places you must return to again. There is a mystery of why this 'pull of attraction' exists within yourself and no amount of restraint can stop you from revisiting.

For me, Bohol in the Philippines is that place.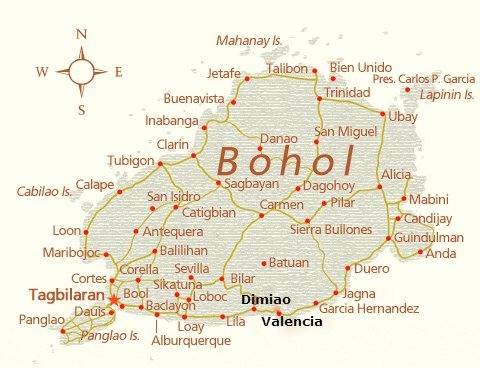 It has been exactly four years now since I visited Bohol, its capital city and nearby towns. Those natural attractions—the wonderful beaches, hills, forests—and even ancient churches—were among the places of interest I originally wrote about on the island. I've always been fascinated with recreational trips long before I started writing about these journeys.
I ask myself, "Who doesn't love to travel and experience the wonders of nature?"
I quote what the experts have to say about this particular topic: "Traveling can radically transform our life for the better. It is a fun and relaxing way to see the world around us". While many people believe this idea, there are those who also do not.
To me, travel isn't just a path of leisure that I should follow: it plays an important role in my life as well. Without my passion for travel, I would never have met my fiancée four years ago in Bohol (we were married in Tagbilaran in June 2015). She is, and always will be, the most amazing thing that has ever happened to me through more than a decade of obeying my wanderlust.
And here are even more wonderful experiences because of my travels: my simple wedding at a seaside resort in Tagbilaran enabled me to meet long lost relatives (had not seen or heard from since I was born). Perhaps while not actually consciously knowing this, my romantic marriage and fortuitous discovery of close relatives in this island are among the meaningful reasons that pulled me towards travel all these years. These are things I've never expected to come my way while choosing to journey through a seemingly unlikely path. Such a path has led me, instead, to become complete and a more optimistic person.
Leisure in Dimiao and Valencia
The neighboring towns of Dimiao and Valencia are among the many municipalities in Bohol that I haven't visited yet, since I began to shuttle back and forth between Tagbilaran and the remote island of Northwestern Mindanao in 2011. Bohol contains 47 municipalities including the primary city of Tagbilaran.
The day after our wedding, my cousins invited us to visit them in Dimiao. It is a remote town situated along the coastal sides of Bohol province.
Dimiao is located about 36 kilometers east of Tagbilaran City; it was here that I experienced the warm hospitality of my blood relations and even sojourned in the ancestral house of my maternal grandfather, who was born in this town in 1896. Traveling with me to Dimiao were my wife, my parents, my two nephews, and my maternal aunt: I thank this aunt who helped bridge the gap between myself and our bloodline on this part of the island.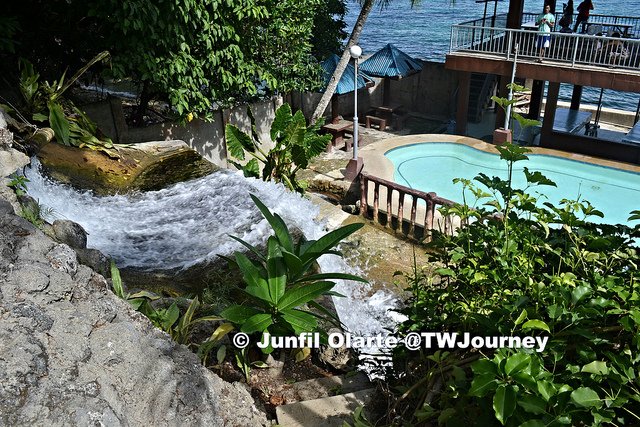 Just an hour after reaching their house in Tangohay, my cousins, Jhong and Genevieve, brought us to the next town where Badiang Spring Resort is located. This popular tourist destination, with it's 2 kidney-shaped swimming pools is located along the seaside locality of Valencia. Before reaching the outlet of the spring, you need to walk down a steep staircase. A natural shower flows from the spring: the concealed rocks pour underground waters from only a few meters above; this makes an ideal location for a natural "back massage". The ceaseless flowing waters are enticingly-cold and refreshing—enough to heal ourselves from the hot and humid climate of Bohol.
We spent several happy hours plunging into the swimming pools — from spring fed waters and then spent several minutes swimming in the nearby sea (only a few steps onward). Unlike the white sandy beaches in Panglao, the beach in Badiang Spring is full of pebbles. These pebbles are smooth and easy to walk on. A bit further out are blue-green waters with excellent snorkeling opportunities.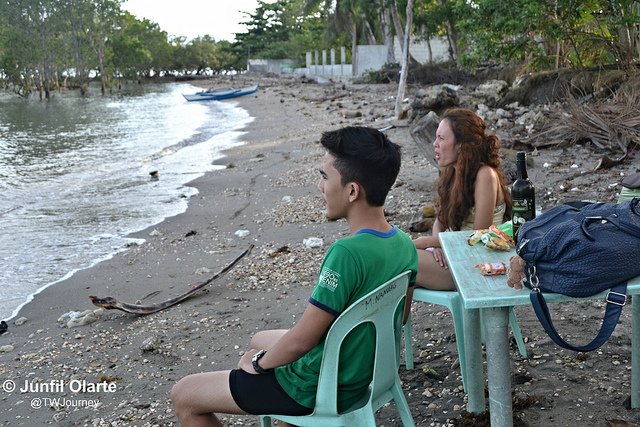 Valencia is about 42 kilometers from Tagbilaran; on the drive you will pass the towns of Baclayon, Alburquerque, Loay, Lila, and Dimiao. Valencia has a quiet and still environment comparable to most other towns in Bohol. My cousins told me several of our relatives are also living here. In fact, we visited one of them after leaving Badiang Spring. There are more possible tourist spots in Valencia that aren't yet developed as indicated by a report from the local government. These consist of sand beaches, waterfalls and other springs, a cave and also flora and fauna in its' mountain range.
We then headed back to our cousins' home in Tangohay—a place in Dimiao where grandpa's ancestral house is located. Tangohay is situated between the borders of Valencia and Dimiao not far from Badiang Spring Resort. After returning here, we continued our leisure by cooking some food along the coast while watching my two nephews paddle their boat offshore. Just within reach of my cousins' kitchen, indeed, is the seashore: a Pacific location conducive to unwinding – while facing the infinite view of the Mindanao Sea.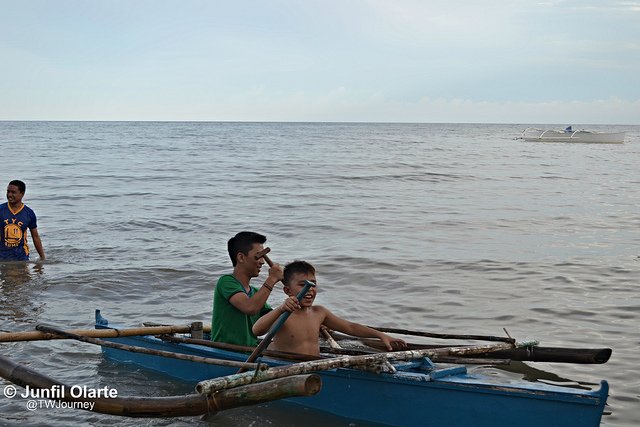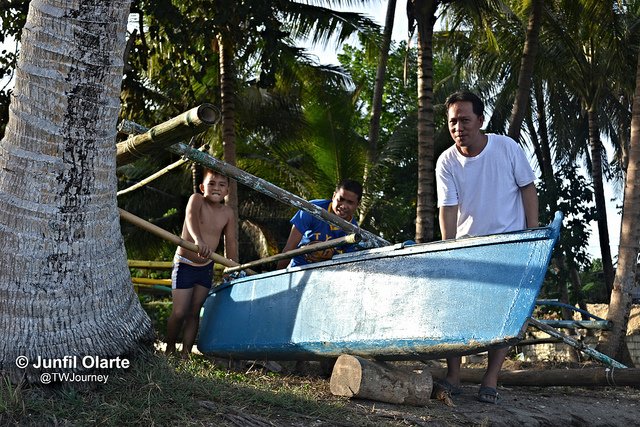 Dimiao, according to some sources, is one of the oldest places in Bohol, as baptism records found in its parish date back to the year 1750. The town has both man-made and natural attractions which include white sand beaches, waterfalls; a mountaintop where you can see the lowlands of Dimiao; ruins of a Spanish structure built in 1800 and a centuries-old stone church, among others. I will be writing about these when I return to explore Dimiao next year.
The old stone church in Dimiao is one of the historical structures on the island that the Spanish colonialists built up through forced labor. The church sustained serious cracks during the tremendous earthquake that rocked Bohol in October 15, 2013, also severely damaging centuries-old churches in Baclayon, Dauis, Loay and Loboc—while the others in Loon and Maribojoc became piles of rubble, completely leveled to the ground with nothing left standing. I featured some of these very old churches in my article "Wanderlust In Bohol Paradise" which I wrote in 2011.
Dinner was finally served at 7:00pm at grandpa's house in Tangohay. Along with our cousins we discussed our common ancestry in this town. My grandfather was a native in Tangohay who lived in this house—with his first wife—at the earliest period of the 20th century (probably during the 1910s). This house was left to his eldest son Julio (mom's half brother) when grandpa, at an early age, became a widower and decided to migrate to northwestern Mindanao in the 1920s. There he settled in with his second wife (they had two children). But soon became a widower again – he married his third wife (my grandmother) and they had nine children including my mother.
My grandfather died in the island of Mindanao in 1979. His eldest son Julio also died in Dimiao in 1998. This ancestral house in Tangohay has been left to Uncle Julio's children, especially under the care of his youngest son, Mauricio (my first degree cousin), who attended my wedding in Tagbilaran. His attendance came as a result of the communication my aunt had with them.
As one of the grandchildren born only in 1978, I've never met or even known of any blood relation from Bohol. This is because my siblings and I were born and raised on another island. And Mom had almost no mention about it. I just learned lately that she, too, had been to Dimiao only once. That was when Mom was still eight (now she's seventy-four). Besides, grandpa's line of descendants with his three wives created a very large extended family all living in various parts of the Philippines; as such there has ever been a family reunion. I was lucky I was able to meet and visit with them at my wedding.
While in the middle of conversation at the dining table, another cousin of mine came to see us, bringing some tasty fruits for our evening meal. We engaged conversation, afterwards, he and his wife invited us for a morning snack the next day. Their place is in Taongon Cabatuan (still part of Dimiao) where other relatives are also living. Our visit with them was enjoyable and memorable helping create 'new' family bonds.
The Departure
The following morning after our brief visit in Taongon Cabatuan, we hastily returned to Tangohay to pack our things – it was time to leave. Jhong and Genevieve—children of my cousin Mauricio—helped their mother prepare our breakfast. We had agreed the prior night to visit major attractions in Bohol. The purpose of this trip was to let my parents and my two nephews see the famous Chocolate Hills in Carmen, the Man-made Forest at the borders of Loboc and Bilar towns as well as the alluring beaches in Panglao Island. We still had the time to do so as our ship at Tagbilaran would not leave for several hours. Much of these attractions were also highlighted in my article "Wanderlust In Bohol Paradise".
Jhong decided to accompany us and brought some food for lunch. We left around 9:30am from Dimiao (our rented van was waiting) on the way to Baclayon. From Baclayon we drove through the routes of Loay, Loboc, Bilar and finally to Carmen where the viewing deck to Chocolate Hills is located. Then we stopped at the Man-made Forest for lunch, moved to Panglao, finally returned to our hotel and roamed around for a while at a shopping mall in Tagbilaran reaching the seaport just in time to catch our ferry off the island.
I'm still left wondering how wanderlust has led me to reach this unusual point in life. The mystery of connecting to people through travel is quite perplexing. Is it fate or just mere coincidence? My marriage in Bohol and discovery of bloodline here all have happened through years of uncontrollable passion for travel. I've now realized that traveling isn't just all about the places you visit. It's all about the invaluable experiences which you get from doing – continuously wanting to explore. No matter how near or far, cheap or expensive, simple or impressive such places may be, or how many times you visit them – all this doesn't have to cure you from the longings to wander for more experiences.
It simply has no ending and is a lifelong journey 🙂