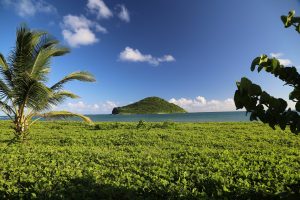 So far my latest trip to the Caribbean has involved a variety of transportation modes, a bicycle, a bus, walking, plane and now a helicopter. In the fading rays of the strong sunshine on the island of st. Lucia I hopped on board a helicopter for a 10 minute journey over the interior of the island from Hewanorra International Airport in the south to George F. L. Charles Airport in Castries City in the north.
The interior of the island is remarkably remote – covered in beautiful rain-forest draped over steep mountainous terrain – I spotted a river that wound its way through the mountains, seemingly untouched – with no farms or homes anywhere in the vicinity.
Finding the "million dollar view" as advertised on AirBnB soon I was relaxing in the hills above Castries City. The ARC event was in town – this is an annual 2,700 nautical mile race from the Gran Canaries to St. Lucia. There were several hundred sail boats already here – check out: www.worldcruising.com/arc/event.aspx
As a side note, if one had some extra time, the end of the race would be ideal for finding sailboat transportation to any of a number of nearby islands because many of the boats continue sailing in the Caribbean.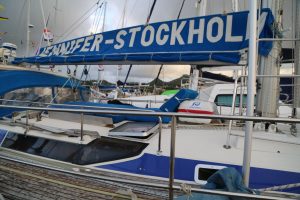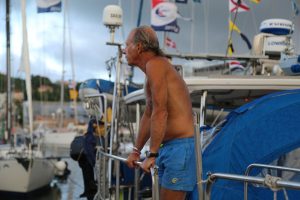 So we figured this would be an appropriate time to go hang out by the marina in Rodney Bay. My host and I did this – with instructions from my brother to try and find three boats he was familiar with (either because he had sailed on them before or met their captains in various ports or sailing events). A number of restaurants were open next to the harbour – we hung out here most of the day, eating, chatting and drinking. And then drinking more. And listening to various European languages from those who had just made this epic transatlantic journey – many in small sailboats.
Top of the list was Jennifer, skippered by captain Lars Hässlers out of Stockholm. My brother had sailed with Lars for several weeks some years back in the Mediterranean and had kept track of his whereabouts as Lars continues to sail around the world, year after year. He is an accomplished individual who obviously enjoys the freedom that sailing brings as well as pursuing a number of other exploits (mountaineer, author, speaker) – he takes paying crew on his journeys around the world. For those interested in this lifestyle or perhaps helping crew on his boat – visit his site: www.yacht-jennifer.nu/skipper.html
And for those interested, here is an article my brother wrote early on in his sailing days titled Exploring the World as Paying Crew
After a quick chat with Lars it was off to the airport to fly to Martinique.
A special note must be made about the airport next to Castries City. Do this: check in a little early, get your boarding pass and then make the 20-25 second walk (no joke: tested and proven by yours truly) to the beautiful beach and bay, located directly across from the airport's check-in counter. Then relax on the sand until you have to go through security – what a great 'waiting room'. Wow, I wish all airports were this small and were located in such a beautiful spot! And there are even nearby wooden shacks housing small restaurants serving food.