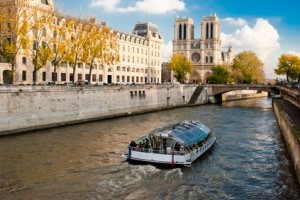 When most people think of Paris, they probably picture the Eiffel Tower, the Louvre or the bright lights of the Champs-Élysées. It is a city which evokes romance, not to mention a certain amount of decadence. The words 'Paris' and 'budget' are two which probably seem highly incompatible.
However, is this notion of Paris as a destination for the rich a myth? We're inclined to suggest it is in fact a misconception… After all, there are over two million people living in France's capital, and we bet a large portion of them are less than well off.
If you've always wanted to pay a visit but have been put off by the supposed price tag, try taking note of our tips for enjoying Paris on a shoestring!
Package Deals
Firstly, although you might be put off by the thought of a package deal, it is in fact one of the best ways to find an affordable way of seeing Paris. If you look for Last Minute discounts you could end up paying a massively reduced price than if you were to book flights and accommodation separately. Alternatively, if a package deal isn't for you, you can still get travel vouchers online with many reputable travel companies – just make sure you shop around!
Walking Tours
When you reach Paris, the sheer amount of sights can be overwhelming. So to make the most of what you can, consider going on a walking tour. Before you assume this to be another pricey tourist trap, there are in fact many free tours available. With some run by Parisian natives, this option can allow you to sample an authentic slice of the city as well as the more famous attractions; tour guides are likely to take you to their favourite cafes and hang-out spots, giving you more of a varied (and low-cost) experience.
Apartment Accommodation
With hotels often being one of the most expensive parts of a holiday, steer clear from standard accommodation and try renting an apartment from a local. There are many websites which now offer visitors the chance to stay in a Paris apartment, usually for a snip of the price of a hotel. The fact that you'll be staying in a furnished flat (usually from Parisian's looking to make money from their own stay away from home…) will give you a really authentic city experience. Furthermore, the freedom to cook for yourself can allow you to swerve those hefty restaurant bills!
Alternative Eats
Speaking of eating… One of the greatest parts of Paris is undoubtedly the food. However, unless you know exactly where to go, dining on the cheap can be nigh on impossible. So, if you're hoping to eat well but want to avoid the massive price tag, consider changing your eating habits! By having a main meal at lunch time, you're more likely to find restaurants meal deals before the pricier a la carte menu becomes standard. Alternatively, by scouting out food markets or decent street food vendors, you could still enjoy a taste of the city's best but without spending most of your budget on dinner.
Don't let the Paris price tag put you off. By being a little smart about where you spend your money, you could still enjoy all this spectacular city has to offer!