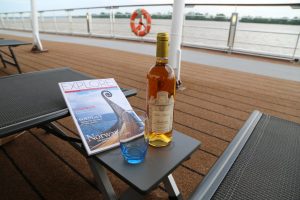 Usually when I have a bulkhead seat I end up with families seated nearby; I have always referred to these seats as 'bulkhead babies' as a number of flights I've been seated here next to crying babies. Fortunately there were no crying babies seated next to me.
The only eventful happening was about half through the flight in the darkened cabin – I jumped up in my seat startled by a loud noise. It turns out a woman had fainted and crashed to the floor in front of my seat and across the nearest exit row seat. Amazingly she didn't hit her head on hard seat divider – the flight attendant rushed over and brought her some drinks – she regained consciousness soon thereafter.
But now I am relaxing in Bordeaux on one of Viking Cruise lines' newer ships – the Forseti, which is currently floating on the edge of the Garonne River. This relaxing river cruise is about 8 days and will also ply the waters of the Dordogne and the Gironde rivers – through the heart of Bordeaux – arguably the world's greatest wine region.
Bordeaux itself is the largest city in the wine region – with excellent hotels, shopping and several interesting museums. A wide walkway is a hub of activity on the weekends with people strolling along the river front, biking or roller blading. During warmer days a reflecting "mirror pool" is popular with children running in and out of the mists that circulates from below every 15 minutes – as well as those photographing there fun.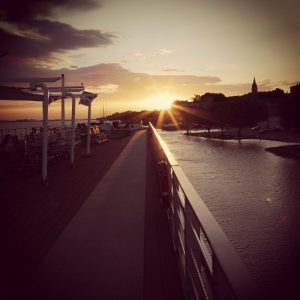 Before the vessel left the dock I wandered up to the top deck. I love the period of dusk between sunset and darkness. Tonight though, it will never be fully dark as a full moon is present.
I am standing alone on this part of the ship watching the Bordeaux lights twinkle along the shoreline. There is a light mist falling – the clouds are keeping the full moon at bay at times, passing in front of its' light. It is quiet while I watch the dark murky waters of the Garonne river flowing fast on its way down to the Atlantic Ocean.
If this were in Bangkok there would be temples built alongside its brown waters, but this is South Western France; one side of the river is lit with little shops and restaurants and the other side is fairly dark.
This coming week will present plenty of food and wine, visits to winery Chateaus, walks through small villages and good conversation with fellow passengers. On a cruise such as this, one can choose to do as little or as much as he likes; there are many options both on and off shore.