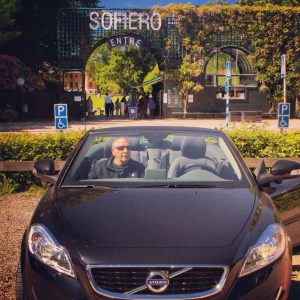 My visit to Sweden this time was decidedly different than my previous. Enduring cold weather, cloudy skies and drizzly conditions during my last visit we spent much of our time indoors drinking hot chocolate, eating sushi and visiting with family who live in Malmö.
During the entirety of that trip, the cold weather followed us up to Oslo Norway – and then over to Stavanger and Bergen with fleeting glimpses of the gorgeous fjords tantalizingly leaving us wanting more of these views but frustratingly not getting them. My memories of that trip also include some of the best wild raspberries I have ever forged for. At one point it felt like it was going to snow it was so cold. And that was at the end of August.
Not so this time – glorious weather treated us all over Sweden. It was a bright warm sunshine filled day when we pulled the top down on our C70 Volvo convertible and headed out to explore more of Sweden as part of Volvo's Car + Vacation program. We left historic Helsingborg and made the short 10 minute drive to the countryside. We pulled up to the entrance of the Sofiero Gardens and Palace feeling quite fine. No it wasn't from the afterglow of a long meal at the lovely Sillen & Makrillen the night before – watching the sun slowly fall over the Baltic at 10pm, enjoying tasty seafood – but rather it was an immediate high from the tender morning sunshine.
Not knowing what to expect from our visit here – we were quickly seduced by the natural blaze of color that greeted us, within seconds of stepping through into the entrance. Fairy tale esque, we quickly became lost (literally and figuratively) in the brilliance and showers of the multi colored rhododendrons and azaleas that were at the peak of their blooming perfection.
My friend left to chat up some ladies he had recently met (exhibiting some more of his trademark moves during the trip) and I fixated on the appropriately named "rhododendron walk". I quickly dropped down a pathway into a small ravine. The rhododendrons I know from my limited experience watching these bushes grow in California are merely dwarfs compared to these blazing giants. It was good to sit down after spending much of the previous day on the road.
These gardens were a summer home for Swedish royalty until as recently as the 1970's. While we explored just a tiny part of the gardens – there is also an English and a Victorian garden on site. A restaurant is located on the first floor of the palace and from here there are nice views of the strait of Öresund and the Öresund bridge leading to Denmark. Flowers bloom throughout the summer, but with over 10,000 rhododendrons growing on site – you really want to visit at the end of May and early June! Visit: www.sofiero.se