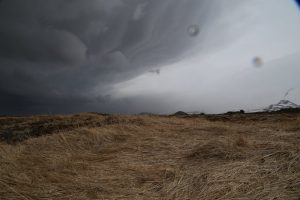 Today I set off for western Iceland. After several hours and multiple stops I reached Snæfellsnes, a peninsula in Western Iceland. I found a random scruffy hitch hiker standing by the side of the road in the middle of nowhere. I quickly stopped and found out he had hiked down to the main road from his campsite in this remote part of the peninsula because his 6-year old son had somehow turned the car radio on and drained the battery. I delivered this man to the closest town.
Then some time later I drove right next to a massive radio tower – it turned out to be the long-wave radio mast Hellissandur. At 412 metres high it is the tallest structure in Western Europe. Long steel cables extend high into the air.
What a difference 10 hours makes! Last night it was crystal clear by the time the sunset over southern Iceland. This morning it was frigid, raining and dark storm clouds were present as far as the eye could see. One this trip, I have seen the weather change dramatically – often times in as little as a few minutes.
Case in point was this afternoon in the Snæfellsnes. I drove from sea level up a rocky road that appeared to be recently cleared of snow until I could not drive any further – the road became very muddy which quickly turned to deep snow. I started hiking. Strong winds at my back were to some extent literally blowing me up the mountain. I followed some snow cat tracks up to one of the ridges – the wind increased in intensity until it was howling all around me. In a matter of minutes I watched the clouds descend almost to sea level quickly turning everything around me dark and to near white out conditions. The wind increased significantly.
So what did I do? I found a rocky outcrop and tied the camera down and used rocks to hold the strap down and then shot a video of the power of the wind. You be the judge, was the subject jumping or was he blown?!
Watch carefully – you can see the power of the wind in action simply by noting the canvas bag (for rolling up the jacket) that quickly blows away from the pocket of the jacket and almost immediately disappears into the background – lost forever in Iceland.