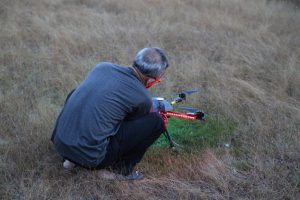 I had been researching various drones for the past few months and finally decided on the DJI Phantom I. I made a quick test in our house before we left for Thailand. That did not go very well at all. The drone took off by itself as I was unable to get it calibrated – it repeatedly banged into the ceiling and then got tangled in some wires. These soon snapped and shot across the room into the blinds and fell to the ground. Lucky it landed upside down so I quickly jumped on it and I was able to keep it under control and immediately pull the battery out. Obviously these drones are not meant for confined spaces.
My second, and third and fourth flights all ended in crashes, with the fourth one turning into a spectacle when the drone took a nose dive straight into the surf at the spectacular Koh Ta Chai Island about 60 clicks off of the Thai mainland in the Andaman Sea. Needless to say this was highly disappointing – especially after smoke started pouring out of the rotor shafts with something obviously fried from the contact with the salt water. Back to the drawing board and back to Thai Hobby in Bangkok for more of their excellent work at fixing these flying machines.
Lets just say, this won't be my first visit to their shop.
To rub salt in the wounds I ended up going to an open field where a friend of the family was successfully flying a much larger drone.
Where we crashed the drone into the Andaman Sea – looks great here? Bet it would have looked even better from above!