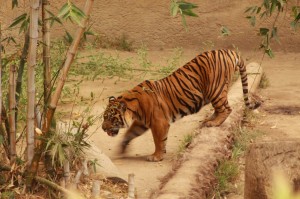 Got up early to go shopping at the relatively new Farmer's Market in front of the Autry Center – it is one of the smaller Farmer's markets in town but this time of year there is always good fresh fruit – especially grapes. Oh and the Homeboy Bakery is always there with their fresh bread (reformed gang members). Heading across the street – I spent 90 minutes at the LA Zoo – arriving right as they opened and raced to the back of the park to beat the Saturday crowds.
Then for something 180 degrees opposite I shot up the 5, made very good time and arrived in Valencia and Magic Mountain in well under 30 minutes. It is a lot of hassle just to get into the park – with so many lines at each step of the way. 10 or 11 lanes were well backed up just to get through the parking lot gates.
This entertainment epicenter boasts thrilling gut busting rides, rides that drop so fast you almost leave behind body parts, roller coasters that run upside down for several loops, or scream around hair pin turns are among many of the featured rides here. Some of the fastest roller coasters in the world are here – high speeds with quick starts and stops and hairpins turns – if your hair is naturally straight before a ride like this, there is a distinct possibility it will be curly afterwards!
The parking lots here are vast and seemingly endless in all directions – it is a sea of steel as far as you can see during busy days. As a result there are buses that make three parking lot stops and deliver excited park goers directly to the main entrance. There are even guard "outposts", towering well above the cars. Large spotlights mounted on rotating pivots and binoculars are their tools of the trade.
Another line: as with other major theme parks you go through metal detectors. Then you reach some sort of circular large "no man's land" – where you find a few more lines to actually get your ticket scanned. Once you walk through the metal gates, you have finally made it into the park – hurray!
However the lines don't stop there. I had limited time in the park – I was here for only about 2.5 hours exploring and I had time for one ride – a 5 minute wait sign turned into 20 for about a 3 minute ride, the Ninja. It was a warm day so I tried to get into one of the water rides but the wait time showed 45 minutes. Rather I headed over to get a Hamburger – after 15 minutes in line getting caught up on emails and still not much closer to the counter – I gave up and left.
Magic Mountain needs to be an all day experience – probably starting at 9am waiting in line to get into the park – to put yourself well ahead of all the cars lined up.