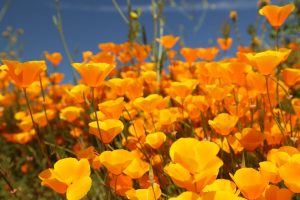 Driving out in the morning from Mission Viejo to Lake Elsinore mid week, I thought for sure I would have the poppy fields all to myself. I could not have been more wrong. Pulling off the 15 on Lake Street and heading onto Walker Canyon Road I soon found myself in a 'zoo'. Seemingly all of Los Angeles and Orange County had made the trek out this Wednesday morning – traffic officers were directing cars, cars were backed up all the way into Walker Road – with no outlet and vehicles tightly parked on both sides of the road, vehicles had to drive the entire 1.5 miles and turn around at the end.
By some miracle of the morning, I found a parking spot, squeezing next to one of the porta potties that had thoughtfully been brought in after the crowds descended on this part of town. Soon I heard a helicopter – initially I spotted one but then more arrived, sightseers taking in the fields of orange from the air. None tried to land in the flower fields – although I heard about one that did land the previous day and the pilot ended up running back to the helicopter and taking off just before officials arrived. I walked a bit further and soon I was being buzzed by a drone. Ok, enough. I attempted to leave.
By mid morning, traffic was being allowed to exit (already significantly backed up) – but the road in was closed due to the volume of traffic. Apparently people were having to park long distances away and either walk or be shuttled in.
Fortunately the bloom was not isolated to one area – hills up and down this part of the 15 were covered in colorful flowers. Finding a dirt road I headed up through a canyon past hillsides covered in poppies. One family had brought along their musical instruments and were playing classic music while they stood among the poppies. Continuing further I finally found my own private hillside of flowers and I sat quietly absorbing the beauty.
The hillsides are ablaze! Nature's painted pastel, an inspirational sea of wild poppies as far as the eye can see in all directions. The only sound I hear is the wind gently blowing. Perhaps this scene is what Antonio Vivaldi had in mind when he was composing his Mandolin Concerti.
Later in the day I drove over to Diamond Valley Lake and visited the Flower Trail. Someone was collecting tickets after about a 1/4 mile in from the trailhead at the boat launch. While packed, there were less people here then at Elsinore – and those on this trail seemed to be more local tourists based on all the licence plate frames listing Hemet as their home town.
Then later in the week it was up to one of my favorite Spring time destinations in the state, Carizzo Plain and Soda Canyon in eastern San Luis Obispo County. This little visited part of the state is a long valley/wide open space that after a winter of plenty of rain comes alive with yellow flowers in the valley and on the hillsides.
No cars lined up in all directions, no ticket takers and no helicopters!