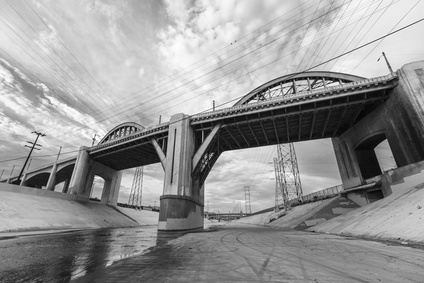 From north of downtown. Every time I'm in town I try to stop by a different section of the Los Angeles River – this time I visited the part of the river immediately north of downtown. This stretch is surrounded by the 5 and the 134 freeways and the concrete almost seems to shake at times when large trucks go over the bridges. From looking at some of these photos you might think this river could be in the mountains, or in a very natural setting, not completely surrounded by concrete and certainly not so close to downtown Los Angeles! The freeway noise is incessant in this area and it takes a lot of concentration to block it out. When the water is high enough here there are even small rapids and we saw a surprisingly large number of various birds hanging out. Yes, we even saw some small fish.
My peaceful time was unfortunately interrupted by a fish tailing truck on the 5 northbound which crashed into a tree and exploded into a fireball and smoke which plumed way up into the air. Finally firefighters came and this grey smoke turned to white as it was doused but not before backing up traffic for miles. Three hours later traffic was still backed up in this section in that direction.
From south of downtown. When you stand solitary on North Main Street next to the railroad tracks above the Los Angeles River all you feel is a deep sadness as you look down on a river that has been dramatically altered in a relatively short amount of time. You look down on a dirty river that now flows dark, a concrete river juxtaposed with brightly colored graffiti where those entrapped by the city, drugs, gangs and poverty territorially cry out with their markings. Electrical lines, bridges, rubble and old fences all decorate the banks of what was originally the lifeblood of Los Angeles. If you do not happen to be on North Main Street, any of a number of bridges in this area will afford one the same views. Close your eyes and think back 100 years to a time when this actually was a natural river, with trees and grass growing along its banks. Or, if your imagination has been corrupted beyond hope by the scene that lies in front of you, simply Google 'LA River 1900' or something like that.
For more information about the Los Angeles River or to volunteer visit the "Friends of Los Angeles River" – http://www.folar.org
There is a lot of potential and plans in the works for the LA River (especially in the very industrialized area east of downtown).
The natural river was destroyed in the 1930's but now has a long yet hopeful road towards revitalization:
Photos: