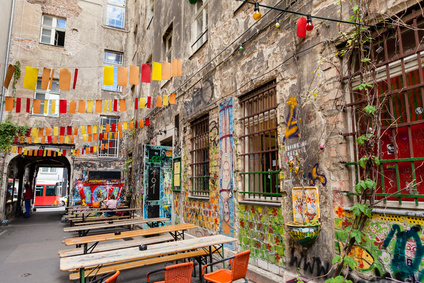 Berlin is a city with an interesting history and certainly one with a lot of stories to tell. After the erection of the Iron Curtain, and during of the Cold War, Berlin was the center of attention during and after the World Wars, (obviously it wasn't a great tourist destination then with an attractive selling point at the time). However before the conundrum of world politics and crazy dictators, Germany's capital offered a much vibrant bohemian past. An aspect that has been blooming since the 70's with famous artists like David Bowie calling the city home for a time.
Nowadays, Berlin's history and authentic urban culture contributes to the city's popularity among citizens and the tens of thousands of visitors alike. And although there are still echoes and remnants of the communist rule in former East Berlin, the division has long dissolved with gentrification and diversification taking its place which is slowly changing the demographics of some Berlin districts. Today's 'trendy' districts of Kreuzberg and Neukölln for instance, have long been home to a large immigrant population but have also attracted students, artists and young professionals, making these urban spaces culturally diverse and bubbling in creativity with cafes, bars and clubs pushing the boundaries of normality.
Always worth a Trip
No matter what your personal preference happens to be in terms of touristic activities, Berlin offers plenty for all tastes. If history happens to tickle your fancy, the district of Mitte offers a lot of landmarks where the monuments of old Prussia along Unter den Linden are contrasted by the glass facades of Potsdamer Platz. Remainders of the Wall covered in artistic and iconic graffiti at the East Side Gallery, or countless shopping opportunities on Kurfuerstendamm are also recommended on plenty of holiday review sites like here.
Then again, if breathing in the city's urban life is more your thing, the city shows off a more relaxed atmosphere during spring and summer with plenty of green parks and walkways along its canals.
A little different than your normal European capital or tourist metropolis such as New York or images of London, it can easily keep up with them when it comes to diversity and variety. In saying that though, it is definitely a city which doesn't have everything served on a plate for you. If you really want to understand charm of Berlin, you will need to be prepared for an adventure.