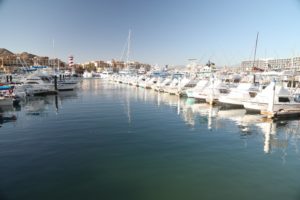 The rooftop edges over dramatically – at its most precipitous drop, one would fall maybe 10 feet if they weren't careful. There is no railing guarding the edge of the roof leading to the steps to the lower level. But one afternoon a gentleman showed up with his portable welder and began welding together a metal railing before ultimately installing it.
We began chatting – his initial questions were about politics. Always a hook conversation starter possibly leading towards conflict but in our case, it only led to agreement. He (Enrique) informed me he had a job near Cabo San Lucas the next day – he offered to drop me off on the outskirts of town while he continued to his job site. Having spent two weeks entirely in quiet San Jose del Cabo, I readily agreed.
My first stop after he dropped me off was for food. I spotted a small restaurant called Taqueria El Cuartel del Taco. Menudo (tripe) soup and a fish taco with nopales (cactus leaf strips) and grilled onions. Best damn taco and soup I've had in Baja California.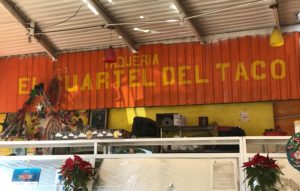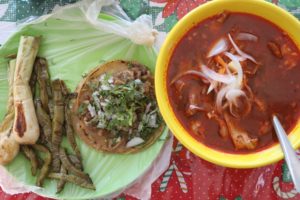 Continuing towards town I eventually reached El Squid Roe and Señor Frog's – two bar hopping establishments located next to each other – iconic beings always included on any hard core alcohol enthusiasts list of places to drink while in Cabo San Lucas. After walking around the city for several hours eventually I stumbled into the small 101 Kruda bar and for the first time during my latest trip to Mexico I enjoyed a strong, properly and thoughtfully made mojito. Not one of those touristy washed out drinks that are so common in towns like these. Along with two excellent seared tuna tacos. My meals have become one long blur of tacos.
Then a gentleman showed up, seemingly walking in off of the street with a wireless microphone and a speaker. We soon found out he was Jimmy Shin a comedian from Studio City, Los Angeles. He often performs at the big name comedy spaces on both Sunset and Hollywood boulevards. But tonight we had an almost private show – the audience (including myself) and the three bar staff never increased to more then 7 people. He tried to attract customers by advertising 'a comedy show plus strippers' – the strippers never showed up. Sadly the paper cup he passed around at the end of each set only contained a couple of coins and small paper bills. Hard times for all.
Enrique finally showed up. We eventually left and were about to head back to San Jose del Cabo when Enrique spotted two gorgeous creatures walking into what turned out to be country music bar. More beers followed by some wild women who were yelling at us with unparalleled excitement. Must have been Enrique's good looks. Certainly wasn't me in my disheveled condition.
Soon the bar tender decided to light his bar on fire with some alcohol. He poured out some high proof something (hopefully not top shelf stuff). The crowd encouraged him on by screaming – he then blew intense flames towards those drinking. My Maria by Brooks & Dunn began blasting – everyone started screaming louder then they already were. Then some lady decided to jump on top of the bar and lie down, face upwards. The bar tender placed shots glasses in far to intimate places and began taking shots from on top of her body.
My memory of this evening ends there.