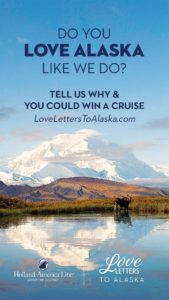 Have you ever wanted to visit Alaska? Perhaps cruise the Inside Passage? Here is an opportunity you do not want to miss. Recently I was approached by Holland America to get the word out about a fun contest which runs through March 15, 2022. In celebration of 75 years of Alaska exploration (the first cruise company to offers cruises in Alaska and the Yukon), Holland America is hosting a Love Letters to Alaska contest, free to enter for all residents of the U.S. and Canada. Those who enter should explain in 25-250 words their love for Alaska and why they want to travel there.
The 10 different prizes are cruises in Alaska. One grand prize winner will be awarded a seven-day Alaska cruise for two in a Neptune Suite (one of their finest spaces on board). Nine first-prize winners will be awarded a seven-day Alaska cruise in their Vista or Signature Suite. All winners will cruise in 2022.
I have been to Alaska a number of times; every trip has been unique and memorable. One trip however, that I have not yet experienced is Alaska in the middle of winter. Those who know me know my strong aversion to cold weather and darkness, but for unique experiences I will make exceptions 🙂
This is my 'love letter to Alaska'
Alaska, your wide-open spaces have long appealed to me. On my first trip, I immediately gravitated towards a newfound personal inner freedom, felt strongly by being in a place so vast, remote and visually inspiring. Your wilderness and climate can be only described with an unlimited number of brush strokes. I've experienced your raw beauty – from seeing Denali on a rare stunningly clear day, to soaking in Chennai Hot Springs outside of Fairbanks, to experiencing light all day north of the Arctic Circle, to feeling fear yet simultaneous awe at nearby Grizzly bears foraging in the open.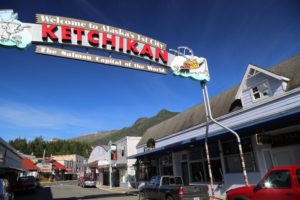 The wildlife is impressive; I've fished in your waters from Ketchikan up to near Anchorage. Never in my life have I seen so many salmon running the streams. Coming across a massive moose for the first time in my life in the middle of nowhere certainly woke me up. I've looked for gold (and found some) near Tok. I've been surrounded by thousands of mosquitos while fortunately admiring their voracity from the inside of a mosquito net! I've shivered at night, camping when the temperature fell far below zero and my sleeping bag was completely covered in frost by morning.
I want more of Alaska on my next trip, the northern lights, the sounds and sights of glaciers calving in the Inside Passage, a float plane ride out of Dawson City to the extremely remote and little known Hart River, a visit to Kodiak Island to see the world's largest bears, a ride on the Alaska Railroad. The list goes on!
This is a #SponsoredPost; I have partnered with Holland America to promote their Love Letters to Alaska Contest. #HALcruises #welovealaska