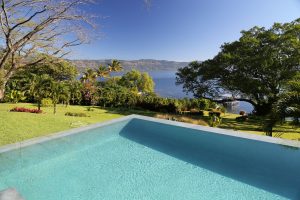 I am sitting on the edge of Lago De Coatepeque in El Salvador on an early morning – wakened early by the suns first rays hitting my face from my cozy spot on the floor, wedged between two sofas. Last night I vaguely remembered stumbling in around 2am. Lacking in the sleep department and heavy in the alcohol recovery, I feel surprisingly well for just a few hours of sleep.
Last night was a blur, it was my cousin's wedding and it was epic. The ceremony overlooked the aforementioned lake, a volcanic drop of gorgeous blue surrounded by the green of rainforest and the ridges of the old volcanic caldera. The mass was held in a small church on a hill – with a small reflecting pool next to the altar and the waters of the lake in the distance. What a spot! These types of lakes are found in parts of central America – especially so in Nicaragua – this location reminds me of some of those lakes we visited a few years ago.
The wedding lasted until the wee hours of the morning – with several sets of fireworks blasting into the night sky and a finale which involved clowns on stilts walking onto the dance floor passing out lots of colorful attire and flashing lights and the appearance of vodka in various sized shot glasses. The hardwood was maxed out and people were spilling out onto the grass. A live band played for much of the night – when they tired, the volume increased and we danced to both Spanish and English popular songs.
The day after the wedding we moved around the property slowly – savoring every minute of the incredible weather, blue skies and inspirational views. We kayaked, snorkeled and swam in the clear waters. A small island, Teopan sits in the northerly part of the lake that is conveniently a short kayak ride from our home. We spotted one home with two helicopters sitting in front – not a bad way to get here, most likely from San Salvador, the capital city.
Ten year ago almost to the day it was my own wedding, overseas in Thailand followed by the terrible Tsunami on December 26, 2004 which my brother barely survived as he ran for his life. He was also at this wedding – having flown in from Verona, Italy – no tsunami around here.