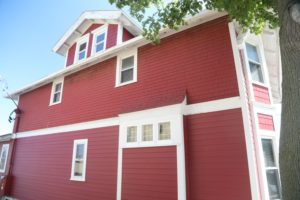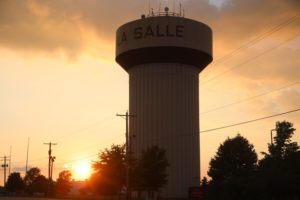 I stopped in Chicago, one of my favorite food and wine towns in the entire country. I enjoyed some exceptional wine and food at the Greek Restaurant Avli on the Park on top of a tall building just up from the waterfront. I headed south that evening, arriving in South Chicago. It was very dark. I arrived on a street filled with people running around, yelling, drinking and cars double parked. I felt out of my element. My desired space for the night was a corner located run down building that apparently had been converted to some hostel like accommodations. The $20/night price seemed so appealing at the time I made my booking; now I was not so sure.
I knocked, someone let me in and told me his guess was as good as mine as to which room I would be staying in. Someone else wandered down the hall and said I was not allowed to be inside until I made contact with the owner. She said "move outside son", and then pointed out the owners phone number etched into the door. It was a 323. I instantly felt better. My 3 digit mobile phone prefix is also a 323. LA baby. A note indicated text only communication. Once my room number was assigned and a code given to me to enter the front door, I headed back inside.
A nice lady came up to me and stood in my face reciting powerful bible verses, her hot breath and words covering my face for several minutes. Eventually she drew back and told me she was glad I was there and asked me if I would be ok if she accompany herself to my room. I thought for sure she wanted more from me but in fact she just wanted to show me where my room was. It was in the basement, dark and dank, an interior room simply containing a stained mattress, a very dusty floor and four walls (no windows). It was hotter than Hades and very humid. After a restless but otherwise uneventful night I continued on my way. I most certainly picked up a bug from my stay here.
Two days later I became ill with flu like symptoms including a temperature, aches and pains, violent shaking from feeling cold (despite the temperature), loss of smell and taste, a cough, a nasty headache, sore throat, and a little bit of nausea. I used to become deathly ill when traveling, but not as much anymore. Fortunately all the symptoms passed within a few days.
I do recall a number of subsequent highlights over the next few weeks and I would like to share them with you. They are in no particular order: Greenleaf State Park in Oklahoma, driving the length of the very remote Road 31 in rural Kansas, a revisit to Coffeyville, Kansas, a tasting and lunch at Chandler Hill Vineyards in Defiance Missouri, finally visiting the Arch in St. Louis, visiting a darkened Hara Krishna place of worship and exploring multiple floors of graffiti infested abandoned factory buildings in Detroit and staying in MotorCity Casino & Resort, also in Detroit and walking in and along the historic I&M Canal in LaSalle, Indiana.
But I must return with a few words about my stay in Coffeyville. I drove through here a year ago checking out the towns' faded glory and connection to the Dalton Gang. During that trip I slept in the back seat of my rental car in a ditch next to the highway but hidden by trees from passing cars. But this time, I stayed overnight and upon my friend's recommendation had dinner at The Ville Pub & Grill, a local's favorite located next to the bowling and arcade alleys. The restaurant was in a metal shed with bud light signs liberally adhered to the thin metal exterior walls. I promptly entered and strode past a packed interior, with every card table surrounded with folks enjoying dinner. I was clearly an outsider here, someone who walked into someone else's world.
I noticed a sign on the door indicating something like, "if you will fight, we will throw you out, fighting not tolerated". I took special note of that and made an additional note to limit my alcohol intake this fine evening. I made my way to the bar and ordered what seemed to be a local favorite, a huge piece of fried breaded catfish along with a single Budweiser.
What is America? For me, this one evening was all I needed to answer that question. And it felt great.