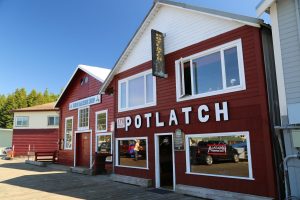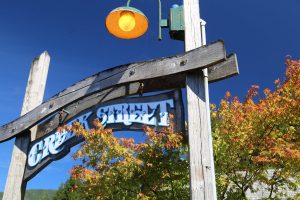 For a tiny town, Ketchikan is full of big experiences.
Self titled as one of the rain capitals of the country, they average some 13 feet of rain a year, otherwise known as liquid sunshine! One can normally expect to get wet regardless of the time of year visiting. However, remarkably during our two days in town, we had bright blue sunny skies the entire time. When we told people who had been here before and showed them photographs to prove that Ketchikan can be clear, we were greeted with disbelief.
Totem poles are big here, in fact the town is home to the largest collection of Native American totem poles in the world.
And one must not forget the salmon. You can see them in the waters around town – there is even a sign downtown advertising Ketchikan as the Salmon Capital of the World (although there are certainly other parts of Alaska where there are just as many salmon if not more then here).
Ketchikan is big into float plane transportation – we heard there are more floatplane take-offs and landings in Alaska then in any other part of the world.
This is also Alaska's self-titled, 'First City' named as such to indicate the first city one comes to when heading north on the Inside Passage.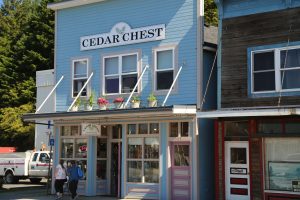 And when it is sunny, this town shines brightly. The colorful buildings provide a dramatic contrast to the dark blue waters and the green of the surrounding dense forests. Creek Street fills with tourists from the cruise ships and then empties out again when they leave. This picturesque part of town is well-known as historically – it was home to a red light district, housing a number of brothels including what is now a small museum, where the street's most famous lady, Dolly used to reside.
And while wandering the streets, I observed that the town seems to be big on bars including one named Arctic Bear whose slogan is "home of the happy bears" with an image of two bears copulating. Another crowd favorite, The Potlatch apparently can get a bit wild later in the evenings.
We are staying at the Cape Fox Lodge – which is perched on the edge of a hillside with great views overlooking the city, the inland passage and the surrounding forest. While not working during our stay, the bright red funicular is normally a quick way to go from the lodge to town. Alternatively, one can 'sneak' down the Married Men Trail – a hidden pathway that supposedly married men used to use for access to the awaiting red light district below.
We are only in Ketchikan a short while – our ultimate goal is Waterfall Resort, a private fishing lodge accessible via Ketchikan by float plane. And gateway to legendary Alaska fishing – giant Halibut, feisty King Salmon and plenty of Cohos to!