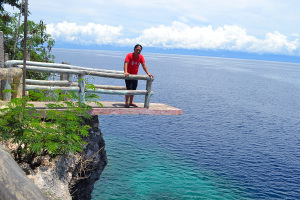 The island of Panglao is among the most important destinations to see in the Philippines. It is well known for its white powdery sand and clear waters. Specifically located in the north Bohol Sea, in the Central Visayas region, South-Central Philippines, Panglao Island is famous for its diving spots and is routinely listed as one of top ten diving locations in the world. A number of resorts also dot the southern beaches in this island. It features an area of 80.5 square kilometers, divided between two municipalities: Panglao in the southwest and Dauis in the northeast. The whole island of Panglao narrowly separates itself from mainland Bohol so two bridges were built in order to connect it to Tagbilaran City, Bohol's capital.
My latest holiday in Bohol gives me the opportunity to further explore and experience Panglao in a closer way. While summer is already gone in the country, I still feel the scorching heat as we drive on a 14-kilometer road linking Tagbilaran City to our intended destination in Panglao. Each of our motorbikes screams aloud as we cross over the bridge of Dauis heading to Tangnan: a place in Panglao where several cliff dive spots are located.
Joemar, a tourist driver in Tagbilaran, invites me to this place, along with Sergio Jr. and his wife, Loylyn, who help make our interesting excursion possible. We finally arrive at the diving areas in Tangnan at around 11:30am. Crystal green-blue waters are below the cliffs; the lush greenery is visible as it is often tempting to tourists. A few large limestone rocks are present along the further side of the cliff's diving area. The place offers an ambiance of perfect relaxation as it faces the vicinity of Maribojoc Hill providing a scenic view of the ocean. This section is both accessible through the 'Molave Cove' and 'Alexis' cliff dive resorts.
Joemar makes his first dive from Molave's diving board. I make my first jump, too, despite a fear of heights. The diving board at Molave Cove is considerably high from the sea level making every beginner hesitant—and even afraid—to jump or dive from it. The seawater below looks truly alluring which helped me overcome my fear of heights. We continue our diving leisure along with other guests in the resort and—a few moments later—take our lunch together with Sergio and Loylyn.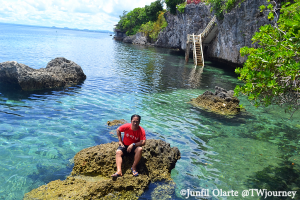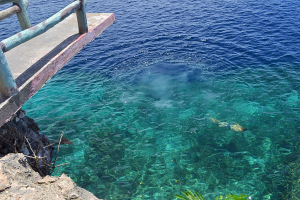 The Resort, is located at Napaling Point, Tangnan, Panglao, requires an entrance fee of P30.00 (just about $0.60 cents US Currency). Cottages on the cliff range from P250.00 to P300.00 (around $5.00 to $6.00). Standard rooms are also available for overnight stay at P1,800.00 to P2,500.00 per day (approximately $36.00 to $50.00). This part of Panglao is ideal for picnic lovers and beach goers, or simply for anyone who just loves recreation and fun. Serene and quiet place to stay, this location in Tangnan is also a very good spot for snorkeling activities.
The four of us then go downstairs a few minutes after enjoying lunch. No more diving or jumping at this time. We need to explore more the seawaters below. To the right hand side of the resort is a stairway which serves as an access to the foot of the cliff. Such a stairway likewise aids divers going back up after plunging into the sea. The scene at the foot of the cliff is fantastic: some big limestone rocks are surrounded by unspoiled clear waters; we see salmon and several species of ray-finned fish. We indulge ourselves by plunging and swimming into its green-blue waters, jumping and diving from huge limestone rock, taking videos and photos, until we find ourselves totally worn out. We pack up and prepare to go home at 2:00pm.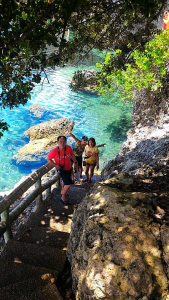 Aside from cliff diving, there are also other activities for tourists to do in Panglao such as scuba-diving, island hopping, dolphin watching, snorkeling, kite-surfing and fishing. 'ChoosePhilippines' says there are about 250 new species of crustaceans and 2,500 new species of mollusks found around this island. The 'Panglao Marine Biodiversity Project' made these new discoveries. They found out that Panglao has more marine biodiversity than Japan and the Mediterranean Sea. Panglao, moreover, is widely recognized for its variety of beaches and dive sites. And that is definitely true. In fact this island is frequented by many tourists from around the world just to have an exciting adventure or simply some time off for peaceful relaxation.
I am thinking of engaging myself in those island activities in the future when I get the chance to see Panglao again. Six years ago I was elsewhere in this island doing a travel report. I know that I have a lot of exploring within Panglao still do do. Our cliff dive experiences in Tangnan are remarkable. Such experiences are simply priceless; most of all memorable, nostalgic, and full of adventure. All of these feelings are whispering inside me as we head back through Dauis Bridge going back to Tagbilaran. It then again reminds me that a 'wanderer will always be a wanderer', who never ceases his journey of exploration.
Author thanks: Joemar Sabuero and Sergio 'Jun' Tahadlangit of Tagbilaran City, Bohol.
Select photo credit: Loylyn R. Tahadlangit.
Video credit: Jomarcon of YouTube (video footage taken @ Alexis Cliff Dive Resort, Tangnan, Panglao, Bohol).