A friend and I discovered a sign indicating 'restaurant' near our eco lodge, a metal shack located behind the owners home. An elderly woman who we call grandmum lives there with her husband and her son. She is a wiry and energetic woman who is always happy to see us; for some reason, there are never any other guests. Sometimes her dog Lola comes running out; she recently suffered an injury, a nasty claw mark down her back resulting from a fight with an iguana that lives on the property. Grandmum raced him off to the local pueblo (Orika) on her bicycle as fast as she could pedal. She calls Lola her little brave one.
We eat here at least one a day despite the fact that grandmum often takes more than an hour to prepare the meals since she is the only one cooking at this restaurant. We always sit outside either on plastic chairs or wooden tree stumps buried in the ground under the shade of coconut palm trees. Sometimes she gives us treats such as cookies, papayas or a recently husked coconut to take for afternoon snacks.
We are staying on a tranquil island called Isla Grande, a part of the Rosario Island chain off the coast of Colombia. Our lodging is a small palm frond roof hut without electricity during the day, a resident bat that flies around inside in the morning, and barely running water. It is a self titled eco lodge. There are no motorized vehicles on the island – everyone walks down dirt paths or rides bicycles.
Apparently there is no fresh water on the island so all water needs to be hauled by barge from the mainland. The lack of fresh water is certainly the primary reason why the island is so undeveloped.
We discovered an abandoned large resort that looked like something out of a French Polynesia Marlon Brando film. Eerie because of its size and remote location, only a few stray dogs were lying about. The old bar stood silent with various debris littered about. I can only imagine the mojitos and good times that previous guests enjoyed during their stay here. Old wooden beams wrapped in thick rope supported a massive second level including a deck overlooking the nearby sea. We walked carefully due to missing steps and missing floor boards; a careless fall through the wide gaps would easily end one's idyllic vacation.
We spotted another abandoned massive building from off shore, rumored to be one of the former palaces owned by the family of Pablo Escobar, but others told us it was owned by some other drug lord.
One part of the island features only a few very rustic eco lodges including one called El Hamaquero, appropriately named for all the hammocks strung between coconut palm trees. Another accommodation called Secret Resort was well hidden among the jungle foliage. A highlight here was the house brewed rum cocktails and the bar tenders performing a mid afternoon dance.
Oceanario is located about 10-15 minutes away from Isla Grande by boat. Fortunately we arrived right after they opened at 9am as later in the morning this oceanarium was overrun with tourists. A highlight is watching dolphins swim and a dolphin show.
But mostly we spend our days in tranquility, rising by mid to late morning, stumbling out of the hammock to find nearby food, usually seafood. And then swimming for an hour or two between lying on the beach. And skipping lunch, instead opting for dinner, again seafood, often ceviche washed down with a strong mojito. The best mojito is when you can crunch on the brown sugar at the bottom of the glass along with tiny morsels of mottled lime.
It has been about 5 years since my last Scuba Dive, a disaster in the Red Sea that ended up with me going to a hospital in Cyprus a few days later (after catching a flight) with both ear drums completely blown and in terrible pain. Fortunately this time I was vigilant about keeping the ears clean prior with high proof alcohol and I descended using a rope, very very slowly taking extra time to equalize. I bottomed out around 16 meters and both dives went extremely smoothly.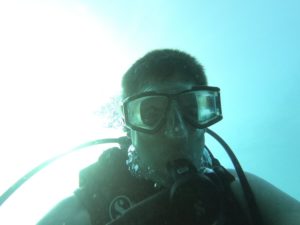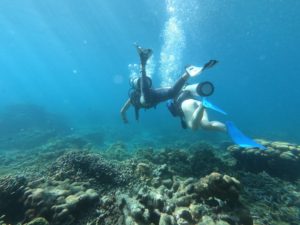 It was pleasing to see some living coral as there is none surrounding Isla Grande. We were told 20 years ago the surrounding waters were filled with coral but since mass tourism has come to the islands, the resulting damage has severely affected the marine life.
The GoPro went on the fritz and for a 47 minute dive took over 6,000 photographs. And then it failed, refusing to turn on; this is maybe the 3rd failed one I've owned in the past few years. Sigh…