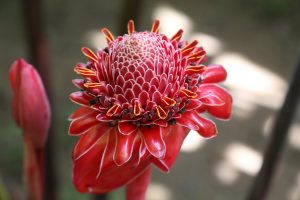 I've wanted to visit Tahiti for years but the high cost of airfare has been a barrier to visiting the country. But with recent flights from the west coast of the USA launching earlier this year and prices much more affordable then in the years past, my decision to visit Tahiti became more realistic.
The capital city of Papeete is by far the largest city in the country – and yes there is even traffic downtown. But as far as cities go, this is a relatively small one. Renting a car I was soon exploring the countryside. My first stop was Restaurant Le Coco's – a high end French Restaurant with large photographs of gorgeous scantily clad women on the walls – not in a sleazy kind of way at all but a refined elegance. No bad seat in this house. Tables overlook the grass courtyard and the bay with the tantalizing mountains of Mo'orea in the distance. Seafood only. Oh and a mojito. Not a bad way to start my first day in Tahiti!
Full satiated, my next stop was the Maraa Grotto, about a 35 minute drive from Papeete. Not very well marked and not found on Google maps, I just sorta stumbled into this.
A short trail leads to a sign indicating it is forbidden to cross the low metal rail blocking off access to the grotto. However, the sign wasn't discouraging anyone from crossing – both locals and tourists had entered the grotto. Very clear and very cold water makes for a refreshing swim – leading through a darkened cavern with water continuously dripped from the cave ceiling. At times very deep, much deeper then a persons height – I noticed several people swam all the way to the back of the cave. This was one of those just totally random and unexpected natural surprises that I love as unplanned road trips develop.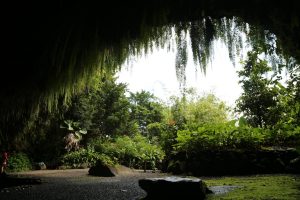 Sensing the island of Tahiti was in part known for tropical gardens and waterfalls – my next stop was to the Vaipahi Water Gardens combining both a waterfall with the lush tropical scenery that blankets most of the island. What a treat. Dirt paths meander among exotic foliage and flowers next to a freshwater stream – its source being Tahiti's only freshwater lake, Lake Vaihiria in the interior.
And to my surprise after ascending a steep trail switch backing across the rugged hillsides, I soon found myself in a pine forest with the forest floor covered in pine needles. With eyes closed and a little imagination I could smell myself being among the pine trees in California's Sierra Nevada mountains.
And after leaving the gardens, I was again met with a surprise; I discovered three small fruit stands all within a few hundred meters of each other selling a fruit that is well-known in Thailand but one I rarely see outside of the Kingdom – Durian! The brakes skidded to a stop, the aromas of this highly aromatic fruit immediately enveloped me. A lady with tough hands decided to cut one open without gloves. Obviously she knew what she was doing.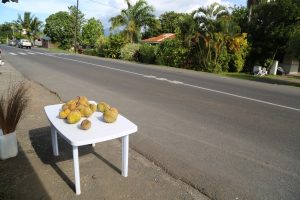 Then it was on to find La Plage de Maui, a small restaurant recommended as having some of the island's best local food by a nice chap at the Avis Car Rental office in Papeete. Arriving at the edge of beach I spotted this shack. My kinda restaurant. Lots of seafood. Lots of history. Plastic chairs in the sand. Alas, it was completely closed except for a few birds who were taking refuge from the sun under the palm frond roof. If you end up at this restaurant, let me know how it is!
Reluctantly, I headed back to Papeete where it was food truck central, a diversity of cuisine located in Park Place Vai'ete located near the Papeete ferry terminal. Then in the am it is off to Mo'orea.