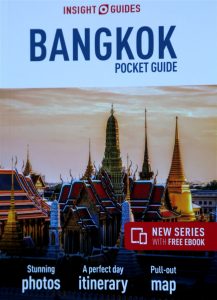 Appropriately named, this handy little guide to one of the world's greatest cities will fit in a pocket. Full color it briefly highlights some of the city's history, temples, food, massage, nightlife and shopping among other activities – in short, all things that are integral parts of this city. The guide even lists its own "a perfect day in Bangkok" itinerary.
Very useful for travelers on the go – especially the detailed section that features some of Bangkok's well known neighborhoods and attractions.
Other short sections offer common phrases in Thai, suggested hotels and restaurants. Bangkok is a city that is so diverse it offers something for most anyone. For such a small book – a ton of information is packed into its 144 pages.
A mini pull out map is located in the plastic sleeve of the back cover – highlighting the center of Bangkok as well as the entire country.
To purchase this book, click here