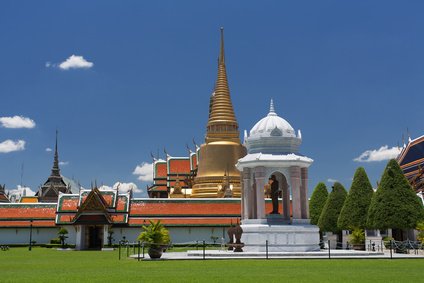 If you are taking your loved one on the trip of a lifetime to Bangkok, it could be the perfect place to pop the question. Here is a stress-free guide to planning your proposal in Bangkok.
Fly First Class
If you want to get your trip off to a great start, a first class flight is guaranteed to do the trick. Give your partner the VIP treatment and take to the sky in style. Flying first class isn't cheap but you can try to save up air miles that will make it cheaper or make a plan to blag an upgrade.
Sleep in a Suite
Luxury hotels in Bangkok are not in short supply. If you want to surprise your loved one with a beautiful hotel, Bangkok has some of the best city hotels in the world. You can take advantage of a number of luxurious services and facilities including a personal butler service, a pillow menu and an array of state-of-the-art spa treatments.
Pick a Rooftop Restaurant
Usually it is quite normal to ask your concierge for restaurant recommendations on arrival but if you want to eat somewhere special, it is worth booking ahead. There are some truly spectacular places to dine in Bangkok and if you really want to push the boat out only a rooftop restaurant will do.
The Vertigo Grill and Moon Bar is a great choice. It's a former helipad and as a result the views are phenomenal. Enjoy a four course dinner and make your trip memorable.
Pick the Perfect Spot to Propose
Bangkok may not be the city of love but that doesn't mean there aren't plenty of picturesque places to propose. Do your research before you go so that your trip isn't ruined by trying to search for the perfect spot while you are there; this way the surprise will not be spoiled.
Bangkok is at its most romantic at night and a river cruise could be the perfect place to pop the question. Share the delights of Chao Phraya River with your loved one and enjoy a five star Thai feast as you see the sights. Alternatively, take your partner to the Equestrian Statue of King Chulalongkorn on an evening. This monument is a popular place to pray and it is decorated with beautiful flowers and wreathes.
So, there you have it, four things that make planning your proposal in Bangkok a breeze.