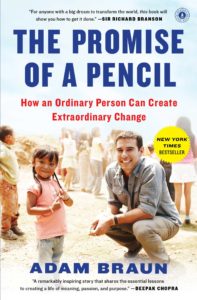 While traveling through a slum in India, Adam came across a beggar child and asked him a question he would ask a child in every country he visited – "If you could have anything in the world, what would you want most?" Despite the life challenges and suffering, the child responded to him without the slightest hesitation: "A pencil". The encounter ignited a flame in Adam's heart and propelled him to pursue a noble cause he never thought he would have – to build schools for underprivileged children around the world.
This beautiful written book delves into the extraordinary self-discovery journey of Adam – life being raised in a family with a deeply held belief in the power of nonconformity; his near-death experience while on a cruise with Semester at Sea (SAS); a backpacking trip that led him to stay with a stranger in a Guatemalan village; how he turned $25 into more than 200 schools around the world; When he came to a fork in the road, he took the one that is less traveled by.
It is a must read for those who are searching for their true calling and purpose in life. Adam's motivational words and wisdom will get you off the fence and into action.
To purchase this book, click here.