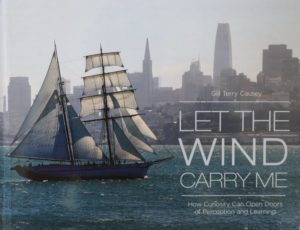 Not to be confused with the Joni Mitchell song, this book is a tribute to a life led sailing around the world. Author Gill Terry Causey leads readers through his personal sailing adventures spanning decades. Part adventure, part education, part inspiration and highly personal this book will appeal to both hard core cruising enthusiasts and and also those interested in exploring the possibilities of this type of travel.
Gill's adventures take him to islands best experienced from a sailboat – with plenty of stories about exploring the remote French Polynesian islands. He also addresses the importance of disconnecting from technology and the news and incorporating a healthy at sea lifestyle including yoga. He says, "I enjoy PBS and watching movies, but the news is so often redundant and creates hysteria making everyone anxious", "…there is a whole world out there that functions without media". Well stated.
A licensed captain of a 50-foot sailing vessel that was built by the German navy in 1928, Gill is involved in a number of sailing related organizations including Call of the Sea which constructed the 132-foot wooden hybrid tall ship, Matthew Turner and has worked with the Polynesian Voyaging Society by using his boat to escort double-hulled sailing canoes in a number of countries.