Q1. You started your art journey by painting on your bedroom walls when you were 13. Does art run in your family? Did you ever imagine that one day you'd taking your painting from your bedroom's wall to a building's wall?
My brother and I are both artists. He was more of a natural  showing real talent at a young age. As his younger sister, I kind of followed what he did. I read his comic books and copied drawings out of them and that started me off on my own journey.
I always loved to draw, one of my earliest memories is drawing Garfield from comic books. Besides the two of us, there haven't been any artists in our family that I know of. My father worked in construction as an Engineer. My mother taught English and French, my grandparents were both social workers – a doctor and sociologist. I would say there was more of a flare for the humanities in a broader sense in our family.
My art practice was born out of angst and a need to process anxiety and frustration – Changing schools when I was 10 and my parents' divorce when I was 14. Drawing had been a creative outlet and mechanism for both my brother and I to cope with the crisis at home, and even now, art is a means of therapy for me to continue the journey of self-discovery and satiate my curiosity.
When I was little, we'd spend our summers in India with my grandparents and I always noticed the stark contrast between UAE and India.  Dubai was super clean, safe and without homeless people while India was extremely dirty, polluted and poverty was rampant.
I'd tell my grandmother that one day I wanted to clean up the streets and paint the buildings. I don't think I meant murals when I was that age, but it's been interesting connecting my life now back to that memory.
I loved large scale painting.  In school, I would tape sheets of paper together to create a large surface or find big pieces of canvas for my paintings and from there, I slowly took to painting the furniture and walls in my bedroom.
I loved the power of gesture in drawing large. It's like a dance. I loved Jackson Pollock when I was 14 and I loved to dance. That's why you'll usually find me doing a little bob up on the lift when I'm painting big walls.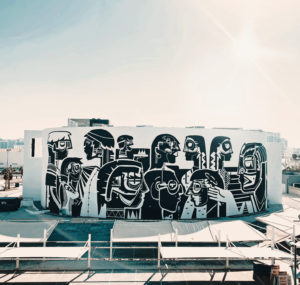 Q2.  You have painted in several countries like the UAE, Australia, Austria, Jordan, Oman, Mexico, Canada, the US, Ireland, and the UK. What is one memorable painting project you have ever participated in?
I always say each wall is significant because it represents a moment in my journey – where I was at, how I was feeling, what I was trying to say. Each wall chronicles my adventures and musings – Going to Australia for the first time, painting in Jordan and interacting with refugees there, spending a week in a hostel room with 11 female artists in Mexico. Each one has a great story to tell about the places I visited, people I met, the conversations I had and the things I learned etc.
Painting in Jordan was a life changer for me. After I painted my second wall there for the Baladk Festival, a group of refugee children joined me for a painting session in the MSF rehabilitation hospital. The experience gave me a shift in perspective that led to a real adjustment in my life priorities.
The owl I painted in Waterford, Ireland, represented a key moment when I journeyed through immense anxiety, self-doubt and trauma and emerged on the other side stronger and more confident and resilient. And that translated into the way I painted the owl taking off, wings spread and gaze straight ahead.
Painting in the UAE is always special because it's my first home and a young country where I have put in a lot of effort into helping grow the street art scene, so it always feels like a real achievement.
Q3. How do you plan and execute your mural project, for example, the giant falcon you painted on a multi-story building in Yas Island. What was the entire process like?
Some I freehand, occasionally I project, it really depends on the walls. If I can, I'll use the structural features of the wall to help map out the artwork. For example, the big round building I painted on Yas Island; it has small vents and its own grid, and I usually prefer to use those markers to plot out artwork.
For the 7-building project on Yas Island, I used projections. With that many windows and ledges, it would have taken ages to freehand plot that out and those lifts are expensive. You need to be efficient with your time.
Q4. I can see that many of your works feature birds. Why do you choose birds as your theme?
There is a real organic flow in the way I work. When I was young, I was big on abstract expressionism and automatic drawing. Anything that would water down conscious, deliberate choices and give you access to your pure thoughts and emotions. I am still drawn to that way of working.
I start with a scribble or doodle and what has been manifested spurs me on to develop my creative work. It's not always a choice. When I started drawing birds, I was in a dark place coming out of a toxic relationship.  So, the earliest birds I drew were a bit beat up and lost. And over the course of 6 years, birds have helped bring out the power and freedom within me. It helped me wander through a lot of anxiety and self-doubt, some existential moments, and come out in a far more empowered place.
So, it's the symbolic value in them, I would say, that's really been powerful for me. Building a home, migration, learning to fly, etc. and how those things resonate with us as humans. Birds are a powerful and universal symbol. I think they help us, or at least me, tap into aspects of being human outside of socially constructed norms.
I do think I'm at the end of that journey though. Last year, I started working on 'the humans' which has ushered in a new body of work. I'm sure birds will feature in my work in some shape or form, but I am in a place where I have evolved into a new creative space.
 Q5. What is your creative process like? Do you usually brainstorm about the message you want to convey first and then create the image to bring your message to life, or are there any other ways?
It depends on what I'm working on. If I'm doing a commercial project, I'm usually working from some sort of brief and then putting my own take on it. If I'm sketching for a wall,  I will try to take into account where it is, who lives there, the local culture etc., doing my own research and going from there.
If I'm working in my studio or freestyling, I would start with a scribble and see where it takes me. That is my favorite way of working. Art is a therapeutic tool for me, it's a way of escape and shutting out a lot of noise. My favorite way to start is with a doodle/ scribble.
Q6.  What is one powerful mural you have ever seen that has a strong emotional connection with you?
That's a tough one. If I were to name a few top artists for me they would be ROA, Herakut and Inti. (And so many more).  It's tough to pick one mural that stands out to me.
Q7.  You are the founder of The Domino – a platform that empowers talented artists in Dubai and encourages spaces for public art. Why do you think public art is important for the development of a community? What do you hope to see the contribution of Domino to the art scenes of Dubai?
There's a lot of freedom in public space (that said, we should not assume that public space is free). It allows for new levels of interaction for one; more organic, more inclusive, more accessible. Public art makes for these magical moments of encounter that interrupt routine. I love that. We live very regimented lives bound by rigid constraints. Public art can help to break that predicted pattern. With public art, you don't have to visit a gallery, and there's a time-based element – Art that looks different at different times of day, in different light, in different seasons, and changing with exposure to elements, etc.
There's just a lot of life there. Art in public can turn spaces into places. And working in public space is magical because it allows for random encounters. It creates different challenges. There's a vulnerability of the artist in public space and of art in public space that gives us an important insight into our place and impact in the world. And all the dialogues that come out of it bring people together, breaking down boundaries and creating new conversation etc.
As for The Domino, I'm proud of what it has contributed to the Dubai art scene so far and I'm not pressuring myself to take that any further. I started The Domino in 2010/11 when talk around murals/ 'urban' art/ street art etc. was just coming about but there wasn't really a commercial aspect to it.
Artists were asked to work for free, it wasn't a viable career on its own. I worked hard to create that dialogue around street art and how it can enhance a society's experience of community and art as well as fighting for a more appropriate way for corporations to engage with artists. This included talking about artist rates, creative integrity and freedom, the value of original art, the process of managing public art projects from budgets to logistics, and so on.
Back then we did live painting pop ups at music festivals and events.  Now we are working on permanent mural commissions for developers. There's a lot of agencies now doing all of this and I'm not looking to compete. What mattered to me was laying those early footprints that have really helped create a creative economy that artists are now flocking to.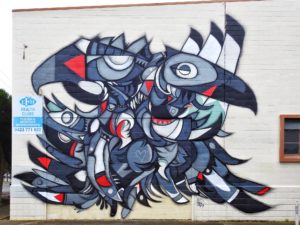 Q8. I understand you are also a writer, and you call yourself a "closeted writer" with sketchbooks filled with words. How does writing go hand in hand with your art journey?
Gosh, I think maybe because I work so organically, a poem helps summarize what I was thinking sometimes. I think it reveals the playful side of me as well.  Perhaps because my mother is this hyper academic who would be walking around reciting Oscar Wilde or making sure we read books like The Little Prince and Jonathan Livingston Seagull. I have a mind that looks and sees through a poetic lens I suppose. I feel more like an architect when I'm writing because I'm piecing things together to convey a message, whereas drawing is more of a subconscious activity for me. It's like giving them titles. Different parts of the brain respond to the same thought in different ways.
Q9. You were born and raised in Dubai. Can you share with us some lesser-known places or 'hidden gems'  that only locals know of in Dubai ? What would your ideal 24 hours in Dubai look like?
I'm not sure I'm the right person to ask that question. Some of my favorite things to do when I'm in Dubai are to get away from the city! It means a long drive out in the mountains towards Jebel Jais or through the wadi towns along the Omani border. Or camping out in the desert with friends around a fire.
I love the sea.  Finding an empty beach is always a challenge. I've found some on Yas and Saadiyat Island recently. Dubai is a fast-moving city and I like to find ways to slow down. If you're looking for a gastronomic experience, it's worth considering a food tour by Frying Pan Adventures who are the experts in discovering hidden gems.
Food in Dubai is always awesome. If you want some beach time, my friends at Surf Dubai provide stand up paddle or a surf lesson in the morning. There's some interesting nature reserves I've been hoping to check out myself, like Sir Baniyas Island. There's a ton of bars and nightlife and these spots are always changing. A trip down to the old city through the souk and across the creek is always interesting. If you're into art, Al Serkal Avenue or Al Fahidi District. But for me, it's the joy of leaving the bustle of the concrete jungle behind and heading out to nature for amazing sunsets.
Biography:
Fatspatrol (Fathima) is an Indian, UAE-born and raised, Canadian immigrant artist who splits her time between Toronto and Dubai. Her work embodies her third-culture identity in the sense that it is a hybrid medley of many influences and in the end a voice of her own.
Addressing her own curiosity about the world, our place in it and other existential conundrums, Fatspatrol works heavily with symbolism and narrative to share her stories and learnings and find universal sentiments whilst. Often referencing representations of freedom, triumph, resilience, her works and style mirror her own break away from cultural and religious restraints, imposed identities and definitions and a journey into the subconscious.
Passionate about art's social impact, Fats' work in recent years has made its way to public walls in 10 countries accompanied by a studio practice in drawing and painting and a number of brand-related commercial projects.
Fathima graduated with a BA in Art & Culture from the University of Toronto and an MA in Sociology from Goldsmiths, University of London.
In 2010, she was awarded the Sheikha Manal Young Artist Award and founded The Domino, an artist-run platform in Dubai.
Photographs credit: Fatspatrol (Fathima) Mohiuddin (except otherwise cited)