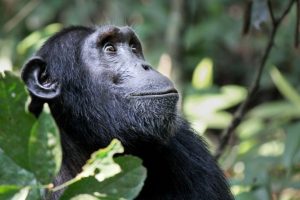 Although the main attraction that brings people to the wilderness of Rwanda is the majestic silverback gorilla, there is plenty more wildlife and things to see in this beautiful country of a countless hills. Talk about climbing the numerous volcanos, spotting the big 5 at the Akagera National Park or biking though the famous Congo Nile Trail. Rwanda has a lot to offer for those planning on experiencing Africa's natural beauty and wildlife. Primate lovers will want to know that Rwanda offers an opportunity track and observe the amazing chimpanzees.
There's a good chance you've seen a chimp or two after a visit to your local zoo. Maybe you think you've already seen it all when it comes to chimps, but you haven't seen anything until you've immersed yourself in their natural habitat.
There is one way to make this immersion happen, and that is to book a flight to Rwanda and visit the Nyungwe National Park. This national park is famous for its wildlife and it is the best place to experience the flora and fauna unique to Rwanda. Not to mention it is the ultimate destination to track, observe, and admire the chimpanzees.
What is the main difference between a chimp and a gorilla?
You might think that chimps and gorillas are the same when it comes to behavior, but that is not the case. First of all, gorillas tend to be much more lethargic than chimps. A gorilla will spend the majority of the day sitting in a comfortable clearing, chowing down on plants and fruits.
A chimp, on the other hand, is far more active than the average gorilla. They have high energy, often swinging from tree to tree throughout the day. This means that gorilla trekking and a trek involving chimps are completely different. You can expect a lot of action from chimpanzee trekking in Rwanda, whereas a gorilla trek will mostly be about observation.
Facts About the Chimpanzees of Nyungwe Forest
One of the most interesting facts about the chimpanzee is that its DNA is a 98.7% match with that of humans. Apart from homo sapiens, the chimpanzee is one of the most intelligent creatures on Earth.
With so much similarity to humans, observing chimps can be quite interesting. It is why some visitors to Rwanda enjoy chimp trekking more than gorilla trekking. Chimpanzee can use a variety of tools to dig our food or attract termites. Gorillas are generally not as intelligent as chimpanzees. To some, observing them is not quite as interesting as getting up close and personal to chimps. Chimpanzee are stubborn and always up to something mischievous. They live in large clans led by a dominant male. Unlike gorilla families that generally stick together, chimpanzee clans undergo more frequent changes with members leaving to join other clans.
Here are a few more fun facts about chimpanzee trekking in Nyungwe Forest:
● Nyungwe Forest is located in southwest Rwanda near the Burundi border
● There are seven species of primates living in forest, including Colobus monkeys, Golden monkeys, Vervet monkeys and baboons
● You'll get the most stunning views of Nyungwe when you visit the Canopy Walkway, a long suspension bridge overlooking the area
● Nyungwe is the oldest mountainous forest in all of the African continent
● There are an estimated 500 chimps living in the ancient forest
What does chimpanzee trekking in Nyungwe forest involve?
As we said before, chimp trekking is way different from gorillas trekking. Since chimps are more active and tend to move around more than gorillas, the main challenge with trekking is finding the chimps in the first place. Although they are curious animals, some chimp groups and extremely shy and will hide until they know that the humans are not a threat.
Many of the chimpanzee clans in Nyungwe forest are habituated. This is a long process of getting wild chimpanzees in a specific clan/family comfortable with humans close to them. The process takes at least three years to end. Once the process is complete, visitors can then be allowed to visit the group. In Kibale forest of Uganda, primate lovers can take part in what is known as the chimpanzee habituation experience. This experience allows tourists and primate lovers to take part in the habituation process and spend more time with the primates. Led by experienced trackers and primatologists, visitors will leave with in-depth knowledge about chimps and general wildlife conservation.
Most tour operators in Rwanda will take you to begin the trek in the Cyamudongo section of the forest. The activity starts very early in the morning – 5:00 AM to be precise. You'll meet your park ranger at one of three reception locations and be briefed about the activity. The Rangers and park Guides will give you tips on how to act around the primates. After the briefing is complete, you will then set off for the adventure in a group. There will be professional trackers ahead of the tour group in search of the chimps so that you don't have to waste time on tracking efforts. Chimpanzee trekking takes anywhere between 1 to 6 hours. Everything depends on the location of the chimpanzees that particular day. There are days when the clans go deep into the vast forest. You will have to keep following them until you find them. Tourists are allowed only one hour with the chimpanzees once they are located. This is to reduce the chances of spreading human disease or irritating them human diseases.
Which is better, chimp trekking or gorilla excursions in Rwanda?
There is no official answer to this question, partly because it depends on your preferences. If you want an extremely interactive experience rather than one filled with observation, you might opt for chimp trekking. Gorillas are more gentle and prefer to stay in one place for long periods of time. Gorilla groups tend to be peaceful and with clearly established hierarchy. Chimps spend most of the day moving in the forest. Following them requires persistence in many cases.
Another major perk of chimp excursions is that the permit that is required for every person involved is significantly cheaper than a permit for gorilla treks. In comparison, the chimpanzee permit is about $100 per person as opposed to the $1500 required for gorilla expeditions in Rwanda. No matter which one you choose, you'll have an adventure of a lifetime – chimp trekking just won't swallow much of your savings.