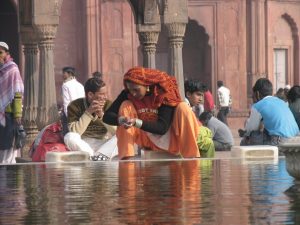 There are some incidents that occur in your life, that change the way you look at things. Then there are some that just bounce off of you without a visible mark, but later those memories come back to you at the oddest hours of the day, and you realise that they did in fact, leave a mark – they left one deep within your soul. This is what happened with me; I wouldn't say it was a bad experience, on the contrary, it pushed me into an existential dilemma, the famous Iago's "To be or not to be".
India is such a diverse country, full of sights, sounds and colours that it's impossible to catch it all. If I were to describe it, I would have to resort to Joseph Conrad's impressionistic technique to allow the full impact of the vibrant, throbbing, pulsating life that is India to sink in. Perhaps one may consider my account of the following biased, but if you knew me, you would know there is nothing biased about it at all. However, living in a country for four years does tend to soften you around the edges a bit to its harsh reality.
Summer is a killer time in India, especially in Delhi. People flee like ants left, right and centre to get away for the summer, either to the hills where the snow and cold fresh air keeps them cocooned from the sweltering heat, or they go outside of India. Not one to go anywhere with my extended family, I was coerced and tempted to go to Mussoorie in the summer of 2010 because the fifty degrees of pure, unadulterated hot weather just didn't seem to do it for me. Also I thought, having travelled half way around the globe and having lived in 5 different countries for 3 years each (my father is a diplomat) this would be a great opportunity to extend my travelogue to include sights from my mother country.
As we approached Mussoorie, it was breathtaking to say the least. Like a post card picture, the roads wound around the vast mountain like a snake coiled around its prey; the sky looked inviting with a tinge of grey near the summit. After seeing clear skies with temperatures soaring close to fifty degrees, grey skies were very much welcomed. The people that whizzed past seemed so absorbed in performing seemingly mundane activities that it really made me wonder, how can they find fulfilment doing so little? Moving on we saw thick, plush, dense forests stretched out across the Doon Valley, as we made our way up the mountain towards Mussoorie.
Mussoorie is situated in Uttarakhand, on a mountain side, with the Doon Valley nestled below. At its highest point clouds tickle you as they float past, at it lowest; well the sheer 6000 feet drop is enough to make one take an extra cautionary step back. As we drove into the heart of the town, it was enough to catch my attention and wake me up (having spent most of the trip in a sleepy daze). Men wearing kurtas (traditional Indian attire) and thick woollen vests were shepherding sheep to make way for all the tourist cars, vans and buses. Children were climbing over boulders, pulling each other, laughing; looking so carefree I almost slipped into nostalgia mode. Women were minding shops, while some were carrying bags of groceries home (I presume).
The whole scene was full of hustle and bustle, I had rolled the window down as we had started our ascent up the mountain and the cool, crisp air was so refreshing, I knew in that instant, I had made the right decision. The scenery was soothing to the eyes, the smells – that of tea, cow dung and fresh forests filled my nostrils. Again I need to stress the juxtaposition between the urban smells of Delhi which consist of people's odour, air thick with smog and economic development happening at breakneck speed, with the rural smells of Mussoorie. As we crawled through town, traffic was at an all time high as the tourist season was at its peak. Stuck in a logjam, I got the chance to note the general atmosphere of the place.
When people think about rural India, they automatically think broken down homes, cracking walls, impoverished communities, barbaric people and just overall backwardness. Mussoorie sent that stereotype straight down the drain. Five star hotels lined the mountain side, especially the best ones being situated right at the top of the peak. The normal homes of the indigenous population were quaint, well kept and looked inviting. Painted a simple white from the outside, each home had a tiny garden to call its own, where I could see the usual laundry line drawn out over the length of the garden so that damp clothes could be put out to dry, in the odd event the sun did come out. People seemed warm; when you smiled at them they smiled back at you, even when you were caught peeking through the window of your car.
Finally after much asking around we found our hotel and got in. However, after promptly getting in, I dragged my cousin for an impromptu tour of town. As soon as I climbed down the jagged stairs of my hotel, I instantly knew this was going to be a good vacation. We strolled through the street stretching past our hotel, as street vendors screamed out the price of their wares. All sorts of hats, hand embroidered purses, local souvenirs, colourful earrings, fancy scarves and little odd shaped trinkets to name but a few. The key to shopping anywhere in India is bargaining – if you can't bargain then, as the proverbial saying goes, "You ain't got nothin'!"
Walking another 20-30 steps from the hotel I came across a shop selling boots. Now that was surprising. Who would've thought that in little ol' Mussoorie one could find high fashion boots to go? However, the prices were more than enough to quench any urge I had to go in and try them on. I was content just to stroll past, breathing in the foggy mountain air and enjoying the variety of people in front of me. Tourists from South India were visible, prominently marked out because women had flowers weaved through their hair, dressed as if they were still down South, in bright coloured sarees (traditional Indian attire for women) even though it was freezing cold. The South Indian men looked like mini- Santa Claus's all red cheeked from general elation visible on their faces; tourists from abroad because of their hushed whispers in foreign languages and of course, they were kind of hard to miss as they towered over the native population; and last but not least, tourists like myself who were there to beat the heat. Of course interspersed within the crowd were many honeymooning couples, as I later learned that Mussoorie was a popular honeymoon destination within India.
Having walked to the centre of town I turned back and decided to walk along the cliff facing side of the mountain. Obviously there was a railing there to prevent any mishaps, but the sheer drop was vertigo inducing, especially for someone as scared of heights as me. However, that didn't stop me from admiring the beauty that met my eyes after the clouds floated away – almost as if it had materialized out of thin air. Musing to myself that indeed if heaven did exist, it probably must look something like this, I gripped the railing hard, my knuckles turning white, as a cold, hard breeze blasted into my face, making me break out in goose bumps. Turning from the sublime scenery, my cousin and I walked to the restaurant on the opposite side of the road to get some coffee.
There I witnessed what to any other person was a very ordinary, routine thing taking place, but to me, it struck a chord so deep that now I am compelled to write about it. Silently as he wiped the table clean, the signposts of his life were visible as the lines on his face, like a map. From afar no one could tell what his story was, certainly not the tourists who spent their leisure time travelling form one place to another. This man cleaning the table could afford no such luxury; in fact I was sure he couldn't even dare to dream about it.
This solitary, silent, brooding man who cleaned the tables had his own story, but to me, sitting at a table identical to the one he had just cleaned, it seemed as if his whole life was defined by this one act. I don't know how he felt, or if he felt anything at all, but to me, the detached observer, it pierced my heart. Not in the cliched sense of feeling sorry for someone less fortunate than you, but more in the Margaret Atwood sense – having no prominent identity, not even knowing his real potential. Was this meaningless act meant to define him and his whole life? How could someone go through life and have nothing to show for it except a job that pays for his daily bread and butter? All these questions raced through my mind from the instant I laid my eyes on him. He for the most part remained oblivious to my presence and kept on cleaning the table for the next customer. For some their job acts as a hallmark, a testament to all they did while in this world; but this forlorn man looked lost, forgotten and almost faded.
Perhaps this story would have turned out differently had I actually gone up to him and asked his opinion. Perhaps he really was proud of his job, yet it was his face that emitted such ferocious intensity. When I say ferocious, I don't mean aggressive, but full of such emotion, thought and authenticity that it actually forced me to sit down and think about him and his life. This is surprising considering that in the 21st century people don't have time, or the inclination to think about anyone other than themselves. I admit to being among one of those individuals who are solely concerned with the self, but this man forced me to come out of my self-absorbed state. Yet this story will remain from my point of view, seated at a modest restaurant in Mussoorie, India. Will I ever see him again? Probably not. Whether or not that man accomplished something extraordinary I do not know, all that I do know is that he will be forever etched in my memory.