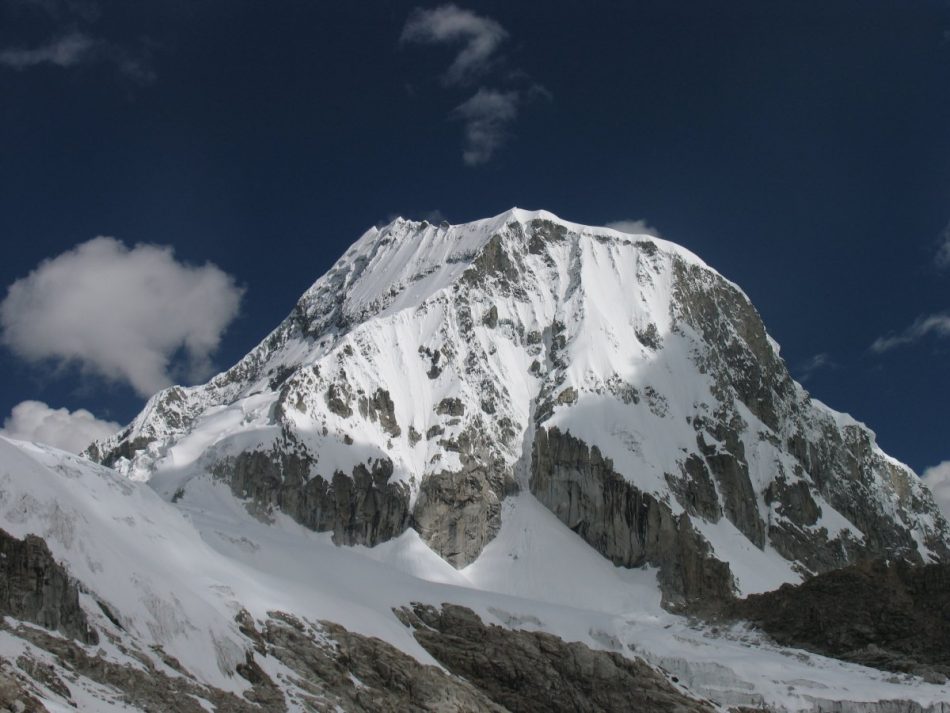 Wed. 6/20/01
My sister Patty drove me to the San Luis Obispo airport, as she has done on many previous trips; and I left SLO at 10:36 am, arriving in LAX at 11:45 am. There I joined several other fellow climbers and trekkers (including my son Kevin and his friend Deborah) who had arrived from other cities. Leaving LAX at 2:10 pm, we arrived in Lima, Peru at 12:40 am on 6/21 after an 8.5 hour flight and adjusted our watches for the 2-hour time difference (it's 10:40 am at home).
Thur. 6/21
We gathered our luggage and waited in various airport lounges until our 6:40 am flight left for Cusco. Arriving in Cusco at 7:55 am, we were welcomed near the baggage carousel by the sounds of a Peruvian band in bright costumes and also by people serving coca tea, which is drunk to alleviate high altitude symptoms, because we are now at about 11,000 feet. Then we were hailed by a driver who took us to our hotel, Andenes de Saphi, where Kevin, Deborah and I secure one room to share for $51/night, which includes breakfast. Here we are offered coca tea again. It's about four blocks from the main square, and a festival is in progress; so we head into town and secure reservations for our hike of the Inca trail. We each paid $140 for the four-day hike which will include a guide, tents and meals. I found an internet shop, emailed home that we had arrived, and purchased some water purifying pills to hopefully keep us healthy.
We walked around the town beside food stands that most commonly sold whole roasted guinea pigs stuffed with spinach, complete with teeth and nails! They are called kui and are considered a delicacy. People raise them in their homes and on their roofs, as they do rabbits, for their own consumption. I passed up the opportunity on this first day in Peru. We notice many police strolling around the town, giving it the image of being safe. While in the main plaza a very fast motorcade came rushing by, paying no attention to who was in the street. Pedestrians have no rights here. The motorcade was followed by several army vehicles and soldiers and a black limo, in which we were told was Peru's president Fujimora who was arriving for a ceremony.
Next we noticed many men lining up along the edge of the street each holding part of a thick long steel cable; it was their version of a barricade for crowd control. We were told that a parade was about to start, and people waited patiently for several hours before it actually commenced. It seems people here are much more patient just standing around waiting than we are in the U.S.. It is the feast of Corpus Christi, translated "the body of Christ"; and everyone is in a party mood. We notice a gathering of elders in caps and gowns in front of the central cathedral, and a graduation is about to start. Kevin, Deborah and I decide to have lunch on the second floor of a restaurant because it has a balcony from which we can watch the parade. We finish our wonton soup and bread; but since the parade still hasn't started and because we've been awake now for a day and a half, we decide to head back to our hotel for some rest. My eyes are fried from being dried out, and my vision is blurry.
After a good afternoon nap, Kevin and I go out for a large tomato, cheese, ham and mushroom pizza for $8 (seems safer than the kui) and then walk around the town while Deborah continues resting. We aren't sure yet how dangerous the town is; so we stick close together and guard our packs. People are getting drunk everywhere enjoying the festival, downing liter-sized beers in brown bottles. We bought ice cream sandwiches for dessert and went back to our hotel to sit quietly beside the fire in the lobby where I wrote and Kevin read, and we both watched the Peruvian news on tv.
Fri. 6/22
Awaking well rested, Kevin and I went to the bus terminal station to purchase our advance round trip bus tickets between Lima and Huaraz, as Valentine (our climbing guide) had instructed us to do because there is very limited availability. Parades are going on again in the plaza; so we watch for several hours and take photos of the colorful costumes with SLO Mardi Gras in mind. We notice that the rainbow flag of Cusco is identical to the gay and lesbian flag. In the afternoon we took a bus tour of several Incan ruins, including the hilltop fortress of Saqsaywaman which overlooks the city of Cusco and was made of stones in the 1400's, some weighing up to 120 tons each. The massive, multiangled stones are carved with such remarkable precision that they interlock perfectly without any mortar. Here also hundreds of people were practicing for Inti Raymi that was to be held on June 24th for the annual re-enactment of the Incan winter solstice festival.
Another ruin that we visited, called Tambomachay, had a spring, which they call the eternal fountain of youth, because it has been flowing constantly since Incan and pre-Incan times. Here there are many "art" objects for sale depicting quite graphic sexual scenes and exaggerated human anatomy. We also visited the ruins of Q'enqo and Pukapukara. It was a preview of many more to come on the Inca trail. The bus tour ended with a "complementary" stop at a tourist trap where the driver probably received a commission for bringing us there. We posed for photos in fluffy llama hats for laughs and then went back to the hotel to pack gear for the Inca trail hike that starts tomorrow.
That evening there was a communication breakdown at dinner when Kevin, Deborah and I all ordered dinner, with Kevin ordering trucha (trout). We thought it strange at first that the waitress only brought two place settings, and she looked puzzled at us when we asked for a third. It all became clear when, after a very long wait, Deborah's and my dinners arrived, but nothing for Kevin. She hadn't written anything down for Kevin; so he left, got his own pizza, and was a good sport about the whole thing.
Sat. 6/23
We arose at 5 am to eat breakfast and to be sure not to miss the bus that was supposed to pick us up anytime after 6:30 am. It came at 7:30 am (everything in Peru is typically late), and we rode until the bus stopped in the middle of nowhere because a long semi-truck was blocking the entire highway with its underbelly stuck dragging on the asphalt. We all got out, walked around looking at a sow and her litter of pigs beside the highway, and just stretched our legs until the truck could be freed. All traffic was stopped both ways for about a half hour. Continuing on, we arrived at 12:45 pm at kilometer 82 which was the start of our hike where we met our guide named Julio. He gave us each a bag of fruit for snacks, and we put on our backpacks and proceeded to the entrance where we paid a $20 fee for our entry permit to the Inca trail and then walked across a narrow suspension bridge over the Urubamba River to begin our adventure. We walked through fertile land that was once the stronghold of the Inca Empire – a spiritual place called the Sacred Valley. Flowers were abundant as were cacti and succulents, all adding to the color; and we also notice the occasional small dwellings of adobe or stone with thatched roofs.
We walked only an hour and a half before our first rest stop, but we notice difficulty breathing the thin air at this altitude. Kevin and I give our apples to children who are begging after Kevin tells them they can have the food if they will sing a song for us. They happily sing and are pleased to get the fruit; their mother who watches it all smiles too. Our guide allows two English men, who had not paid the $140 for the tour, to join our group for $10 each (without food). They had planned to hike the trail on their own without guides but found out that guides are required and had to either join our group or not hike at all. We stop for a lunch break beside a creek where porters prepare watery cream of wheat soup and spaghetti noodles. The first Inca site that we see is Llactapata, a vast fortress clinging to the hillside and strategically placed to afford the former inhabitants extensive views along the Cusichaca and Urubamba rivers. The many layers of steep, stone terraces had been cultivated for agriculture. We continue uphill passing the fortress and village of Wayllabamba, which means grassy plain. Our path then takes us through a gorge-like valley, always steep, with a river running below us. We walk upwards until after dark, about 6:30 pm, when we tiredly reach a campsite at a place called Yuncachimpa. It's winter here now in the southern hemisphere, and there are 12 hours of darkness. The porters set up tents for us and call us to a dinner of potatoes, rice, gravy and tea. So far it's been a high carbohydrate day, and I'm craving protein. We're in our tents by 9:30 pm after observing the millions of magnificent stars, noticing the Southern Cross instead of the North Star, marveling at the dark gas clouds within the Milky Way, and watching a satellite rush across the night sky. I so dearly love the night sky when I'm camping away from city lights.
Sun. 6/24
Awakened early to the sound of roosters crowing but still in my tent, porters awaken all of us at 6 am to a breakfast of watery lima bean soup and flattened toasted hamburger buns…yuck! On this we are supposed to hike for the day? We left camp at 7:30 am and walked through lush forests of ferns and twisted, gnarled trees hung with moss and vines, following a path paved with stone steps alongside of the river. Since we're going to climb to the highest part of the Inca trail at 13,773 ft. today, I decide to pay a porter to carry my big backpack, leaving me with only a daypack, opting to enjoy myself as much as possible. We emerged from the forest at the camp of Llulluchapama, where the scenery changed to grass-clad hills and the climb gets steeper. This is the tough approach to the first pass called Warmiwanuscca or Dead Woman's Pass. The path is wide, well maintained, and made of compacted gravel with a few sections of stone steps. Despite this, progress is definitely an uphill struggle, and for the last 20 minutes to the top the stone steps seem to go on forever. The older Englishman named John (age 64), made it to the top of the pass at 10 am, followed soon thereafter by his son Jack, and then Kevin, while I was happy to get their at my own pace at 11 am. Kevin was already there resting, and the group cheered every climber as they summited the pass.
After me, many hikers in our group were still to come. An Irish group of Martin, Mary, Paula and Bernie are very fun people but pretty slow hikers. We waited another 1.5 hours with no sign of our guide Julio or Laura or Caesar. Kevin, who has a heart of gold, decides to go back down and look for them to see if they needed help. The rest of us decide to hike the last hour down from the pass where the trail was even steeper than the way up. We dropped 1,600 feet into the Pacaymayo Valley with most of this section paved in stone. The Incas had indeed gone to a lot of trouble to lay a perfect path by hand through these remote mountains. Arriving at our new camp at Pacaymayo, which is one of the more developed sites complete with toilet facilities, we first rest our weary feet in an ice cold stream and then lunch on cream of wheat soup, rice and vegetables…still missing my protein. Hours later Kevin arrives and becomes the hero of the whole group for the rest of the trip as we learn that he walked back down from the pass a very long way, then took and carried Laura's pack while he pulled Laura up the mountain to the pass summit with her holding on to the waist straps of the pack. I really don't know how he managed hiking that pass twice as it was rough enough just once, but he was finally tired out for the day.
It was very nice arriving in camp today in the daylight as opposed to after dusk like last night. I took a shower in ice cold snow melt water which was shocking but refreshing once it was over. My new Asolo boots are fairly comfortable, and the neuroma in my left foot that plagued me so much at home is tolerable. Most of us take afternoon naps and then wake up to a party prepared inside one tent to celebrate completing the highest part of the trail. We snack on tea, hot chocolate, crackers and popcorn and compare ailments and stories of the day. While dinner consisted only of rice and mashed potatoes…carbos again…the magnificent night sky with brilliant Milky Way, the planet Mars, the new crescent moon, and Southern Cross left my spirit feeling satisfied. We went to bed at 8:30 pm on sloping soil with me on the bottom side of the tent wondering if both Deborah and Kevin would be on top of me by morning.
Mon. 6/25
Up at 6:30 am to a breakfast of only hot chocolate and toasted hamburger buns with jam, we hiked more stone steps from 10,800 ft. up another pass to 12,470 ft. where we come to the Incan fortress of Runkuraquay. From here one has a panoramic view of both the valley below and the high pass we had crossed the day before. We could see for miles to distant snow-capped peaks of the awe-inspiring Vilcabamba range. Then we started downhill to the ruins of Sayamarca, which means inaccessible town, at 11,472 ft. This town is precariously perched on a rocky platform, and the stone structures that remain are a jumble of split-level houses, stone steps and twisting walls, and a semi-oval, fortified enclosure with trapezoidal windows that afford magnificent views of the Aobamba Valley. It is accessible only at the one entrance point, which is reached via a steep, narrow, stone staircase that branches off from the Inca trail.
Continuing on we reach the ruins of Puyupatamarca at 11,930 ft. with its many terraces for agriculture. We learn from our guide that, while Machu Picchu was rediscovered in 1915 by American archaeologist Hiram Bingham, all these other ruins we are seeing were discovered in 1911. We also learned that only 180 Spaniards conquered 12,000,000 Incans partly because they thought the Spaniards were gods riding in on their horses with weapons. The Incans had only stone weapons, none of metal of any kind.
Lunch consisted of noodle soup, rice and vegetables. We had been told that this was to be a relatively easy day, but it was long and tedious with the faster hikers still arriving at the next camp after dark after walking down what seemed like millions of stone steps. This camp was Winaywayna which was very unusual because it had a hotel and bar. The porters again set up our tents, but tonight dinner was to be inside a building (what a novel concept!). Because there were so many people at this camping area and because theft is common, some of our porters were assigned to guard our tents while we ate. We were warned to leave nothing outside our tents. After an extremely long wait, dinner of soup with gravy and vegetables over rice was served. To bed at 8:30 very tired.
Tues. 6/26
Today is the day that we will finally see Machu Picchu (MP), and we want to get there before the hordes of people arrive by trains and buses; so we arise at 3:45 am to breakfast of one pancake, more hamburger buns and tea. We left camp at 5:15 am by headlamps. I soon discover that the receipt that I received on day one at the entry booth was needed again; and because our guide hadn't told us that it would be needed again, several of us can't locate ours. Our guide does some fast talking and gets us through a control point without paying our $20 each again. After about two hours we passed through the sun gate, called Inti Punku. The trail is narrow, potentially slippery, and hard work. The path is flanked by geometrically cut stones, the remnants of Inca buildings. At Inti Punku many people are sitting quietly in the cold of the morning looking out over the incredible sight. Down below us, perched on a ridge that protrudes into the Urubamba Valley, is Machu Picchu. As the sun slowly rises, the rays pick out the city's features; and the splendor of the site is revealed. We are so lucky to be here on a clear day.
Upon descending to the hikers' entrance of MP, I meet up with Bob and Cindy Flowers, Duane Jones, and Chris and Lee Walters with whom I had traveled from LAX to Lima. They had been playing in Cusco while Kevin, Deborah and I had been hiking and had just arrived by train and bus. They looked much cleaner and fresher than we did after four days on the trail, and for some strange reason they refused to hug us hello! It was then that Duane said that he did not hike the trail as he had planned to do because the trail entry was closed on 6/24 for the festival of Inti Raymi, and his starting the trail on 6/25 wouldn't have allowed him enough time to do it. Kevin and I are very glad that we decided to start the trail on 6/23. I then meet up with our guide Julio who tells us all that backpacks are not allowed to be carried inside MP. They must be checked in (using the $20 receipt that he hadn't told us to save) and later retrieved upon exiting the ruins. So I reluctantly pay the $20 again. I wonder how much experience he has had as a guide.
We visited the magnificent ruins of MP for several hours with our guide doing an excellent job of narrating/teaching. It's quite breath-taking to find a city built with precision engineering in such a remote location. Stone-walled terraces tumble away from the cliff sides like giant stairways. Near a central square stand rows of houses with peaked gables that once supported thatched roofs but now sprout wild begonias between their stones. Alleyways lead to split-level temples, sacred stones and altars, and to strange buildings whose twisted structures incorporate the living rock. There are many theories behind this mysterious city, but it is now generally accepted that it was an administrative, ceremonial and spiritual center with important links to agricultural production. Having walked for four days to get here enhanced my appreciation of this magnificent city.
It was here in MP that Martin (the Irish guy in our group) learned that his hometown of Arequipa, Peru had been largely destroyed by a 7.9 earthquake. We heard that about 280 people had died so far and that one church roof had fallen in and killed 70 people trapped inside. His home and all its belongings had been destroyed, but he was comforted knowing that his friends were all alive and well. We tried to console him, but he was overloaded with emotion and needed space.
After our tour of MP, we have a choice of taking a bus ride down hairpin turns into the valley below to the town of Aguas Calientes (Hot Waters) for $5 or walking down. Since this is a trekking vacation and the town doesn't appear to be that far away, some of us decide to walk down the mountain. It was another 5 miles down the mountain, and we learned what a mistake that decision was as we finally limped in towards the train station to get a ride out of town. We had been told to meet our guide Julio at the Sayacmarca hotel and restaurant where he would give us our train tickets back to Cusco, as it was part of the package deal that we had already paid for. Here I ate the worst chicken sandwich of my life but then ordered pizza for the group because we were all still hungry.
There was a major foul-up with our getting our train tickets to Cusco. We wanted to take the 2 pm train out, but Julio didn't have our tickets. We missed the 2 pm train; then we missed the 3 pm train while he is still trying to get our tickets. We are all getting pretty irritated as other people were booking tickets on the spot and leaving for Cusco. Having paid in advance already, we didn't want to pay twice; so we waited. It seems that Julio's travel office hadn't given tickets to him in advance and had not sent them to Aguas Calientes on time. He hoped they would arrive on the 3 pm train, and they did. By 3:15 pm Julio had received some tickets but with the wrong names on them; we decide to try to use them anyway and hope they don't ask for IDs. The next train leaves at 5:45 pm but doesn't go to Cusco…great! It stops in a town called Ollantaytambo where Julio said that a driver will be to pick us up and drive us to our hotels in Cusco. That's OK with us as long as we get back to Cusco tonight. We ride the train in to Ollantaytambo and look for a driver with a sign with our names on it or who is calling out for us, but we find no one. We secure our own ride by van back to Cusco for an additional fee. Very tired after this full day, we arrive back to our hotel Andenes de Saphi at 9:30 pm where we enjoy hot showers and repack all our gear for an early departure tomorrow. Having started at 3:45 am today, we are grateful for a good night's rest in real beds again.
Wed. 6/27
Larium pill day (for malaria). Up at 5 am to get ready to fly back to Lima with Kevin. Deborah is staying in Cusco awaiting her boyfriend. I met Bob and Cindy Flowers and Gene and Ann Rasmussen at the Cusco airport where I reminded Bob about purchasing his advance bus tickets between Lima and Huaraz (Bob was the only one of this group that was now going to go climbing with Kevin and me). Kevin and I left on our one hour flight to Lima, and Bob was to follow hopefully the next day.
We had been warned extensively about Lima, about the crime rate, about the greedy taxi drivers, etc.; but we are ready. Kevin is fantastic taking charge and bargaining for a taxi to our hotel for 10 soles (about $3) when all the other drivers wanted 50 soles. The driver is so nice and helps us to find a hotel, stopping at some for Kevin to look at while I wait in the car. When we finally decide on one, we give the driver 15 soles instead; and he is pleased. We select a hotel that is advertised as a youth hostal, but it is very nice and clean; and we get our own private room for $25 total. We unload our bags, go walking, and soon discover an internet shop to write home to tell friends and family that we have completed the Inca trail. This is when we find out how many people were worried about us being in Peru during the earthquake which centered in Arequipa. We were actually too far away from the epicenter to feel anything, but family and friends at home didn't know that.
Then Kevin and I secure a taxi for 9 soles to take us to the gold museum. In addition to gold and much other art, it was a lot like a Smith and Wesson museum because there was so much artillery on display, like several hundred year old cannons, guns, shields, knives, swords, etc. The museum was worth seeing although its displays were very crowded. Later back at the hotel we ate the best food since arriving in Peru, a sandwich of egg, ham and cheese….finally some protein! The first sandwich was so good that we ordered two more, with me eating another half and Kevin eating a total of two and a half. We're to bed by 9 pm well fed.
Thur. 6/28
After a luxurious hot shower (my how we appreciate these things we take for granted at home) and a big breakfast of toast, coffee, and scrambled eggs with ham, cheese and sauteed onion, we packed gear again to leave Lima by bus for Huaraz. We arrived at the Imperial bus station in Lima in plenty of time and had to pay 20 soles for excess weight on my luggage (girls do need extra stuff!). The Cruz del Sur bus left at 10 am, and it was the best bus ride I have ever been on. We watched four movies in English with Spanish subtitles, were served a hot meal of chicken, rice and baked apple, and played bingo in Spanish. It was great practice listening to the letters and numbers being called out in Spanish and deciphering whether I had them or not. Normally winning is fun, but this time the winner got to sing a song before the entire bus. I probably would have just died, but the winner had a great voice and stage presence and sang on and on. Eight hours later we arrived in the town of Huaraz with no problems at all where Valentine, our climbing guide from Santa Maria CA, met us at the bus station and took us to our hotel.
The Hotel San Sebastian is very upscale, unlike most of the town which is filthy dirty. Kevin and I share one room for $30 total/night. We unload our gear and head to a restaurant, Siam de Los Andes, owned by a mutual friend and climbing buddy named Peter who is originally from Thailand. He opened the only Thai restaurant in Huaraz four years ago and has trained local Indians to cook Thai food which is truly exceptional. We enjoyed a spicy gourmet meal of fresh vegetables, chicken and rice and then stayed until the restaurant closed, eating all the extra food from the kitchen. I keep thinking that I need to put on some weight before going into the mountains climbing; so I eat as much as I can. We walked through town at 11 pm to our hotel; it doesn't feel dangerous at all.
Fri. 6/29
Kevin and I are up at 6:45 am for a big breakfast of eggs, ham, toast and coffee by 7:45 am. Val had said that we would leave by 8:30 am; so we are all ready to go by 8:15 am. Val arrives and sits down to breakfast with two other climbers he has met. We finally left with Val and Peter's girlfriend, Patricia, and another Australian hiker named Warren after 9:30 am. We all loaded into a truck driven by a friendly guy named Victor with most folks standing in the back of the truck; Victor drove us to 12,500 ft part way up a mountain and let us out to hike. I hiked with Val and Warren up to 16,500 ft. while Kevin proceeded on to 17,500 ft. We got some wonderful exercise, saw lots of wildflowers along the way, and gained altitude to continue our high altitude acclimatization process, spurring our bodies on to manufacture more red blood cells to carry oxygen. Val had told us that it would be a two-hour hike, but it turned out to be 5.5 hours. We descended into a small village where we watched a kids' soccer game and then secured a van ride back in to Huaraz for 4 soles.
Lee Walters, Bob Flowers and Duane Jones arrive at our hotel that evening. Lee and Duane had just come in on the day bus from Lima; Bob had come in this morning riding the nighttime bus but couldn't find Val or Peter to connect earlier. We are all so relieved that our climbing team has all connected; otherwise we'd have to stay in Huaraz longer waiting for them. Kevin and I eat lasagna dinner in our hotel while the others go to Peter's restaurant. The views from Huaraz, and especially from the upper balcony of our hotel, are magnificent; the mountains completely surround the town. Rosey sunrises and sunsets on the snowy glaciers are too beautiful for cameras to capture; we just take it all in to our souls. There is no electricity in the hotel and most of the town. This is a common occurrence. We had hoped to do some laundry today, but no luck without electricity. We met all the others at Peter's restaurant that evening to further plan our climbing expedition. Lee Walters is sick with stomach upset, cold and sore throat…not a good way to start to the mountains.
~ Part II Coming Soon