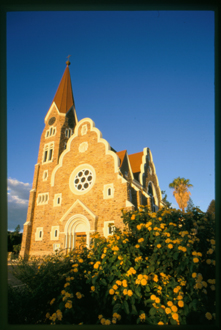 The last time I signed off, my brother Abdul and I had just arrived in Windhoek, the capital of Namibia by bus from South Africa. We decided to pony up some extra money and take a Greyhound type coach and survive the trip, as opposed to paying next to nothing on one of the ubiquitous minibuses but putting our lives into the hands of a crazed driver hell bent to make it to his destination in the shortest time possible.
Our guidebook called these vans 'unguided missiles', as they are filled to the last cubic inch with people, luggage, even animals and one driver who has usually not slept the night before. Once they hit the road with the back of the van sagging under the sheer mass of twenty or more bodies and all their belongings, there is no slowing or stopping for anything, not the curves on the road nor the cattle nor the game animals, let alone people walking along the roadside. That's the brutal truth to the minibus system in all of southern Africa. As much as we could, we avoided them until we reached areas where we had no choice. With a large brush/animal guard bolted to the bumper, our bus had no problem delivering us all to Windhoek with impunity. The city, built among the brushy rolling hills of the central plateau of Namibia has a decidedly modern feel to it with gleaming high rises and a well planned street system. But there was something about it -something German. German street names, stores, and most of all, architecture. Namibia became a colony of Germany in the late 1800s during a mad dash for land by the European powers. This period lasted until World War I, during which Germany lost its status as colonial power, but it certainly didn't lose its profound influence on this nation. Entire city blocks look like they have been torn straight out of some medium sized German city and deposited in the middle of this arid plateau. Only the palm trees indicate that this is not central Europe. The large townships that have sprung up in many areas around the city center also don't convey a European feel.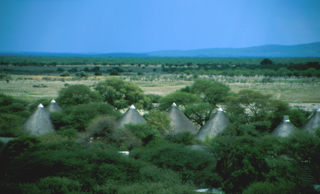 The native population present before colonial times is represented by the Ovambo and Kavango people for the most part. However, for us the most well known tribes are the Bushmen tribes (known as the San people) and the unique Himba. While the Bushmen are famous for their hunter-gatherer lifestyle, the Himba are goat and cattle herders who still to this day openly display their bosoms, despite the very best efforts of Christian missionaries. Their skin and hair glow a dark red from a paste made of a mix of butter and local iron oxide rich soils. Many of the San bushmen have adapted western clothing and homes, but the staunch Himba retain their skin art, their dress (or lack thereof), and their simple reed and animal skin shelters into the twenty first century. I find it commendable.
We spent a few days in the metropolitan Windhoek looking for some other travel partners, a reliable vehicle, and supplies in order to hit the hinterlands of Namibia. Those nuts enough to join our haphazard journey included two Aussie girls from Perth (Australia) and a like minded dude from Brooklyn, NY. With this rag shag combination of veteran travelers and two prankster brothers we piled into a hired car and hit the lonely roads of this vast country. An early start seemed advisable because the intense sun heats everything up quite a bit and afternoons are best spent resting somewhere in the shade. Although hard to predict with certainty, thunderstorms rolled in on a massive scale after the ground had heated up enough and caused the hot rising air to condense into menacing anvil shaped thunderheads. The downpours that soon followed such cloud build ups would frequently cause flash flooding and quickly tear into the gravel roads we drove on. These rains came with amazing intensity and quickness, so that the previously bone dry gravel road would turn into a brown, muddy, and slippery mess, exceedingly difficult to navigate.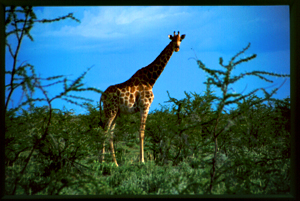 On more than a few occasions we had no choice but to stop before a boulder crushing washout and wait until the raging current subsided somewhat before attempting a crossing. Once we got lucky and met up with a bulldozer near a massive washout and it towed us across without a hitch. The downpours can last anywhere from one hour to the next morning. But without fail, the subtropical summer sun would break through by late morning, evaporate everything in a cinch, and leave the ground dry again. The vegetation of this vast plateau land is known as bushveld and if you imagine a classic African savannah from the discovery channel, you are on the right track to visualizing this chunk of north eastern Namibia. The underlying brush grows a bright green this time of year, as does the back drop of acacia and camel thorn trees. We hadn't spotted any wild animals so far with the exception of the springbok.
We left Etosha for the far north western corner of Namibia, not too far from the Angolan border, an area known as Damaraland. A vast land of arid valleys, distant mountains, dry stream beds, wide open grazing land, and huge skies, it is home to isolated ranches and Bushmen. It was here that we met them. Not dressed in animal skins, neither with bows and arrows, nor squeezing precious water out of some desert plant root, but dressed in worn out slacks, long skirts, t-shirts, and bucket hats. Presumably, modern amenities made their way to these people as well, as they caught rides in the backs of pick ups, drank soft drinks, smoked and spoke European languages along with their local tongues. Their trade has been transformed from hunting and gathering to guiding, handicrafts, and ranch work. On a number of hikes we hired these amazing people as our guides and they dazzled us with their knowledge of their ancestral land and everything in it. They also dazzled us with their language. One guide taught us four different clicking sounds which are an integral part of their alphabet. Being able to mouth these clicks did not mean that we could use them within words, however. That took more practice and a certain talent than we seemed capable of. One insightful foreigner described a conversation between two Bushmen crudely but effectively: like two people talking in an incomprehensible language and two more playing ping pong at the same time in the back ground. That hit the spot.
The last highlight of Namibia that I definitely wanted to share with you is the Namib Desert. It has been described as the oldest, one of the driest (in some areas rain has never been recorded), one of the hottest, and definitely one of the most interesting deserts in the world. It occupies a relatively narrow but long slice of Namibia right along the Atlantic coast. The color of the sand varies from tan along the skeleton coast to the rich reds of the Namib Naukluft National Park.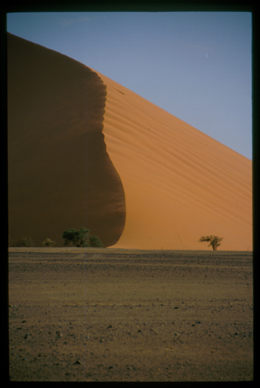 The skeleton coast, an inaccessible section of northern coast, earned its name because of the large number of ships it claimed during ferocious storms in the South Atlantic. Some of the shipwrecks are still visible, but only from the air. We found land access to be impossible, but judging by photographs that exist of old wrecks, there must be some way. Driving on salt roads along the Atlantic coastline, we came across the solution that plants and animals of this region devised to ensure their access to precious water: the life giving fog that drifts inland at night from the Atlantic Ocean. Drop by drop this moisture is harvested by anything living in this area. That's how life carries on in an area where rain has never fallen. The icy cold Benguela current from the Antarctic keeps the ocean temperatures low enough that the air above it is also cooled. As the hot desert sand causes inland air to heat up and rise in the afternoon and evening, the cool moist air from the water moves in and condenses into a dense fog. So simple. Amazing. The largest dunes in the world can be found in the more inland Namib Naukluft National Park, where the tallest red dunes reach heights of nearly 400 meters. That's a whopping 1300 feet! Climbing these sandy mountains was no easy feat, but worth every bit of sweat because I was able to see something I remember as a kid on TV. The numerous little lizards that scamper across the dunes keep their limbs cool by alternately placing two diagonally opposing limbs in the air to let them cool.
My next installment will cover our trek into the volatile Caprivi Strip and some less democratic countries of southern Africa. And of course our ceaseless quest of the "Big Five" large animals of the continent: lion, leopard, elephant, rhino, and cape buffalo. They are out there, I know it.