Most Vietnamese dishes are known for their fresh ingredients, balanced flavors, liberal use of herbs and vegetables, and a lightness of touch, with very little oil used in preparation.
And they're delicious!
Vietnamese cuisine differs throughout the country, with proximity to other countries being relevant. Influences on southern Vietnamese food can be seen from countries such as Cambodia, Malaysia, and the Cham people, while Chinese influences can be seen more clearly in northern Vietnam.
The French influence is widely seen throughout Vietnam with food items such as bread, cauliflower, artichokes, potatoes, and pate, to name a few. The introduction of coffee to Vietnam is a well-known French influence.
One of the keys to Vietnamese food is the relative ease of preparation, meaning all dishes listed below can be found in local markets, roadside carts, and street food locations. No need to head to fancy restaurants to enjoy this delicious cuisine.
Pho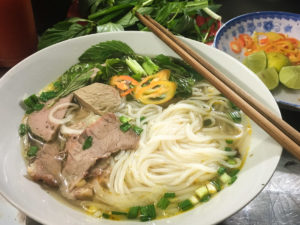 Pho would probably be Vietnam's most well-known dish, and some would consider it Vietnam's national dish. It is a noodle soup, with the name Pho referring to the type of noodle used – a thin flat rice noodle. The broth used in the soup is made by slowly boiling beef bones – at least overnight if not longer – then adding aromatics such as shallots, star anise, and ginger.
While different meat or vegetarian options are available, the most popular is Pho Bo, with Bo referring to beef, with varying cuts of beef available depending on what the vendor has on hand.
Additions to Pho can include a range of herbs (mainly in south Vietnam, as North Vietnamese tend not to add additional herbs), chilies, limes, extra fat, and egg yolk.
Although Pho is generally a breakfast dish, it is enjoyed at all times of the day.
Bun Bo Hue
The ancient city of Hue, located in central Vietnam, is a popular food destination, with the best-known dish being a bowl of noodle soup, known simply as Bun Bo Hue.
This tasty, predominately breakfast dish combines noodles (Bun), cuts of beef (Bo), and a combination of pork, small balls of shrimp and crab, bone marrow, and sometimes cubes of congealed pig blood.
The rich broth is made by simmering beef and pork bones for many hours, with a combination of lemongrass, pineapple, shrimp paste, and chili added along the way, with the fiery red tinge coming from adding annatto oil.
Depending on individual tastes, adding chili, lime, and herbs can further enhance the dish.
Although this dish can be found throughout Vietnam, one of the more atmospheric places to enjoy a bowl is Hue's primary market, Dong Ba.
Banh Mi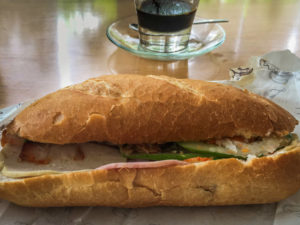 Banh Mi is another well-known Vietnamese dish, a breakfast sandwich enjoyed in many parts of the world.
The banh mi, which refers to the bread itself, starts with the fresh baguette, which is crunchy and light on the inside.
The street versions of banh mi, sold from carts on street corners, generally include ingredients such as mayonnaise (or butter), a small amount of pate, pork, pickled carrot and daikon, cilantro (coriander), cucumber, a squirt of seasoning sauce, and an optional sprinkle of hot chilies.
With the popularity of the banh mi, some shops throughout Vietnam offer a wide range of ingredients, with the popularity reaching crazy heights in Hoi An at Madam Phuong, claiming they sell the best Banh Mi in Vietnam.
Banh Xeo
Originating in the Mekong Delta, Banh Xeo (meaning sizzling cake) is a dish enjoyed mainly in the southern and central parts of Vietnam. This dish is made by frying a batter made up of rice flour, water, and turmeric, in a special wok-shaped pan, along with various ingredients, which can include a combination of shrimp, pork, and bean sprouts.
The banh xeo is served along with a plate full of herbs, including lettuce which can be used to make a wrap, as well as citrus, chili, and fish sauce for dipping.


Bun Cha Hanoi
Originating in Hanoi, Vietnam's modern-day capital, Bun Cha is a dish consisting of fresh noodles (Bun), a bowl of grilled fatty pork (Cha), a fish sauce that includes papaya and carrot, and a large plate of herbs.
The combination of noodles, grilled pork, and herbs dipped into the fish sauce represents fresh and perfectly balanced Vietnamese cuisine.




Com Tam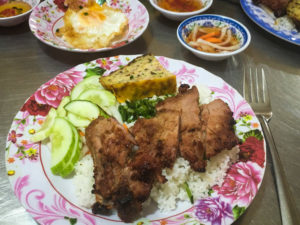 Com Tam means broken rice, and after selling off the best rice from harvest, farmers would cook the broken rice instead of discarding it. This traditional Vietnamese dish sees the rice paired with a freshly grilled pork chop, an egg component, whether fried or in the form of a steamed cake, pickled vegetables, and a bowl of nuoc mam.
This dish originated in southern Vietnam and is easy to spot in markets, with the smoke (and aroma) rising from the outdoor grills cooking the pork.
Hu Tieu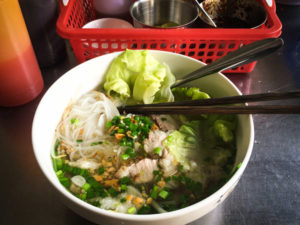 Hu Tieu is another popular noodle breakfast dish, especially in southern Vietnam.
The dish can be eaten as a soup, where all the ingredients are in the bowl, or as a dry dish, with the ingredients served on a plate, with the broth served on the side.
There are usually three different noodles to choose from: an egg noodle, a pho noodle, or a thinner and chewier Hu Tieu noodle.
The broth is made by slow-cooking pork bones and is deliberately subtle, without any underlying spiciness.
In the salad version, the noodles are doused in a mixture of oyster sauce, soy sauce, and sugar.
The dish's ingredients vary depending on the region, but pork is the mainstay. Other components include shrimp, pork liver, fried garlic, and caramelized shallots. Variations from the Mekong Delta include versions from Sa Dec and Can Tho, as well as a version from Cambodia, Hu Tieu Nam Vang.
Bo Kho
One of the heartier Vietnamese dishes is Bo Kho. Meaning beef stew, the dish is a savory, hearty, and fragrant stew that is a very filling breakfast dish.
The stew is a mix of beef, vegetables, onions, and herbs, mixed with a flavourful broth with a pleasing lemongrass undertone.
Bo Kho can be served with noodles in the bowl or a crunchy baguette on the side.


Banh Cuon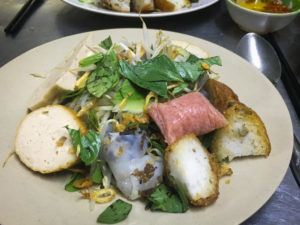 A Vietnamese dish from the country's north, Banh Cuon is made by steaming rice flour on a piece of cloth stretched over a pot of boiling water. The resulting rice flour sheets are filled with seasoned ground pork, minced wood ear mushrooms rolled, and topped with fried shallots and herbs.
Additions to the dish are two different types of pork, possibly a few pieces of fried crunchy bread (Bun Tom) and a bite-size piece of a small flavor delight called Ne Chua, fermented pork that is salty, sweet, sour, and spicy, and rounds out the dish extremely well.


Goi Cuon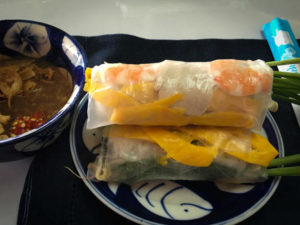 Goi Cuon, also known as "fresh roll" or "summer roll," is a healthy, light, and tasty snack for those hot Vietnam days.
A staple at Vietnamese cooking classes, Goi Cuon is made by placing shrimp, pork, fried egg, chives, lettuce, herbs, rice noodles, and a pinch of fried shallot onto slightly damp rice paper before rolling up into a delicious package.
The rolls are served with a hoisin-peanut dipping sauce.


Banh Khot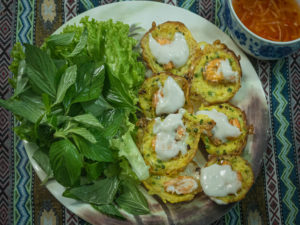 A southern Vietnamese delicacy, with slightly different versions originating in Vung Tau and the Mekong Delta, Banh Khot are mini rice pancakes usually made with a batter of coconut milk and rice flour, topped with seafood such as fried shrimp, and served with fresh leaves, herbs and sweet fish sauce for dipping.
Coconut sauce is also sometimes poured over the finished Banh Khot.
To eat Banh Khot, wrap the cake and herbs inside the fresh leaves, then dip them in the sauce. They are popular at markets as snacks.


Xoi
Xoi can be a sweet or savory dish made with glutinous rice, also known as sticky rice, mixed with other ingredients.
Savory Xoi is called Xoi Man and can include ingredients such as pork, chicken, fried fish, and mung bean, and it is a popular breakfast dish.
Sweet Xoi is called Xoi Ngot and are usually desserts or sweet treats.


Che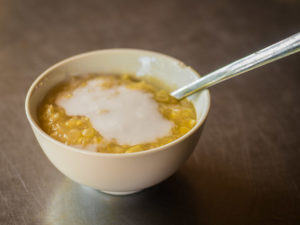 Vietnamese desserts (Che) are so varied that a whole separate post would be required to run through the variations. Typically, desserts can include a combination of Vietnamese fruit, vegetables, beans, seeds, glutinous rice, and tapioca powder and are often topped with coconut milk.
Vietnamese desserts can come in drinks, pudding, and jellies and are always colorful and refreshing.