Chinese New Year is undoubtedly the best time to visit Penang. During this time, this UNESCO World Heritage site becomes a buzz of activity with crowds, colorful holiday decorations and a lineup of exciting and interesting events. One of the most anticipated events that always draws a diverse crowd is the Temple Fair, otherwise known as Miao Hui in Chinese.
This celebration is a large-scale street fair co-hosted by a collective of Chinese ancestry and clan associations. Every association hosts an open house to welcome visitors and provide information about their ancestry. Out on the streets, visitors are dazzled by an assortment of traditional folk performances and mouthwatering smells of delicious street food.
I always enjoy visiting the temple fair; below are some highlights worthy of mention from the 2018 event.
The primary stage was set up near the entrance where the audience was serenaded by professional folk musicians – those looking for something a bit more classical enjoyed music from a Chinese based orchestra.
Members of one clan association dresses up as the characters of Liu Bei, Guan Yu and Zhang Fei from the historical novel Romance of the Three Kingdoms. In the novel that takes place at the end of the Eastern Han dynasty, three formidable warriors put their differences aside and form an oath of brotherhood to one another, forging an alliance to fight against the enemies of the Han Empire. Visitors always make a beeline for a photo-op with these three iconic characters.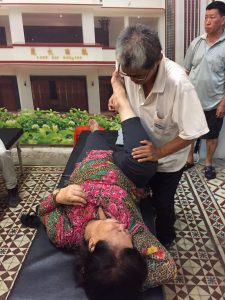 Kuih Kapit is a traditional biscuit specifically made for the celebration of Chinese New Year. This crispy biscuit roll is made of eggs, flour and coconut milk. Visitors are guided through the simple steps of making their own Kuih Kapit – first, pour the flour mixture on a shaped mould that comes with a long handle for grilling purpose. Next, place the mould on a coal grill and let it cook for a few minutes. Once the mixture is grilled to light golden brown, remove it from the mould and settle the smoldering biscuit on a board. You may proceed to either fold or roll it, whatever your heart desires, but make sure you do this quickly before the freshly grilled biscuit hardens. At last, voila! here it is, your first delicious Kuih Kapit is ready to tantalize your taste buds.
A free traditional Chinese massage is offered to the public inside a clan association building. The massage is designed to restore and enhance the flow of Qi, a Chinese term referring to the body's vital energy, leading to improved health and well-being. Numerous senior citizens took full advantage of this seldom offered free stress buster.
An altar was located in one of the streets – filled with a collection of offerings paying homage to the Seven Star Goddess, a deity that is famous for matchmaking. Every year at the Qi Xi festival, commonly known as "Chinese Valentines' Day", thousands of devotees throng the temple to offer prayers to the Seven Star Goddess. According to traditional belief, those who offer prayers with perfume, flowers or face powder will find their wishes granted – and soon will be in a rewarding relationship with a man or woman of their dreams. Wish hard my friends!
Yee Sang, a prosperity toss, is always one of the highlights of the evening. Yee Sang is a traditional dish that marks the auspicious beginning of a new year. It is a platter adorned with colorful raw ingredients including strips of naked fish and slices of pickled vegetables. This joyous ceremony always begins with everyone gathered around a table and using chopsticks to mix and toss the contents on the platter as high as possible. While tossing, participants are encouraged to shout out as many auspicious greetings as possible to jazz up the festive mood. It is believed that the higher you toss, the luckier and more prosperous you will be in the coming year.
No Chinese New Year celebration is complete without a lion dance. Spectators are wowed by the agile movement and the elaborately choreographed stunts by dancers who jump from one pole to another, moving in sync to the beat of a deafening drum. At one point, the dancers lost their footing and fell to the ground unscathed. Unfazed by the accident, they picked themselves up and dusted themselves off before making their way back to the stage, to a thunderous applause from hundreds of spectators.
Come check out the temple fair next time if you happen to be in town during the lunar new year – this event will surely increase your appreciation for this beautiful UNESCO heritage town! I am fortunate to be able to call Penang, this melting pot of Malaysia, my home.