After recently visiting Luang Prabang, hindsight has given me a unique perspective of the region. I can inform you that not all activities were worthy of exploration. Therefore, to save you the hassles of doing these non pleasing activities – I have whittled my list down to two top activities that I found the most enjoyable during my stay.
Kwang Xi Waterfalls: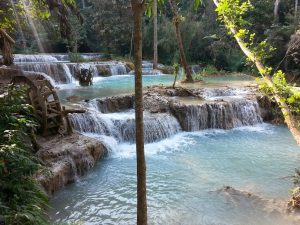 Tourists will be coaxed into visiting the waterfalls soon after they land – by any of a number of representatives from tour operators hanging out at the airport. It is true, a visit to Luang Prabang would not be complete without a trip to Kwang Xi Waterfalls. To get there, one has to endure an hour's bumpy and unpleasant ride that takes you to a national park teeming with local food vendors and souvenir stands spread out near the entrance.
The park features breathtakingly beautiful natural pools with cascading waterfalls. One needs to hike along the steep trail leading to the highest point where the most impressive waterfall is located. The roaring sheets of waterfalls dropping onto a huge pool of turquoise water will have everyone transfixed! Some daredevils were seen tiptoeing along the edge of the tallest waterfall a couple feet above the ground in order to take some awesome selfies (most likely to brag to their friends on Instagram).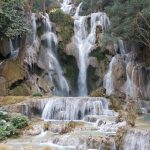 The water is so crystal clear; to me it beckons with a magical force that begs you to come in for a swim. Don't be to ambitious while soaking your feet in the water – the surface is quite mossy and slippery. I saw a stubborn elderly man who disregarded his pretty young wife's warning; he insisted on walking to the far side of the waterfalls to acquire a better angle for taking a photograph. Halfway through his walk, he slipped on a rock and fell face-down into the water! Of course his wife didn't say "I told you so", but by the smirk on her face you knew exactly what she was thinking. I wish I had filmed that scene now!
If waterfalls do not excite you at least come check out the nearby black bears that are kept in cages.
Nong Khiaw and Muang Ngoi
If you want to avoid the touristy places like Vang Vieng and experience a more traditional lifestyle, consider a short stay in Nong Khiaw and Muang Ngoi. Both are small villages located about a 3-hour drive from Luang Prabang. A word of warning: go light on food and drink prior to making this journey and inspect your vehicle to make sure it is well cushioned. Perhaps even ask for a spare pillow or two. The road leading to Nong Khiaw is infested with potholes and is full of curves – this will probably be one of the bumpiest rides in your life. You will be thrown side to side, up and down all the while desperately hoping the driver will take pity on you and pull over – at least to use the bathroom and take a break from this "roller coaster" of a ride.
When the vehicle finally pulled over – I became super saturated with excitement as I had been about to piss my pants for the past hour. Once out of the vehicle, I frantically began searching for that perfect toilet that I always need when I am traveling (no pee in the ground stinky holes for me). But alas, soon my suspicions were confirmed and I became angry. My eyes were not playing tricks on me – there was not a single porcelain god in site 🙁 The only way to relieve myself was to make my way into the woods, find a spot covered with foliage and get in touch with a nature. Easier for a guy like me, but I pity the city born and bred women we were with.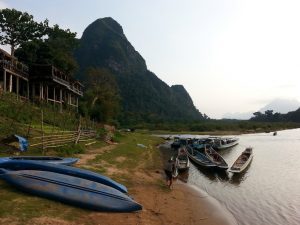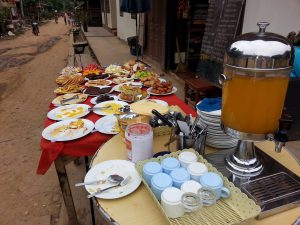 And bear in mind that although the driver would make some occasional stops along the journey, it did not mean we could get off every time he stopped. One time our driver stopped the car to assist with a breakdown, another time he stopped to spit out the window – a big wad of brown goo.
I remember one time our vehicle was signaled to pull over by a man standing in the middle of the road. The other vehicles behind us followed suit. I was expecting to be robbed at gunpoint – my fear quickly worsened when our driver stepped out of the van, opened all the doors, while gesturing for us to remain seated. When we queried him what was going on, he did not know how to explain to us in English. We feared for our lives. All of the sudden, a loud boom came ricocheting from the other direction which was followed by a dust cloud that engulfed the road ahead. Waves of panic like the shock wave of the boom came rippling through the pit of our stomachs. We were done for, I knew it. Some 3rd world militia was bombing the roads to isolate the Asian tourists to confuse and then possibly kidnap us.
It was only later we realized that this explosion was at a hydro-power dam construction nearby! Let them take over the dam, but not us! Phew!
Nong Khiaw is a beautiful little village wedged in between towering limestone mountains. One of my favorite things to do in Nong Khiaw is make a 2-hour steep hike to the viewpoint. I'm telling YOU as the reader NOW – put this on your bucket list!
For city dwellers who do not engage in much physical exercise (like myself, I must admit I've put on more then a few pounds over the past few years watching TV shows while eating donuts and using the Internet to Whatsapp my friends), this hike was a real gut buster. Not only was I highly challenged by the physical acumen required to make this hike, at one point I became spooked while resting under the canopy of odd looking trees. The terrain suddenly changed into a mossy-covered landscape blanketed in mist with an accompanying eerie silence. If you have a wild imagination (like I do), you might see an illusion of a hideous monster lurking behind a tree, hear a whisper of a ghoul or feel a hot breath on the back of your neck from some subterranean creature. The ripple of panic from the earlier explosion had become mind numbing tingles of fear goose bumping my entire body. I had to get out of there fast.
I raced up the rest of the trail towards the viewpoint – almost having a heart attack in the process. One super cute girl stopped to ask if something was wrong. I took the masculine approach and told her I was training for a 10k marathon back in Penang (my hometown, incidentally I've never run a marathon in my life). OMG, I finally reached the viewpoint and was treated to an astounding 360-degree view of Nong Khiaw.
For those who are more adventurous then I am, consider packing a tent and sleeping bag and stay overnight at the top of the mountain. Just don't be surprised if you wake up to a wild boar trying to kiss you in the morning. Ha ha.
Muang Ngoi is a rustic sleepy village located about an hour's boat ride away from Nong Khiaw. It is an place ideal for clearing your mind and soaking in some peace and quiet which we all need from time to time. The boat ride provided me an ultimate serenity. I closed my eyes and began to meditate – trying to become one with this world rather then just an outsider.
The invigorating natural scents of water buffalo poop combined with the happy sounds of curious village kids giggling and waving at foreigners jolted me back to reality. So to did one of the protruding rusty nails on the wooden rooftop on the boat as I stood up to exit. Screaming in pain I almost fell into the water as I got out of the vessel.
In Muang Ngoi, we were treated to a breakfast buffet spread out in the middle of a dirt road bisecting the village. It looked tacky but I was able to fill up my growling stomach at an unbeatable of price of less than USD 5. While grubbing, the smell of the food drew in a handful of stray dogs.