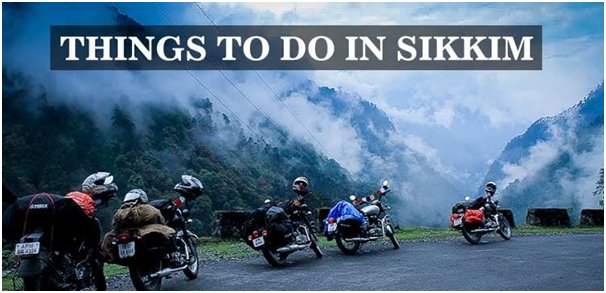 Step out of your comfort zone and view the delights of the world around you. Here we take you on a tour of Sikkim, a small state in the northeast of India that is bordered with Tibet.
Sikkim is a visual pleasure that marries mountainous terrains with the simple life. This place is more than a window to the Himalayas as you are about to discover.
We share with you the Top 10 Best Things to do in Sikkim. You will discover new lands, culture, and excitement in one of the world's most splendid surroundings.
1: The Dzongri Trek
The Dzongri Hiking Trail starts in Yuksom and the end of this trail is 50 km away, perhaps we should have left this as a surprise. Previous travelers proclaim that the place has the most divine pathways. The tour lasts approximately 7 days and is often considered a difficult route for even the most experienced travelers.
The hiking trails are at 4,200 meters of altitude and the view from the top is described as heavenly, which is worth it. The highlight is of course the beautiful view of the Himalayas. Plus, forests and open skies add to the beauty of the trip.
Price: Free Entry
Don't forget to Pack: A safety kit and also wear very comfortable walking boots/shoes.
2: The Views of Kanchenjunga Mountains
If adventure is your middle name, the trip from Kanchenjunga Base Camp is specially designed for you.
The hike is tough, but the benefits are much milder. They take the form of a view of huge mountains with snow-capped peaks. Imagine drinking coffee in the base camp and exploring these mountains in front of you. It is an absolute pleasure.
Don't forget to Pack: To take part in this incredible trekking activity please make sure you do take comfortable boot/shoes and a standard trekking kit with first aid case.
3: Sikkim Culture
The people of Sikkim are known to be very warm and welcoming. One really cool thing about Sikkim is getting to know the locals better and learn more about the local culture. The locals welcome you as a guest in their home and their hospitality is commendable.
You can definitely visit some of the locals in Lachen und Lachung and spend some time in their adobe. The locals are very friendly and also cook some local dishes for you to try. Maybe you can even learn some traditional recipes. History buffs, this is perfect for you.
Price: Free Entry
Don't forget to Pack: Take some gifts for the locals as a simple pleasantry when you go visit them. This act of gratitude is very little to pay for their enormous generosity.
4: Char Dham in Namchi
Char Dham in Namchi derives from the Hindu sect Char Dham Yatra. The Namchi complex is considered to be very spiritual and is a very large complex compared to Char Dham Yatra. Many tourists visit the resort in search of nirvana and are part of the aarti and pooja that take place in the temple.
Price: Free Entry.
Don't forget to Pack: Inside the complex, you are advised to wear traditional clothing.
5: Yak Ride
Changu Lake, also known as Tsomgo Lake, is a luxury tourist destination. But it also offers one of the most amazing experiences you can have in Sikkim state. On the lake you have the option of yak ridding. Yes! The yak is a very calm animal that is suitable for sightseeing safaris.
Price: Rs.40 to Rs.100
Don't forget to Pack: Take your camera because the Yak Safari with take you through some jaw-dropping scenery.
6: Ravangla Buddha Park
Ravangla Park is known as a spiritual center and attracts many tourists every year. A number of prayers are held in the garden complex which tourists are allowed to attend. It is said to help people achieve nirvana and spiritual enlightenment. There are also possibilities for meditation within the complex. Around the garden you feel very close to nature and help yourself to meditate and pray.
Price: Free Entry
Don't forget to Pack: You are advised to wear traditional clothing inside the park.
7: Gondola Ride
Have you ever been in the air only suspended by a rope? The Gangtok Gondola takes you high into the air with their popular the cable cars. The cable car is one of the most exciting adventure activities that people of all ages can enjoy.
You can sit in a hut hanging on a rope and enjoy the view of the entire valley from this height. It sounds primitive but it is 100% safe to experience
Price: Rs.70- to Rs.110
Don't forget to Pack: Take your camera and try for a window seat so you can capture the inspiring views.
8: Casino Deltin Denzong in Gangtok
Gangtok's Deltin Denzong Casino is located 6000 meters above sea level and offers a heavenly gaming experience which is set behind the icy mountain peaks of the area. Kanchenjunga is the third highest peak in the world so you can tick that one off the list. Enjoy all the popular casino games like blackjack, poker, roulette, teen patti and loads more. You can also enjoy a fun and sumptuous meal inside. If you are staying inside any nearby accommodation and access the internet, you can enjoy many of the online casinos India has available.
Price: Varies between games
Don't forget to Pack: A nice suit is optional, just don't turn up looking a mess after a long day's trek of the city.
9: Hand Gliding
One of the many things to do in Sikkim including free flights. The popularity of adventure sports in Sikkim continues to grow and locals are looking for new ways to relieve the adrenaline rush of tourists. The point is that even if you have never been in hang-gliding, you can have fun with the help of experienced pilots. In this way, all kinds of tourists can participate in adventurous activities and get the most out of them.
Price: Rs.2, 500/-
Don't forget to Pack: Just arrive early to appreciate the sunrise view.
10: Helicopter Ride
The view from the flight over the entire valley cannot be overlooked. Of all things to experience, this allows you to absorb the entire scenery of Sikkim. A helicopter flight takes you through the air to fascinating views of the entire valley. With the river flowing below and the mountains not far from your feet, Sikkim looks even more attractive from the sky.
Price: Rs.18, 000/- to Rs.90, 000/-
Don't forget to Pack: Capture a Birdseye view of Sikkim from the sky with your camera.
Embrace it all and become part of Sikkim and its natural beauty. This is not your average holiday; it is a choice for discovery and adventure. We hope you travel safely and enjoy everything that Sikkim can offer.