We had an 'early' year end team building function this year as Nikki our supervisor was going to leave Agilent in the beginning of August. Due to budgetary constraints we only had one weekend to spend so we chose Cameron Highlands as our destination. Nikki assigned Yee Kee and Sherry to organize that trip and they were doing a pretty good job of getting everything prepared before we boarded the bus heading for Malaysia's premier highlands destination.
I sat next to Choo Pooi and Chin Wei on the bus to Cameron Highlands. Nikki was sitting in front of us. She seemed so excited and she couldn't quiet herself for a single moment. She continuously entertained us with a lot of her stories and shared her views with us on the topic of marriage. Chin Wei was reading her upcoming China trip's itinerary but her attention was soon distracted by the laughter we made. She subsequently tossed her itinerary aside and joined in our conversation. The rest sat behind the bus playing cards.
The bus journey took about 5 hours. We reached Brinchang, a small town located in Cameron Highlands at noon. We went to one of the Chinese restaurants for lunch. The dishes we ordered mostly consisted of fresh vegetables. Soon after lunch, the 'Snapshot Carnival' kicked off as we began to take photos around the restaurant. Some of us even struck a few funny poses for photos.
We stayed at Heritage apartment as it was located in Tanah Rata, about 20 minutes away from Brinchang. It rained heavily while we were on the way to our apartment. Upon arrival, we were separated into different apartment units. I stayed with Shu Huey, Yan Li, Yee Kee, Chin Wei, Mera and his wife. Since the water heater was not functioning, each of us took a quick shower and screamed out loud when icy water came down from the shower head.
Our first destination was the Tea Plantation. It was a huge and green plantation. I was wearing a short black T shirt, short pants, plus brown sport shoes. The outfit combination must be really odd and funny to look at, which is why Wan Chee asked me in a playful mannerm if I had a feeling of being in European countries in my outfit.
Choo Pooi was very creative in striking a different funny pose for each photo. She asked me to take her a photo while she was jumping in the air. I snapped a shot at the exact moment she jumped up high with both her arms stretched out wide in the air. The image came out surprisingly good on the playback screen. I purposely bragged about my photography skills in producing this cool shot; she nonetheless found several excuses to deny that it was not my photography skill but some other reason to produce this exceptional photograph!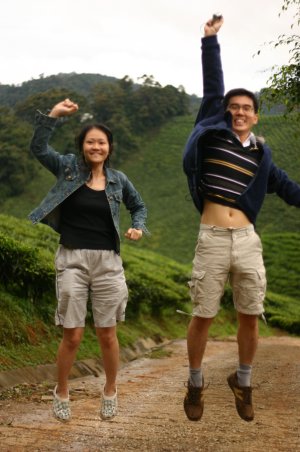 There was a stand in front of the entrance where free tea was being served. We enjoyed the free Boh tea while taking some pictures. We continued our journey to the Cactus Farm. The driver seemed really frustrated in his effort to find a parking space. He suggested that we cancel our visit to the Cactus Farm and go to the night market instead. Yee Kee our organizer was not in favor of what he suggested and she snapped out quickly in Hokkien, ' Uncle wa lang gan na wu qi jit qi to nia, ma zai wa lan bay dui liao!' (We only have one day for sightseeing, we are going home tomorrow).
Finally, a compromise was reached as the driver pulled over the bus next to the post office building. We took about 10 minutes walk past the night market to reach the Cactus Farm. The main highlight inside the farm was of course the various types of Cactus. Apart from the spiky cacti, there were also some vegetables grown. What were we doing there? Besides admiring different kind of flowers and cacti, the 'Snapshot Carnival' atmosphere escalated as crazier and funny poses were endured.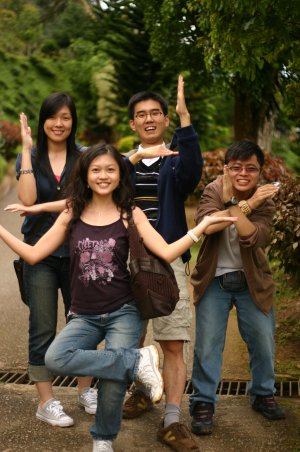 After a quick visit to the cactus farm, the rain was becoming heavier but our 'shopping spirits' were never been drowned out by the rain. We bought a few umbrellas at a shop nearby and continued our shopping spree at the night market. We purchased some strawberries, flowers and vegetables before we headed out for dinner at a steamboat restaurant. There were 3 tables reserved for us. Each table had a steamboat pot and it was served with different dishes and soup. Since this was an open air restaurant, it was somewhat a bitter experience – yet fun when the bone freezing wind blew toward us, while we were trying to take a sip of a spoonful of hot soup. Nevertheless, that was really a delightful steamboat dinner!!
I was so tired and retired to bed very soon when I got back to the apartment. I was woken up by noises from outside in the middle of the night though. I had been told later that they had a birthday celebration for Chee Keong and Yee Kee on that night. They played some card games and mahjong, some of them indulged themselves with plenty of booze and started to kiss and hug each other after a few glasses of wine.
The next day we went to an Indian restaurant for breakfast. That was an unpleasant breakfast as the food was only served long minutes after the order had been taken followed by several 'friendly' reminders. When the long awaited food was finally brought to us, Alex had lost his patience and commented to the waiter in a sarcastic way, 'Your roti canai (Indian bread) is so special – perhaps sent from US?'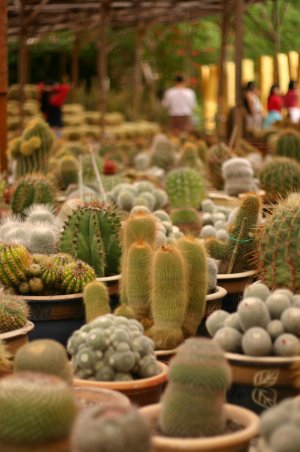 On the way back to Penang, we dropped by a Dim Sum place in Ipoh for lunch. Choo Pooi was disappointed when she found out it was the restaurant she had tried before and the food totally put her off. Now she had to endure another food ordeal. (Choo Pooi you should change your name from Khor Choo Pooi to Poor Choo Pooi J).
Back to the office on the following Monday I was amazed to find many albums already been updated in our shared drive and the number of pictures we took nearly reached 1000 images. Those pictures included Shu Huey turning herself into a pirate, a group of us posed for the new James Bond Movie, Chin Wei jumping up but ending up looking like she was learning to fly, Eng Lee hiding behind a bunch of dangling flowers with a flirtatious look, Aiman on a long bench which was one of the best shots ever, some of us trying to eat a flower and of course my ugly naked belly 🙂
Wow that was so much FUN!!! Guys, I can't really wait for our next trip, Langkawi right?