There is a famous song in the 90's by TLC which advised not to chase waterfalls, but to stick with the rivers and lakes that you are used to. But what if you could have it all? I believe that we should chase waterfalls, metaphorically and physically. If we don't chase after waterfalls to places and dreams we aspire for, then how would we ever reach paradise?
I set out on a journey to Dominican Republic in June for the first time to a province many have not yet heard of named Samaná; I have concluded this is a little piece of paradise in the world. It did take a bit of journey to reach there but it was well worth the effort!
Many Americans traveling to Dominican Republic go to Punta Cana, a beautiful beach town in the southeast which has been flooded by tourists – but fewer have heard of Samaná on the North Eastern Atlantic coast. Situated on a peninsula surrounded by white sand beaches and mountainous terrain on 330 square miles, Europeans & Canadians have had Samaná on their radar as their go-to beach destination – they certainly do not want to spoil the secret! If you are looking for a quieter, more secluded, off the beaten path destination, this is it.
Shortly after breakfast, we boarded an open-air shuttle with our free-spirited guide Jackie for a day of horseback riding as we set our journey to chase waterfalls. We weren't sure where the journey would take us but the day would end up being one of the most unforgettable days of my life, so rich in beauty, nature and culture. The ride was an adventure in itself, passing through local villages, observing the every day life of locals that seem to be untainted by tourism. They waved as we drove by and smiles were exchanged. True hospitality.
Once we arrived to La Cascada Salto el Limon, we each picked the horse most fitting to our height and size, and hopped on as we rode on a slow trot through the lush green jungle passing through various medicinal plants, rivers, lakes and coconut trees with our own local guide. Along our 1.5 mile ride, we would pass through half a dozen smaller, soothing waterfalls.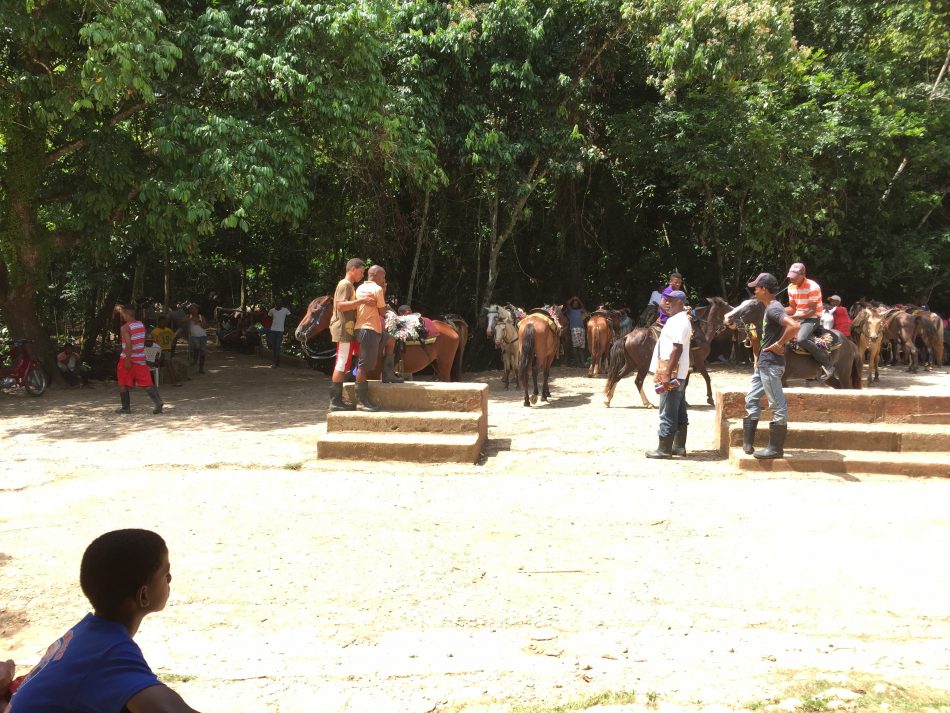 About 45 minutes in, we reached a resting area where we took a break from our horses. Here, locals sell souvenirs from paintings to necklaces to soft drinks and is a great place to catch a breath.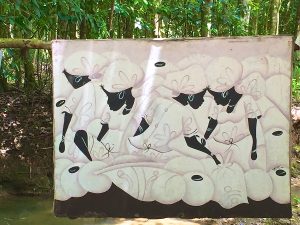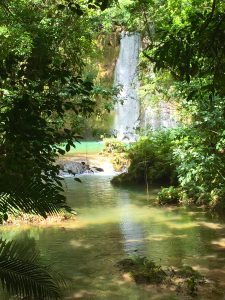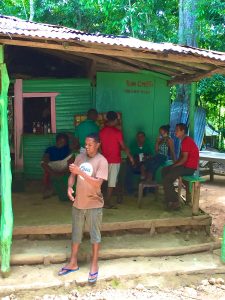 Mamajuana
Upon arrival, we were offered Dominican Republic's signature drink, the "Mamajuana" made of Dark Rum, Red Wine, Honey and various spices/roots/herbs. Urban legend has called this drink an Aphrodisiac, or the local slang of "El Para Palo ('lift the stick'). That would be up to you to experiment and report back if it in fact works!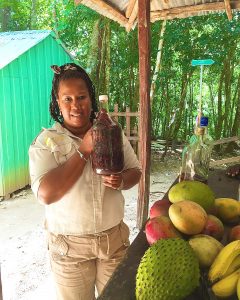 Once a bit of buzz set in, we trekked about 200 steps of stairs to the master waterfall we had been chasing all day. The waterfall stands tall at 130 feet or 50 meters high from the top of the Sierra Samaná. Locals, travelers and children jumped in from various cliffs doing backflips. We all stripped down to our bikini's and dived in for the most rewarding, refreshing swim ever.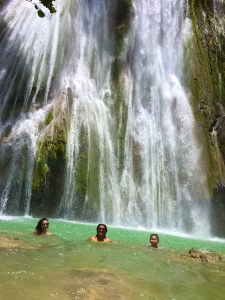 The roundtrip takes approximately 3 hours depending on how long you swim, and typically costs $35-50.
Nightlife:
After sundown and a refreshing cold shower, we cooled down at the resort where we enjoyed a lovely Italian dinner. After dinner, we took taxis to Las Terrenas, the laid back expat downtown of Samaná with lively bars and restaurants along the beach front. You can find a variety of local cuisines, bars to Discoteca's to move your hips to Merengue and Bachata.
---
Getting there:
There are flights to Samaná (AZS) but are limited and with a stopover. Best recommendation is to fly to Santo Domingo Las Américas Airport. Hire a taxi or hotel pickup to Samaná and enjoy a 3 hour scenic drive up the coast.
Stay:
Grand Bahia Principe El Portillo is the closest resort for this particular horseback and waterfall excursion however you can find a dozen other similar excursions across the island. El Portillo is Bahia Principe's best resort for families. A resemblance of a mini Disneyland with 6 restaurants, 8 bars, volleyball court, 2 major swimming pools, gym, theatre with a diverse movie line up throughout the week and a lovely spa. For children, there is a Mini Club with a playground and a Bahia Scout Water Park.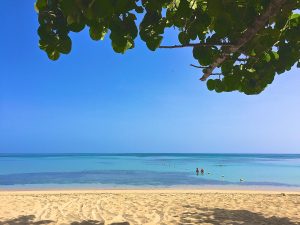 The 606 hotel rooms are scattered throughout the resort in separate bungalow style buildings. Each room is spacious with luxurious bathrooms, balcony and daily maid service never to disappoint.
The property is located on the beach with soft white sand and turquoise water. There is a beach shack where you can rent Stand-Up Paddleboards, Snorkels, Catamaran and Kayaks. (1 hour free included in the resort price.)
Prices are affordable, starting at $69 per person, per night / all inclusive, depending on season and availability. You can't really go wrong going any time of the year considering the warm climate Dominican Republic boasts.
Address: Crta. Las Terrenas – El Limón, Km 4. Las Terrenas. Samana. Dominican Republic
There are 3 other Bahia resorts that are more exclusive for the Honeymooner or Adult Only resorts I would highly recommend: Luxury Bahia Principe Don Pablo Collection, Luxury Bahia Principe Cayo Levantado and Grand Bahia Principe Cayacoa.